We must not downplay the seriousness of Trojan Horse, claims Jamie Martin, even if the case collapsed
Barely a week after the Manchester Arena attack – which was carried out by someone educated in the English state school system – a procedural failure led to the collapse of misconduct hearings against three teachers suspended after the 2014 Trojan Horse controversy. It is important to note as they were not tried for the charges, they were therefore not cleared of them.
I was a special adviser at the Department for Education at the time the Trojan Horse case was first brought to the government's attention. In light of the Manchester and London Bridge attacks, I not only believe we were right in our robust response to Trojan Horse, but also that we must now take deeper action to rid our schools of Islamist ideology.
Equating Islamism with majority Muslim values fatally undermines our attempts to defeat it
People who downplay the seriousness of Trojan Horse, claiming those involved exhibited "mainstream" Islamic views, are guilty not only of stunning naivety, but of a dangerous error.
Wrongly equating Islamism – a fascist ideological distortion of Islam – with majority Muslim values fatally undermines our attempts to defeat it.
After receiving a whistleblowing letter, Peter Clarke, one of Britain's most distinguished counter-extremism experts, was appointed to investigate. He confirmed "the majority" of the letter was correct and that there had been a "coordinated, deliberate and sustained action … to introduce an intolerant and aggressive Islamic ethos into a few schools in Birmingham".
Instead of challenging extremism in Birmingham's schools, the government had consistently handed influence and power to those who advocated it.
Tahir Alam, the chair of governors at Park View Academy described by Clarke as a "central figure" in the scandal, was paid by Birmingham Council to train other governors and was put on local and national faith advisory groups, after he publicly argued that in schools "girls [should] be covered except for their hands and faces" and that homosexuality should be declared "not acceptable".
Unsurprisingly, when investigating Park View, Clarke discovered gender segregation, assemblies with anti-Jewish speakers and messages between members of the "Park View brotherhood", a WhatsApp group of senior teachers who described gay people as "animals", promoted antisemitic images and suggested that Lee Rigby's murder was a hoax. Park View, Clarke concluded, "sought to export its Islamising blueprint" to local schools. with staff using influential positions to" introduce compulsory faith practices into a non-faith school".
The result was that schools across Birmingham fell under the influence of "a deep strand of intolerance and attitudes that are totally inappropriate for those who aspire to educate young people".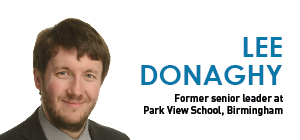 The path from this ideological extremism to violence has been well marked, including in the personal stories of Islamists turned counter-extremism experts Ed Husain and Maajid Nawaz. Nothing could be more dangerous than incubating Islamism in our schools, and after the attacks in Manchester and London, nothing is more urgent than driving it out of them.
The government should appoint Peter Clarke, or another similarly qualified investigator, to conduct a thorough review of Islamism in schools and colleges. As well as recommending individuals for criminal and professional sanction, it should produce a list of Islamist organisations whose members and sympathisers, like the BNP, are banned from the classroom, government funding and positions.
Guidance on identifying Islamism should be issued to every school and made a core part of initial and ongoing teacher training. Ofsted should enter at-risk schools at no notice with trained extremism experts. The special favours faith schools receive from government must end.
Schools and the government must make a clear choice about the organisations they work with. They must sideline those like the Muslim Council of Britain, which openly challenges the government's Prevent agenda and published a 2007 paper co-authored by Alam calling for all girls to wear the hijab and rules all pre-marital relationships – whether homosexual or "girlfriend/boyfriend" – unacceptable.
Counter-extremism experts like Quilliam, and Muslim groups who support Prevent and champion gay and women's rights, must be embraced.
It's a sad reflection of modern Britain that schools are in the frontline of the battle with extremism. For teachers, as for the rest of the country, this is a battle that we did not choose, but one that we have to win.
Jamie Martin is the former special adviser to education secretary Michael Gove