The government has finally admitted schools will miss out on around £90 million in pupil premium funding, despite previously insisting they would not lose out from a change to the way it is calculated.
The Department for Education released updated guidance on the effective use and accountability of the pupil premium today.
In December last year, ministers changed the system to base the funding on free school meals eligibility in October, rather than in January as it was in previous years.
The move meant thousands of pupils who became eligible between the two census dates did not count towards this year's funding.
Guidance published today states the overall impact was "approximately £90 million", but insisted pupil premium funding was still increasing "compared to the previous year". The DfE said there were 62,216 fewer pupil premium recipients as a result of the change. The update does not provide a methodology for the calculations.
Ministers had claimed change 'won't make huge difference'
It comes after schools minister Nick Gibb told MPs in April that individual schools would not lose out "as a direct consequence of the change".
"Whether a school gets more or less pupil premium will depend on its own circumstances but if you take a typical school, an average school, they will see their pupil premium increase from last year to this year."
Gibb claimed that figures being "banded around" by newspapers and campaigns did not take into account those pupils who had become eligible for free school meals again after having been eligible in recent years.
Vicky Ford, the children's minister, claimed earlier this year the change "won't actually make a huge difference".
But Schools Week later revealed the loss could be up to £125 million following analysis of freedom of information requests sent to local authorities.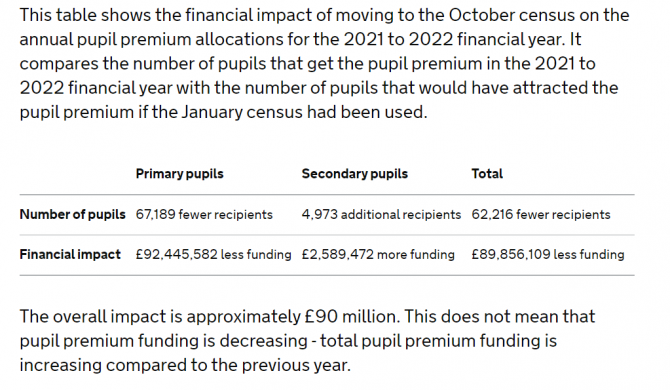 The DfE added that £280 million in funding allocated via the recovery premium "far outweighs the impact of moving the pupil premium census date from January to October", and said 87 per cent of local authorities would see an increase in pupil premium funding.
But earlier this year schools were told they would receive just £145 per pupil premium-eligible child under the recovery premium.
A DfE spokesperson said pupil premium funding had "risen for the majority of schools, to more than £2.5 billion overall this year – an increase of £60 million compared to last year".
"In addition to the pupil premium, pupils who are eligible for FSM, or have been at any point in the last 6 years (FSM6), also attract funding through the schools national funding formula (NFF)."
The DfE said it was moving to use the October census for the NFF rather than the January census which will "increase the amount of funding allocated through the FSM6 factor in the 2022 to 2023 financial year, as FSM eligibility increased significantly between January and October last year".