Schools in the most affluent areas are more than twice as likely to be rated 'outstanding' by Ofsted as those in the most deprived.
New data reveals the extent to which schools with richer intakes outperform others, and the inspectorate is now under pressure to demonstrate that schools are judged on performance rather than on pupils' backgrounds.
The data, released at the request of a group of headteachers, shows the proportion of schools that received each of the inspectorate's four grades, broken down by pupil ethnicity and the proportion eligible for free school meals.
Just 16 per cent of schools in the most deprived areas are 'outstanding', compared with 37 per cent in the least deprived.
Similarly, whereas only five per cent of all schools in the most affluent areas are 'requires improvement' or 'inadequate', 21 per cent of schools in the most deprived areas are.
Pupil ethnicity also appears to have an impact on grades. For example, just four per cent of secondary schools in the most deprived areas with high proportions of white British pupils are rated 'outstanding' and 14 per cent are rated 'inadequate'.
Of secondary schools in deprived areas with a large proportion of other ethnic groups, 29 per cent are 'outstanding' and just four per cent are 'inadequate'.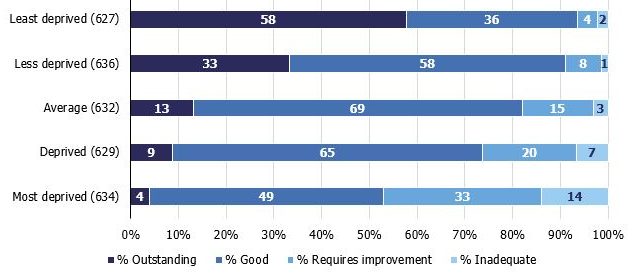 Stephen Tierney (pictured), who chairs the Headteachers' Roundtable, said the findings reveal that schools in deprived areas with high levels of white British pupils "are statistically stuffed".
"Our question to Ofsted is: can they with any reliability, consistency and validity evaluate a school on its effectiveness, rather than its intake?" he asked.
Rather than spending millions of pounds on inspections, resources would be better spent on helping every school to improve.
"Ofsted needs to open up a whole debate about how we do school improvement," he continued.
Many school leaders have long complained that the inspectorate does not give due consideration to the challenging circumstances in which different schools operate.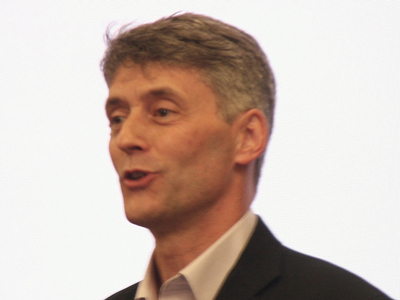 For instance, Ofsted's stance that all schools must be measured "by the same standard" has been previously criticised by Ian Widdows, founder of the National Association of Secondary Moderns, for failing to fully take school context into account.
He has pointed to the fact 98 per cent of selective schools hold Ofsted's top two grades, compared with just 79 per cent of non-selective secondary schools, and 69 per cent of secondary moderns (non-selective schools in highly selective areas).
Teachers have tweeted their dismay at the most recent graphs in Tierney's blog.
Vic Goddard, the head of Passmores Academy in Essex, which works in a deprived area, said the revelations are "awful for recruitment and retention of staff in certain areas".
Sean Harford, the inspectorate's national director of education, said he would look into the graphs, but added he was not certain they were definitely official Ofsted material.
Ofsted is currently working on a new inspection framework, and there are rumours that the four grades could even be replaced with a pass/fail system. It was approached for comment.