The proportion of trainee teachers that took the government's favoured school-led route into the profession increased again last year, new figures have revealed.
The Department for Education published initial teacher training statistics for 2016-17 this morning, and figures show the overall number of trainees gaining their QTS has remained stable at 91 per cent, the same as in 2015-16.
But the proportion of physics trainees achieving QTS has fallen, to the lowest of any subject.
Schools Week has the key findings:
1. More than half of all trainees are now on school-led route
The report shows that 55 per cent of first-year trainees took a school-led route in 2016-17 – such as School Direct or school-centred initial teacher training (SCITTs).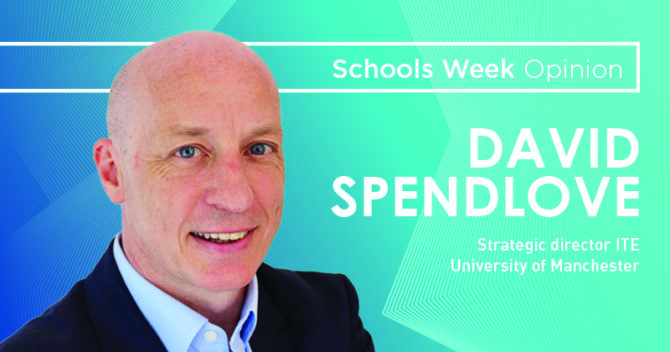 That figure has risen from 51 per cent last year, making this the second year that the majority of trainees have studied school-led routes. Meanwhile the proportion of trainees based at a higher education institute such as university continues to fall, from 49 per cent in 2015-16 to 45 per cent last year.
The figures also include Teach First trainee numbers for the second time, which has helped push up the proportion of school-led routes.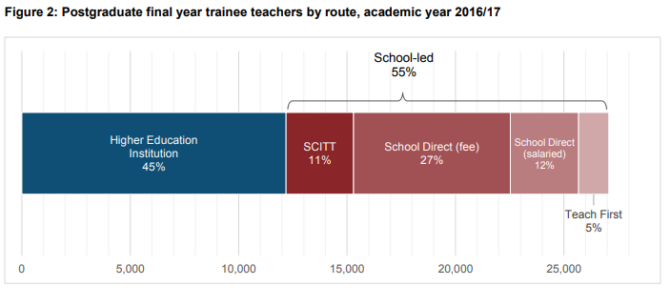 2. School-led trainees still have highest pass rates
The report also shows that 93 per cent of postgraduates in school-led routes achieved their qualified teacher status, compared with 90 per cent in higher education institutions. These proportions are the same as in 2015-16.
The proportion of trainees receiving a teaching post within six months was also higher for school-led routes (96 per cent), compared with universities (93 per cent), again continuing the same trend as the previous year.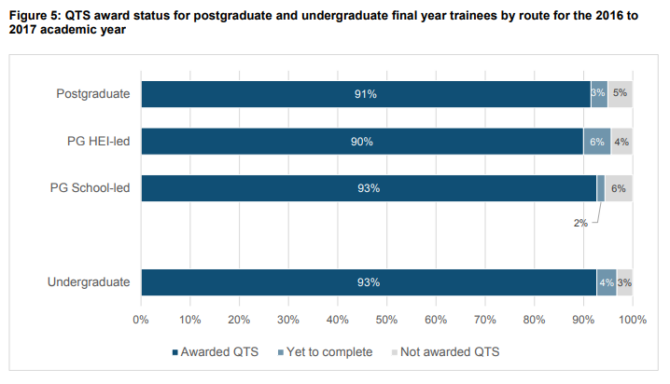 3. QTS pass rates for physics trainee teachers falls
Just 83 per cent of trainee physics teachers were awarded QTS, the lowest pass rate of any subject, and down from 85 per cent in the previous year.
The news will come as a blow to the government, which has pumped money into tax-free teacher training bursaries in EBacc subjects, including particularly lucrative offers for physics graduates with top degrees.
Computing had the lowest pass rate in 2015-16 at just 84 per cent, but picked up to 88 per cent last year.
Pass rates for other subjects with large bursaries have also remained low. Just 89 per cent of maths trainees were awarded QTS, the same as the year before, and 88 per cent in chemistry, which is at least one percentage point up on 2015-16, but is still the second lowest along with computing.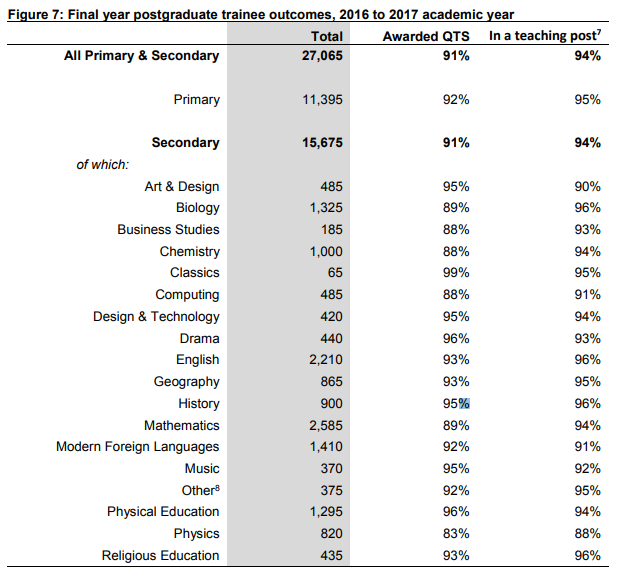 4. Women trainees continue to outperform men
The report also shows that 93 per cent of women trainees are awarded QTS, the same proportion as the year before. At 88 per cent, the pass rate for men has increased by one percentage point compared to 2015-16.