Government plans to "level up" school funding risks wasting public money and will fail to help schools struggling with their finances, a think tank has warned.
Reform said Boris Johnson's plan to increase the schools budget by £7.1 billion by 2022-23 will not close the gap between schools in surplus and those in deficit.
But the Department for Education insisted that allocated additional funding to schools on the basis of past spending decisions would be "unfair", and said it intends to proceed with plans to allocate it based on need via the national funding formula.
According to Reform's analysis of government spending data, 28 per cent of local authority maintained secondary schools and 8 per cent of maintained primary schools were in deficit in 2018-19. The average deficit was £570,000 per secondary school and £56,000 per primary.
Conversely, 36 per cent of secondary schools and 42 per cent of primary schools ran so-called "excessive" surpluses last year. This is a term used by the DfE when a school's revenue surplus is significantly larger than its annual income.
Maintained primary and secondary schools had a combined deficit of £195 million last year, but this was dwarfed by the total surplus of £1.5 billion.
Earlier this year an Education Policy Institute study found that if councils fully distributed the "excess" surpluses from schools in their areas to schools in the red, then funding deficits would be wiped in four out of five local authorities.
The study also found academies in big trusts were less likely to overspend than maintained secondaries – with half of academy secondaries overspending in 2016-17 compared with just under two thirds of maintained secondaries.
Given the disparity between schools, Reform wants the government to reconsider how it spends its promised additional funding, with a focus on those with the greatest financial need.
"Extra cash for schools is welcome, but it must be well spent," said senior researcher Dr Luke Heselwood.
"A universal 'levelling-up' approach risks wasting taxpayers' money, while failing to sufficiently help those schools in financial hardship."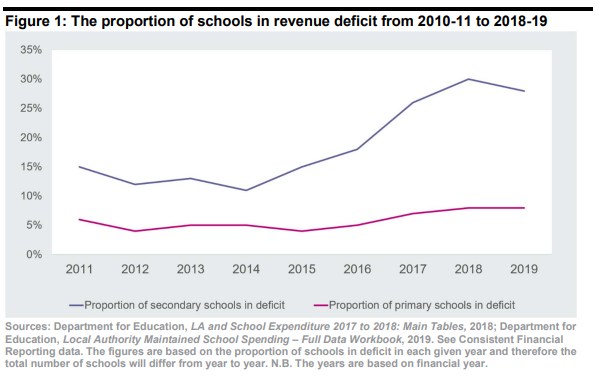 But the DfE insisted the additional money would be allocated through the national funding formula and "according to need".
"We do not intend, instead, to direct funding to schools based on their historic spending decisions," a spokesperson said. "That would be a retrograde and unfair approach."
Schools in deficit are not the only concern.
Reform's analysis found that 9 per cent of secondary schools and 7 per cent of primaries in surplus "could have their reserves wiped out next year if their in-year balances are the same as this year".
"It is also clear that since 2010-11, the proportion of schools with no cash reserves has increased as school funding per pupil has decreased," the report added.
The PM's pledge to level up has previously come under fire from the EPI who said almost all schools that serve the poorest communities would miss out on additional funding under the proposal, while those with the lowest proportion of disadvantaged pupils stand to gain the most.