Disadvantaged pupils would miss out on additional money under the prime minister's pledge to "level up" per-pupil funding for schools, new analysis reveals.
The Education Policy Institute found Boris Johnson's plans for new minimum per-pupil funding levels "would disproportionately direct additional funding towards the least disadvantaged schools".
Johnson vowed to increase levels of funding from £3,500 to £4,000 in primary schools and from £4,800 to £5,000 in secondary schools. On the steps of Downing Street last week, he said work to implement the rise would begin "immediately".
But the EPI has now revealed that almost all schools that serve the poorest communities would miss out on additional funding under the proposal, while those with the lowest proportion of disadvantaged pupils stand to gain the most.
For example, primary schools with less than five per cent of pupils eligible for free school meals – just one or two in each year group – would see an average increase in per pupil funding of £271, whereas those with more than 30 per cent of pupils eligible would gain just £1.
In fact, the average pupil not eligible for free school meals would attract more than double the additional funding (£116) compared with those eligible for free meals (£56).
The EPI ranked local authorities by their per-pupil funding at primary and secondary level. It found 64 local authorities currently below the primary threshold of £4,000 and 33 local authorities below the secondary threshold of £5,000.
Researchers calculated the increase in per-pupil funding under the proposed increase in the funding floor, looking at the percentage of pupils in schools who are eligible for free school meals.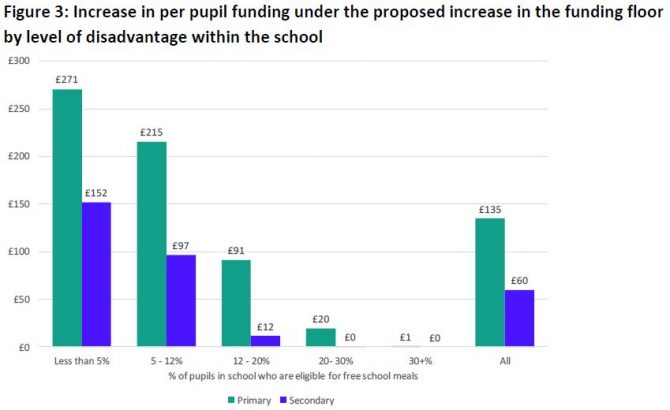 The EPI also found 151 of England's 163 grammar schools would benefit under the proposal, receiving a boost of more than £130,000 each to their total budgets.
London aside, the north east would receive the lowest amount of additional funding, despite disadvantaged pupils leaving school nearly two years behind their peers in the region.
Jon Andrews, deputy head of research at EPI, said: "The prime minister's drive to level up school funding implies that funding should be equal despite the fact that children's circumstances and opportunities are anything but.
"This approach would disproportionately direct additional funding towards the least disadvantaged schools with the least challenging intakes at a time when progress in closing the attainment gap has stalled and may be about to go into reverse."
The revelation comes after Schools Week calculated Johnson's original pledge to increase minimum per-pupil funding levels would amount to a rise of £50 million – equivalent to an increase of just 0.1 per cent of the total schools budget.
Johnson later went further, pledging an extra £4.6 billion per year for schools by 2022, but it is not clear how much will be available in the intervening years.
The Institute for Fiscal Studies estimates that schools will need £4.9 billion to reverse funding cuts over the last decade and protect their budgets until 2023.
Dr Mary Bousted, joint general secretary of the National Education Union (NEU), said the analysis showed that Johnson's pledge "was not thought through" and that it would do "little to help the schools facing the greatest challenges but would disproportionately benefit others".
Paul Whiteman, general secretary of school leaders' union NAHT, welcomed the government's recognition for the need in additional funding, but said there was "confusion" over what was being promised.
Whiteman added: "Schools and colleges desperately need an immediate multi-billion-pound emergency investment, as well as a long-term commitment to education funding. Schools can't wait until 2022 or until Brexit is sorted for this money – action has to be taken now."
Geoff Barton, general secretary of the Association of School and College Leaders (ASCL), urged the government to "listen to the evidence". He added: "The fact that so much more money is needed is not a case of us being unrealistic, but a reflection of the totally inadequate level of funding currently provided."
Downing Street has been contacted for comment.