Covid outbreaks in schools have reached their highest level since December as the Indian variant continues to spread, official figures show.
School leaders called new data on the spread of the Delta variant first discovered in India "concerning", and said it raised "serious questions" over the decision to drop face covering requirements in schools last month.
Rising cases as Delta becomes dominant variant
The latest Public Health England figures show Covid outbreaks in schools surged 78 per cent week-on-week in the final week of term, with 91 reported between 24 and 30 May.
It marks the largest flare-up in almost six months. PHE experts say the Delta variant has now overtaken the Alpha or Kent variant as the dominant mutation in the UK, and their analysis reveals how variant outbreaks affected schools in May.
There were 97 Covid outbreaks in primary and secondary schools involving at least one variant over the past four weeks, amounting to around one in 250 schools. In the last week of term, 39 outbreaks involving the Delta variant were identified in schools, up from 27 the previous week and 11 the week before that.
A total of 140 Delta variant outbreaks have been discovered in educational settings this year so far. By comparison, schools saw 49 outbreaks with no variant or where mutations were not known last week, and 25 a week earlier — meaning Delta outbreaks narrowly exceeded non-variant outbreaks between 17 and 23 May.
Pressure on government over relaxing rules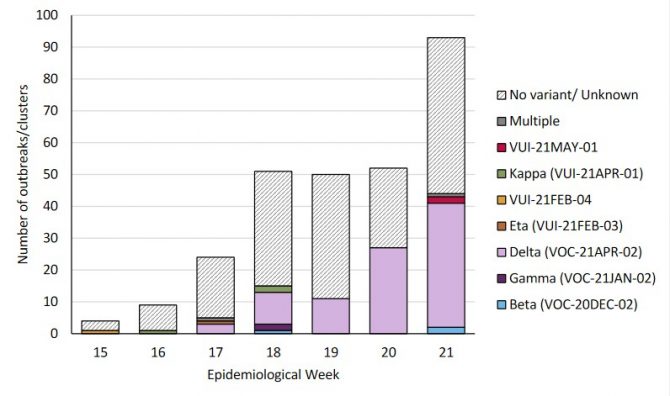 "The latest data on the Delta variant in schools is certainly concerning, and raises serious questions about the government's decision to remove some of the mitigation measures in schools last month," said Paul Whiteman, general secretary of school leaders' union NAHT.
He said the data backed up evidence from his members, who had reported more and more schools having to close multiple classes or 'bubbles' in areas with higher case numbers.
Surge testing has been introduced in some areas, and some schools have been forced to close on-site provision and switch to online learning.
The National Education Union's branch in Lancashire, which includes areas among the worst-affected by the Delta variant, has called for a week-long "circuitbreaker" of remote learning next week. The NEU's Liverpool branch also said the latest data "shows we cannot afford to relax Covid restrictions in schools".
Whiteman called for the government to be "proactive" in ensuring transmission does not run unchecked in schools, adding: "We must not sleepwalk into further widespread disruption to education."
PHE urges caution
Deepti Gurdasani, a senior lecturer in epidemiology at Queen Mary University of London, said the PHE data painted a "grim picture".
She said on Twitter schools seemed to be a "key area of spread" for the Delta variant, and noted a higher risk of transmission and hospitalisation.
PHE said outbreaks and clusters in schools remained at low levels overall, but linked a "slight increase" over recent weeks to higher levels of the Delta variant circulating in communities.
"PHE's health protection teams continue to work with local authorities and schools to carry out surveillance of Covid-19 cases in schools to understand and reduce transmission in these settings," it said in a press release.
Dr Jenny Harries, chief executive of the UK Health Security Agency, urged the public to "exercise as much caution as possible" and those eligible for vaccination to have the jab.
Vaccines safe for young people
The increased outbreaks in schools come just as regulators confirmed it would be safe to vaccinate pupils in their early teens.
The UK's Medicines and Healthcare products Regulatory Agency (MHRA) announced it had approved the Pfizer and BioNTech vaccine for use among 12- to 15-year-olds on Friday. It had previously only been signed off for those aged 16 and over.
The watchdog said side effects were "mild to moderate", with no new issues identified for children receiving the jab.
Dr June Raine, the MHRA's chief executive, said it was for the Joint Committee on Vaccination and Immunisation to advise the government on whether younger teenagers should be included in the vaccine rollout.
Vaccine minister Nadhim Zahawi has said it is for clinicians to decide on whether to vaccinate children, telling Sky News it would be principally "to protect their families".
Professor Christina Pagel of the Independent Sage group said this week the government appeared to think it "doesn't matter if children get Covid". She called it an "unbelievable" position when some suffer symptoms months later and longer-term consequences are not yet known.