The number of penalty notices handed out by councils for poor attendance has soared by 74 per cent in the wake of a landmark Supreme Court case, the Department for Education has revealed.
New data shows councils handed out 260,000 fines for poor attendance in 2017-18, compared to just 149,300 in 2016-17.
The government says the rise was prompted in part by the decision by the Supreme Court in 2017 to uphold the right of councils to fine parents for unauthorised term-time holiday, which emboldened town halls to pursue parents when children skip school.
Jon Platt, a parent from the Isle of Wight who took his daughter to Disneyland during term time, initially won his bid to have a fine overturned in magistrates' court and the High Court. But the Supreme Court ruled against him in April 2017.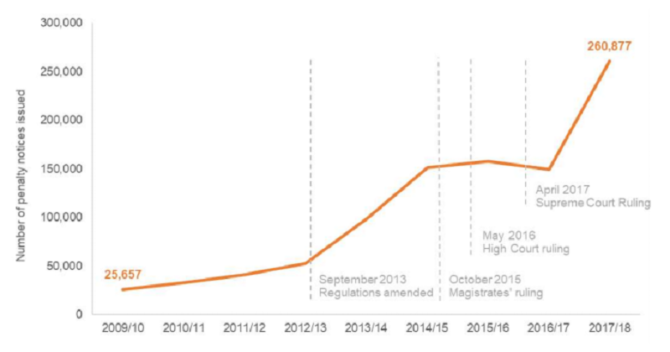 In their ruling, judges unanimously agreed pupils should not be taken out of school without good reason, and clarified that "regular" attendance means "in accordance with the rules prescribed by the school".
Today, the DfE said the Supreme Court decision had had a big influence on councils and was reflected in the rise in the number of fines.
Out of six councils sampled by the DfE about their attendance fines, all of them said they had increased the number of penalties issued after the Supreme Court judgment.
However, at the same time, the proportion of penalty fines for poor attendance that were paid within the 21-day timeframe increased, from 69 per cent in 2016-17 to 75 per cent in 2017-18.
Every fine is at least £60, meaning at least £15.7 million was collected in fines in 2017-18, up from £9 million the previous year. Fines double if not paid after 21 days, so the real figure could be much higher.
The rise in 2017-17 followed a 5 per cent dip in the number of penalty notices for poor attendance issued between 2015-16 and 2016-17.