The number of fines issued for poor school attendance have continued to increase sharply following a landmark Supreme Court ruling on the matter, new figures have revealed.
In 2018-19, the number of these notices issued to parents has increased by 28 per cent to 333,400, up from 260,900 in 2017-18.
In the previous year's data, the number of fines soared 74 per cent for 2017-18, compared to just 149,300 in 2016-17.
The Department for Education has said the most common reason for them being issued was unauthorised family holiday absence – 86 per cent in 2018-19.
It says amendments to regulations and a number of high profile court cases may have had an impact on the trends in recent years.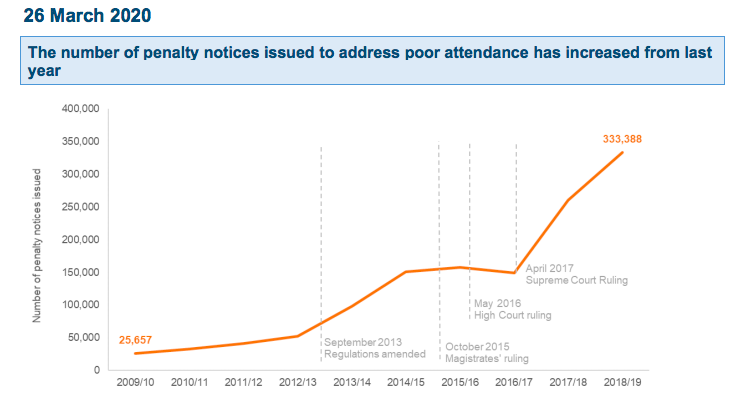 In particular since 2015-16 following the long-running Isle of Wight Council v Jon Platt case.
Platt, who took his daughter to Disneyland during term time, initially won his bid to have a fine overturned in magistrates' court and the High Court. But the Supreme Court ruled against him in April 2017.
In their ruling, judges unanimously agreed pupils should not be taken out of school without good reason, and clarified that "regular" attendance means "in accordance with the rules prescribed by the school".
The DfE said in new data published today that councils "with large increases were asked to provide reasons and many cited the Supreme Court judgement, either as a result of returning to pre-court case levels following a slowdown or from a change in behaviour since the ruling".
The fines are £60, but double to £120 if they are paid after 21 days. If it is not paid within 28 days, the local authority must either prosecute for the original offence or withdraw the notice.
In total, 76 per cent of penalty notices issued in 2018-19 were paid within 28 days, while 10 per cent were withdrawn, 7 per cent led to prosecutions and 8 per cent were unresolved.
The DfE says there is a considerable variability in the number of penalty notices issued by local authorities, from zero in some areas, to 24.4 per cent of enrolments in others.
In 2018-19, the region with the greatest rate of penalty notices issued – as a percentage of pupil enrolments – was Yorkshire and the Humber, at 7.2 per cent, the region with the lowest rate of penalty notices issued was the Inner London at 2.3 per cent.
The DfE said local authorities may show a large rise or fall in the number of penalty notices issued from year to year due to changes in local policy.