Unauthorised pupil absence rates have remained at the highest since records began over a decade ago, new figures show.
While the overall absence rate has slightly decreased, driven by a drop in authorised absences, the rate of unauthorised remained at 1.4 per cent in 2018-19, the same as the year before.
This is the highest since consistent data became available in 2006-07.
The authorised absence rate declined from 3.5 per cent in 2017-18 to 3.3 per cent in 2018-19. This follows a period when the rate remained stable at 3.4 or 3.5 percent from 2013-14 to 2017-18.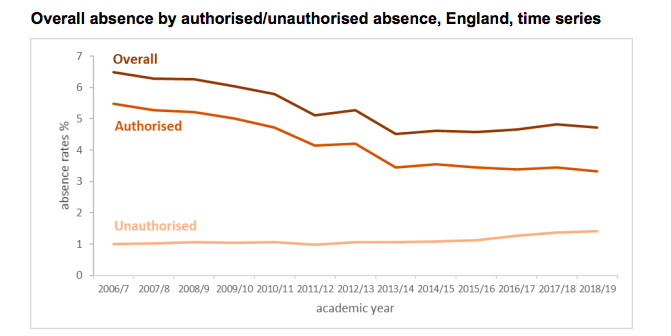 The total number of days missed for overall absence across state-funding primary, secondary and special schools has increased from 59.1 million in 2017-18 to 59.6 million in 2018-19.
The Department for Education says this reflects a rise in the total number pupils. The average number of days missed per pupil enrolment has remained steady at 8.4.
Illness is the main driver of absence, accounting for 54.7 per cent of all absence in 2017-18 and 52.6 per cent in 2018-19.
The rate of authorised holiday absence has remained steady at 0.1 per cent, likewise for unauthorised holiday absence at 0.4 per cent.
The absence rate due to other unauthorised circumstances has increased from 0.8 per cent in 2017-18 to 0.9 per cent in 2018-19.
Persistent absence has decreased from 11.2 per cent in 2017-18 to 10.9 per cent in 2018-19, and those pupils who are persistently absent account for 39.9 per cent of all absence in 2019-18, which is up nearly a percentage point from 38.5 per cent the year before.
Overall absence rates show that year groups 3 and 4 had the lowest rates at 3.9 per cent, while year groups 10 and 11 had the highest rates at 6.3 per cent and 6.4 per cent respectively (excluding pupils outside the normal year group structure).