I emerge from the loo at Q3 Langley to find my path blocked by a single-file procession of year 7s snaking through previously deserted corridors.
The line is bouncing with exuberance. Heads bob this way and that, apparently seeking adults to greet, a merry cacophony of kids greeting me with "good morning miss".
It's a pleasant surprise, as I'm here as a somewhat reluctant visitor to the school, having been effectively sent to Oldbury to set the record straight.
In December, Schools Week ran a news article on how the school's headteacher Peter Lee, having borrowed strategies from the (oft-divisive) Michaela Community School in London, declared in a conference speech that having "very young members of staff" had made it easy to put the strict – some might say "militaristic" – systems in place.
He was unhappy with the coverage, and pushed and pushed for a chance to have his say. I'm expecting to meet a proud man, a self-promoter wanting more coverage (but positive, this time, please!) for his Michaela-in-the-Midlands project.
SLANT, for me, is not interrupting, and tracking the staff member. Well, that's just manners.
But as Lee runs through a slideshow, with his SLT sitting in, reviewing the press coverage and the attacks they received on social media, explaining the context and background of his school, I feel something like compassion. It also feels a little like I'm being asked to be the judge and the accused at the same time.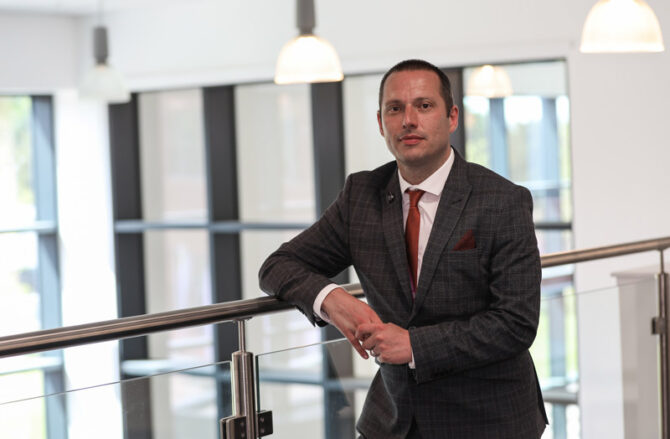 "Michaela is one of a significant number of schools we've been to, and diametrically opposed…" he trails off, changing tack. "We've been to Harrop Fold before it hit the news. We've been to grammar schools, my head of maths went to King Solomon Academy yesterday. For us it's about learning."
The point he was making in his speech was, he insists, to explain how wonderful it is that other schools are so generous with sharing their learning. And he was referring not to how easy it is to mould young teachers, but to the difference between being able to start a school from scratch, against trying to change the culture of a functioning school.
"If I became head down the road and said 'right, we're going to do a strict pencil-case equipment policy', I'd have 10 staff who would love it, while 20 would go 'that's the most ridiculous idea in the world'. Sixty in the middle would just go whichever way the crowd is going."
Lee spends a while skirting round the issue of Michaela, until I relieve the tension by telling him that I had recently visited and was impressed. There's palpable relief, which reveals a confession: "Katharine is amazing!"
He's visited three times.
Those who see the education community as split into two ideological camps may have trouble getting their heads around Q3 Langley, which has taken a somewhat pick'n'mix approach to school policies.
It does family lunches, with tables named after aspirational universities, and public "appreciations" marked by the (slightly cultish) "double clap" that seems popular with the no-excuses, Knowledge is Power-inspired schools. It uses the SLANT technique for maintaining pupils' attention in class (although only for a minute at a time) and has stationery checks in tutor time, with five minutes of detention for each missing item.
But it also enlisted Hywel Roberts, a stalwart of the progressive, creative teaching movement, to help with curriculum planning. The SLT are fans of developing students' "personal learning thinking skills" (a much-maligned framework from the previous national curriculum that aims to develop "independent enquirers, creative thinkers and team workers").
"You mention that on social media and you're ripped down," says Lee – who isn't planning on giving up group work, or sitting in tables, rather than rows, any time soon.
The trust to which they belong, Q3, specifically calls itself "progressive", which is a loaded term in education. Yet the same trust adopts very corporate language, with the school houses called "companies" and teachers dubbed "learning consultants". So what exactly are they?
"Our behaviour policy is ridiculously positive," says Lee. "SLANT, for me, is sitting up straight, it's not slouching, it's not fiddling with a pen. It's listening, it's answering, it's not interrupting others. Not talking over the adult talking, and tracking the staff member. Well, that's just manners."
Lee himself is a former police officer, the son of two left-leaning teachers, who jokes that he joined the force to rebel against his family: "I was delivering Labour party leaflets aged 11, I was going on CND marches to Greenham Common and so forth."
His grandad on his mum's side was a shop steward, who stood for the Communist Party in Small Heath, Birmingham, in the 1960s. His dad's family is from Liverpool.
"My dad took me to Villa vs Liverpool in about 1982, and said 'you can support Villa like your granddad, or you can support Liverpool'. And Liverpool won 3-0, so unfortunately that was my football allegiance from then on."
Lee applied to his dad's home town to study history and politics, "for two reasons. One, I had a season ticket for Liverpool, and two, my nan cooked my Sunday lunch every week for me."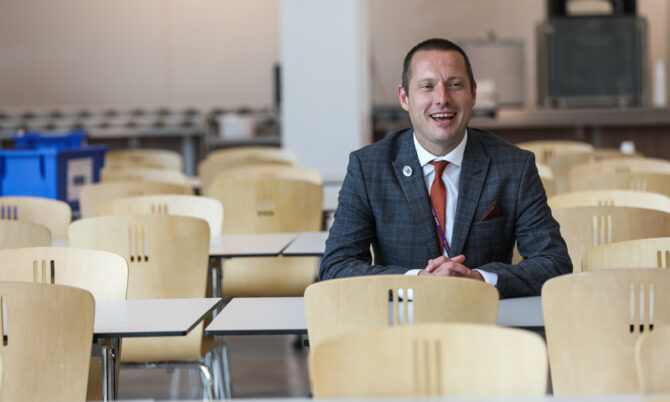 Describing himself as "probably quite academic", Lee feels his years in the West Midlands Police – which he joined straight after university – showed him a "different side of life". Nevertheless he was keen to escape the seven-day shift pattern – if only to be able to play football on a Saturday.
After applying for and being rejected from CID, he joined the police training team instead, "which is a really odd thing to do, because training is seen as the lowest of the low in the police. It's seen as the people who can't do it out on the street.
"And I loved it. I mean, I've had my nose broken twice out on the streets, and I wasn't very good out there, I don't think. I could run fast, but I found I was much better in a classroom.
Having got a taste for teaching, at 28 he applied to the University of Warwick on a fast-track teacher training programme, in 2004.
His first job was at Queensbridge School in Birmingham. In addition to being on an accelerated promotion scheme, Lee was very driven.
"I volunteered, I did all the head of department jobs, I ran the website, I asked to teach A-level at the neighbouring school – Bishop Challoner, an outstanding school – and they got me a three-month secondment to do that on a Friday morning. Because I always knew I wanted to progress and I needed to look at gaps on my CV," he recalls.
Lee cites his headteacher at the time, Tim Boyes, as a "tremendous influence on my career" – especially in terms of curriculum and pedagogy. It was here that he met his wife, a primary practitioner who worked on the government's 'Wasted years' report, and whom Lee describes as "the biggest influence on my teaching career. I watched her teach in my NQT year and she just blew me away. She was just the best teacher I'd ever seen teach, and she still is."
To broaden his experience, he did a term teaching A-level at a sixth-form college, then got a part-time post as assistant head at Moseley School, which Boyes had taken on as an interim headship, in what turned out to be a failed attempt to unite the schools in a single trust. With many staff working across both sites, there was an "awful day" in January 2011 when Ofsted visited both schools simultaneously. Both schools dropped a grade – Queensbridge went down to 'satisfactory', and Moseley fell to 'inadequate'; "basically we all got pulled from Moseley."
Lee returned to Queensbridge but soon applied for an assistant vice-principal role at Q3 Academy Great Barr, and after four years, was offered the headship of Q3's new school, to be built 20 miles to the south in the same deprived West Midlands borough, Sandwell.
The start-up team were hired while they were all working full-time teaching posts, and they fitted in their planning on evenings, holidays, and "the middle of the night", jokes assistant vice-principal Grace Cox.
Staying this close to day-to-day school issues kept them "grounded", however. They would meet for three hours every Monday night and discuss how they might do things differently at the new school. This is where their rule on handing in mobile phones at the start of each day comes from.
I spent seven hours searching for a stolen iPhone
"I spent seven hours searching for a stolen iPhone," says Lee. "It's my fault – as an ex-police officer, to my shame, I didn't take his shoes off when I searched him – and he'd had it in his shoe, and it burnt his foot, because he'd had it for seven hours in there. I came to the meeting the next Monday and said 'right, we've got to do something with mobile phones. I'm not wasting seven hours of my life that I could have been helping teachers or doing other stuff'."
Sandwell ranks in the worst 30 local authorities for all the government's indices of deprivation – a factor the team has taken into account as a matter of course: "I think we've designed the school around the disadvantaged child without realising it, in lots of ways. We give everybody breakfast for free. Toast, cereal and water. No one knows here, who is on free school meals as we all sit and eat together."
He also takes a "very paternalistic approach" to changing behaviours, for example, by suggesting ways the kids can help out at home, and making them articulate "appreciations" of people who've done nice things for them, which Lee admits "can be a bit forced".
He doesn't apologise for this approach, however.
"I think at times we're a bit scared as teachers to go down that route, but ultimately that, I think, is our job in society," he insists.
In what can seem like a polarised new-schools landscape, there will no doubt be some purists who consider Q3 Langley a messy compromise. Yet others will see a very human attempt to take the best of what they've seen in other schools, and adapt it to what sits well with the leadership team, and what chimes with their own experience.
It's a personal thing
Favourite book?
I was talking to a student the other day, she's reading Animal Farm. Mine is 1984. It's probably the political historian in me. I first read it at 13 or 14. It's the book I enjoyed most from Orwell – I've read Homage to Catalonia and didn't really enjoy it as much.
What kind of schooling do you want for your three children?
I'm not one of these heads that stands up and works in an academy and sends their kids to private school. My children walk to their local school. I think every child and every parent deserves a good local school that they can walk to.
My two youngest will go to Queensbridge, absolutely. Although our closest school is a grammar school, King Edwards, but no, I believe 100 per cent in comprehensives.
Who challenges you?
My 14-year-old, probably, Grace, in particular. Grace is phenomenal really, the kind of ying to my yang. My wife and my chief executive do, definitely.
If you could escape anywhere for a month, where would you go?
Somewhere hot. I don't know! I'm not very adventurous in terms of travelling. Maybe I should have taken a gap year and travelled and so forth. There's nothing I love more than going on holiday with my family and sitting by the pool in Tenerife, that would be fine with me! It's the only time I read books, actually.
What influence did your parents have on you?
My mum is a head teacher, my stepdad was a head teacher. My mum was my chair of governors at my secondary as well, so my tie was never out of place, I was never in trouble, never had a detention once!
My dad passed away nine-and-a-bit years ago, and I wish he'd be able to see this. He'd be proud. My dad was a sixth-form teacher, one of those old-school teachers who would pick up Romeo and Juliet and make it come alive. Very charismatic.