Oak bosses would have been in line for a £41 million payday under their preferred proposal for the future of the online school.
A Schools Week investigation revealed last week how Oak's management team submitted plans to turn the taxpayer-funded online school into a private company. The proposal was withdrawn after being deemed 'unworkable'.
But we can now reveal the full details of the controversial proposal, which would have given Oak bosses 80 per cent of shares in the Sapling company.
This means management would "retain control" of the organisation even after going through two investment rounds. The goal was to sell Sapling for £100 million after at least four years.
A document detailing the proposal, seen by Schools Week, shows that it would have handed "founding employees" a £41 million windfall.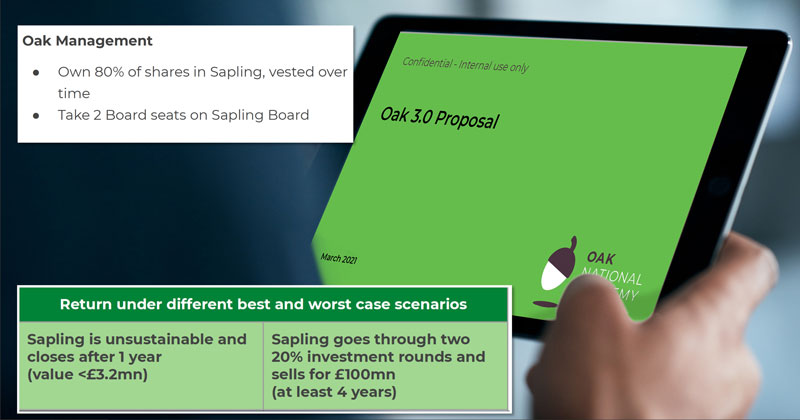 This is more than treble the £13 million that would be returned to a trust set up to own the rest of the company. This cash would have been "redistributed to partners and public as appropriate".
The findings expose as incorrect Oak's statement last week that there was "no option in which the management team would have had a majority share" (see below: "How Oak's story changed").
When this proposal was discussed it was clear that it was not going to be acceptable to the Reach Foundation board
The plan was submitted in March to the Reach Foundation, which incubates Oak, before a crunch board meeting to resolve the online school's future.
Oak wanted to bid for a £15 million government catch-up resources contract that had been put out for tender. A private company called Sapling was also set up by an Oak director that month.
It has also emerged this week that the proposal was pulled after the Reach board voiced discontent.
Ed Vainker, the foundation's chief executive, said: "When this proposal was discussed it was clear that it was not going to be acceptable to the Reach Foundation board."

Reach has set up a new independent charity to take Oak forward. But its future is still up in the air as funding has yet to be secured. The government has also since pulled the £15 million catch-up contract.
An Oak spokesperson said: "Oak has always been a project about supporting pupils and teachers. It has never been about individual gain."
'80 per cent shares enable management team to retain control'
The document, "Oak 3.0 Proposal", was submitted to the Reach board by Matt Hood, Oak's principal. The former Department for Education adviser was awarded an OBE last year for his work on the online school.
The "3.0" relates to the next phase of Oak after taxpayer funds run out later this year. "Oak 1.0" was the start of the organisation, while "2.0" relates to this academic year – its first full year providing lessons.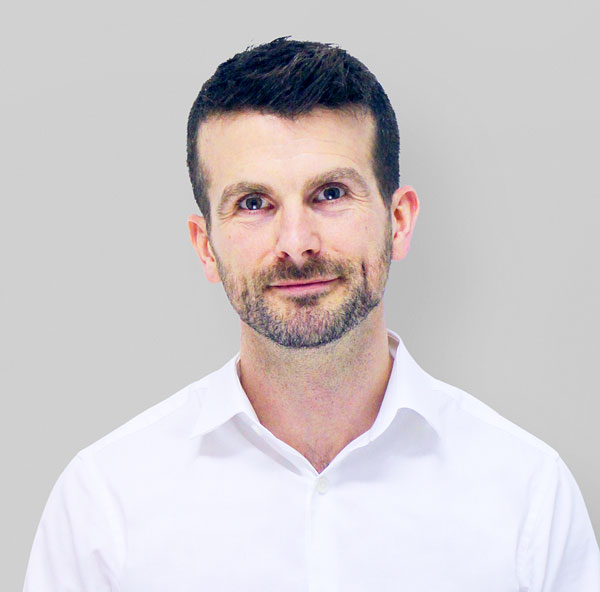 The proposal sets out the "return under different best and worst-case scenarios". Under the "best case", Sapling "goes through two 20 per cent investment rounds and sells for £100mn [sic]". This was listed as after "at least four years".
A breakdown of the returns shows that, following investment rounds, "founding employees" would be left with 41 per cent of shares, leaving them in line to make £41 million. Oak claimed the term related to all employees. They have around 25 employees.
Under the "worst case" scenario, "Sapling is unsustainable and closes after one year", the document added.
'No return unless Sapling is successful'
One of the "objectives" relating to Oak management described "financial return if future value is created reflecting future efforts to grow the organisation".
Another was to "do the right thing, preventing personal gain on existing work". Oak bosses proposed their plan met this because "invested shares for Sapling team, mean no return unless successful if [sic] establishing the organisation long-term".
Oak's "brand and platform assets" would remain with a newly formed Oak Trust, which would initially own 20 per cent of shares so they "cannot be sold for profit by Sapling team".
Lessons would also be "heavily restricted to prevent commercial exploitation by any party".
Scores of teachers gave their time free to record lessons. Their schools own the copyright of those lessons.
Oak was given nearly £5 million of taxpayer cash after being set up at the height of last year's first lockdown. The money was awarded without a tender process because it was part of the pandemic response.
Trust would be 'public face' of Oak, but only a third of board seats
Under the plan, the "Oak Trust" would own 20 per cent of shares, which would be halved after the investment rounds. The trust would be the "public face" of Oak. It would get a licence for the brand and platform "in perpetuity", ensuring the classroom "stays free".
The proposal also detailed how "preference shares" of £3.3 million would be given to the trust to recognise the "value already created" by the online school's lessons. This could have been "redistributed to curriculum partners".
Alongside the equity stake, this would amount to a £13 million return for the trust, which would hold one of three board seats. The document stated this gave it a "clear voice to influence the future direction but leaves majority control with the management team".
Oak top team 'likely to leave' if charity established
The Sapling proposal included a page detailing "Why don't other options work?". The "failing" listed under establishing a charity, which is the solution chosen by the Reach board, states an "inability to deliver vision at scale, explore international options etc".
There would also be a "challenge in generating sufficient revenues to create sustainability without further investment". The "full year" cost of Oak was listed as about £4 million, including £1.6 million on staff costs.
An alternative put forward under this section was a "rapid downscaling to skelton [sic] maintenance of classroom at run cost of ~£1mn per year".

But this would lead to a "likely loss of key organisational talent, incl. management team, and risk to winning DfE bid", the document stated.
Oak is now "committed to" the independent charity solution, a spokesperson said.
DfE 'lukewarm' on nationalisation
Another proposal was to nationalise Oak. This was "discussed with the department with lukewarm response", the document said. It added: "Timeline to operationalise now near impossible."
Other options considered, but found to be "failing", included having a golden share or multiple share classes structure, sale to a third party or for Reach to "invest directly".
Oak said the management team's aim was to "find a way to keep Oak free for teachers and pupils. Since the outset, we have always protected the social purpose of Oak and respected its founding as a pandemic response.
"Twelve wide-ranging options were developed, and it's sad to see what was a thorough due-diligence process being described in this way."
How Oak's story changed
Claim 1: There was "no option in which the management team would have had a majority share"
The document shows the on-the-record claim last week from Oak was incorrect.
The "proposal" page on the document states "Oak management" will "own 80 per cent of shares in Sapling, vested over time".
In total, there are six mentions in the document of Oak management maintaining control of the organisation.
A "detail of proposal" page instead uses the term "employees", outlining that £41 million will be "returned to employees" if "Oak is successful in creating a £100mn valuation".
However, the "explanation of figures" table on the following page shows that "founding employees" will, in fact, own the 41 per cent after investment rounds.
"Employee options" only make up 13 per cent of shares.
Oak said: The word "management" was used in error on this document. All the social purpose company models were only ever about all-employee ownership.
Claim 2: Oak worked up a "variety of similar models"/ considered a "dozen options"
Oak did consider a range of options through the six-month process. But what is clear from the document is that this was the management team's preferred proposal for the future of Oak (something Oak originally denied to Schools Week).
A "Does the proposal meet our objectives" page in the document has positive comments on each criteria. One of them states that the proposed structure is the "simplest we've tested so far that meets other objectives".
Another page is also dedicated to "Why don't other options work". It lists seven options and their "failing".
Oak said: There have been a dozen or so models for Oak's future developed. By the time of the board meeting the options had been narrowed down to two broad ways forward: a social purpose company or a charitable model. Everyone agreed that the charitable model was the right approach to take.
Claim 3: The Sapling private company was not established for the proposed "social purpose company"
Oak said last week the private company plan submitted to Reach was not worked up at the time Sapling was established. It said the limited company was set up to "keep options open" for "a number of social purpose company options being considered".
However, throughout the plan submitted to Reach the proposed organisation is called "Sapling". The term "Sapling" is mentioned 11 times through the eight-page document.
A private limited company called Sapling Education Limited had been established in March by an Oak director.
Oak said: Time was extremely limited to bid for the Department for Education tender. We therefore set up a private company that would be ready to take forward any of the social purpose organisations that were being considered if they were viable.