In conversation with the new NASUWT general secretary, Freddie Whittaker finds a leader determined to put members first
It's hardly the coronation Dr Patrick Roach imagined.
The new general secretary of the NASUWT teachers' union was supposed to take up the mantle in front of a hall full of delegates at the union's annual conference in Birmingham.
Instead, the beginning of his tenure was marked with a press release embargoed for Easter Sunday, and a slew of headlines about the impact of coronavirus on schools.
Roach takes over following a difficult period for the union, which has been embroiled in a bitter dispute with its own staff over changes to their pensions, and last year admitted to breaking the law by allowing Chris Keates, Roach's predecessor, to overstay her term as general secretary.
Schools Week also revealed last summer how three senior national officials at the union had been serving lengthy suspensions following disputes with the organisation's top team.
There is some good practice out there, but there is also a huge amount of chaos
Roach won't comment on the suspensions. But he says maintaining good relations between the union and its staff is a "priority" for him.
"Our workforce is vitally important to the NASUWT, working hand-in-glove with our lay activists and I want that to continue," he says. "My commitment is ensuring that we have good relations with both of our recognised unions, and I'll be looking forward to working with them in that spirit."
Roach was elected unopposed as NASUWT's next general secretary last December after Paul Nesbitt, a challenger from inside the union's own executive, failed to get the necessary nominations to force a contested election. To describe Roach as the establishment candidate would be an understatement. He has worked for the union since 1998, and served as Keates's deputy for around a decade.
Born in Walsall in the mid-1960s, Roach attended comprehensive schools. He taught politics and sociology in further education colleges and lectured on social policy issues in universities, before working on a range of programmes focusing on teacher education, disaffected and excluded young people and engaging parents and local communities. He has a PhD in sociology.
The trade unionist tells me he never expected to end up in the top job, and was "bowled over" and "humbled" to be elected. "When I started with the NASUWT it was just great to be in service on behalf of teachers," he says. "I come from an education and public services background. I came into the NASUWT wanting to make a difference for teachers, so that they can make a difference they're committed to doing for children and young people."
Starting as an education union leader at a time when school staff are dealing with an unprecedented challenge posed by coronavirus is no small challenge. He has already been vocal about the need for better protection for school staff putting themselves in harm's way to care for vulnerable pupils and the children of keyworkers, particularly after a NASUWT survey found almost a third didn't have adequate soap and hot water for handwashing in their schools.
Roach is also deeply critical of the "outrageous and insensitive" approach of schools that have pressed on with redundancy and disciplinary proceedings, despite the ongoing pressure of the pandemic. The NASUWT boss believes the government needs to be more prescriptive, rather than leaving decisions up to individual schools and academy trusts.
"The freedom and flexibilities agenda is, frankly, for another time and another place, if indeed it has any merit at all," he says. "But at a time of national crisis, government needs to be clear about what employers should be doing. And fragmentation of the education landscape certainly hasn't helped to deal with a national crisis."
The big issues are the issues impacting on members' health and wellbeing
Roach tells me NASUWT has received "tens of thousands of enquiries" from teachers voicing concerns about the way the outbreak is being dealt with in their schools, and has provided evidence of "unacceptable management practices" to ministers. But his concerns about the move over the past decade to provide more autonomy to schools go far beyond coronavirus.
"All schools are effectively seen as captains of their own ship, and therefore can determine their own policies, whether that's about teachers' pay or working conditions, in a way that they see fit. And quite honestly, there is some good practice out there, but there is also a huge amount of chaos. And that chaos has contributed to one of the worst teacher recruitment and retention crises that we've seen in a long time."
Like most of the other union conferences due to take place this spring, NASUWT's annual gathering in Birmingham was cancelled as a result of the pandemic. Had the event gone ahead, Roach says, teacher wellbeing and mental health would have been top of the agenda.
While Roach has concerns about the extent of school autonomy, he believes teachers have too little.
"The day to day reality for many of our members, too many of our members, is one in which they are not trusted, in which they're controlled to within an inch of their lives and that has a profoundly negative impact on teachers' health and wellbeing."
The big issues are the issues impacting on members' health and wellbeing
Concerns about teacher wellbeing are a common theme among education unions, and the other organisations representing school staff will undoubtedly hope that Roach's election will lead to more joined-up working between them. In recent years, as other education unions have moved to work more closely together, NASUWT has often stood alone.
The union campaigned against school funding cuts, but not as part of the joint School Cuts coalition. Its logo was conspicuous in its absence from the government's landmark teacher recruitment and retention strategy. And NASUWT has opted not to put its name to joint union guidance on coronavirus.
Roach insists there is "no policy position" against working with other unions. He points out NASUWT is a "proud" member of the Trades Union Congress, and happily works with other unions during local disputes "wherever it's possible to do so".
"As far as I'm concerned, the strength of the NASUWT is our closeness to the issues and the priorities of our members," he tells me. "That's what has to drive us first and foremost. Where those priorities of our members coincide with the priorities of other unions, we absolutely will explore opportunities to work together. But our members, frankly as far as I'm concerned, will come first."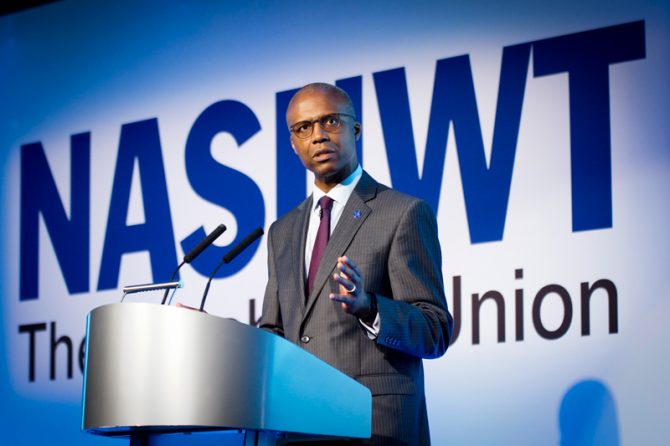 For many who support the professional unity agenda within the education union sector, NASUWT has for some time been the missing link. When the National Union of Teachers and Association of Teachers and Lecturers merged in 2017 to form the National Education Union, Chris Keates was quick to quash any notion that NASUWT would do the same. And those hoping for a change of heart following Keates's departure are likely to be disappointed.
Like his predecessor, Roach believes in "strong unions" – note the plural – and points to health as an example of an industry where many different unions work well together. "We have a multiplicity of health unions. We have unions that are affiliated to the TUC, you have big unions that are not affiliated to the TUC. It doesn't actually undermine the power and strength of those unions within that sector.
"And at a time when the public have also rallied behind the workforce in that sector, it's because of the spirit of those unions working together, not obsessed with issues about structures and so on, but being prepared to work together in a common endeavour in the interests of their members."
Does this mean there will be no merger with the NEU on Roach's watch? I am accused of asking a "leading question".
"My starting point is what our members tell us, what our members want for the union. That will guide me, that will guide our national executive going forward, and at the moment the big issues are the issues that are impacting on members' health and wellbeing, and we've got to get to grips with those issues first and foremost.
"I'm not going to be distracted from the agenda that our members have set for us."