England's pupils are performing better in maths, but have made no improvement in reading or science for 13 years, according to the results of an influential international study.
The 2018 Programme for International Student Assessment (PISA) results, published today, are likely to be seized upon by political parties amid the election run-up as a verdict on Michael Gove's controversial reforms.
The UK has moved up the league tables for each of the areas – shooting from 27th to 18th in maths and from 22nd to 14th in reading.
But sector leaders have urged caution about parties "over-claiming or over-blaming" based on the results.
Here's what you need to know …
1. No improvement for 13 years in science or reading …
More than 5,000 15-year-old pupils in 170 schools across England took the tests last year. (Although the final school response rate of 87 per cent was below the OECD's target participation rate – meaning a non-response basis analysis was needed.)
According to analysis of the results, by the National Foundation for Educational Research, scores in reading and science "have not changed significantly over successive PISA cycles".
In reading, England's pupils had an average score of 505, up slightly from 500 in 2015, when the tests were last administered.
In science, the average score actually fell, from 512 to 507. Neither of these changes was deemed to be statistically significant.
That means in both areas there's been no "significant change" since 2006 – 13 years ago! However, England still performs "significantly higher" than the OECD average in both reading and science.
2. … but boys lead 'significant increase' in maths
There's some better news in maths. England's overall mean score showed a "statistically significant increase" compared with three years before. The average point score increased from 493 in 2015, to 504 in 2018.
The rise is attributed to boys who scored significantly better than in PISA 2015. (They also scored "significantly higher" than girls.)
Another reason reported by NFER for the rise was lower achievers improving at a faster rate than higher achievers.
3. However England's pupils are more miserable
PISA also involves a survey of participants about their own wellbeing and attitudes to learning, and the results of that survey show some worrying trends.
For example, pupils in England were, on average, "less satisfied with their lives" than other pupils across the OECD countries.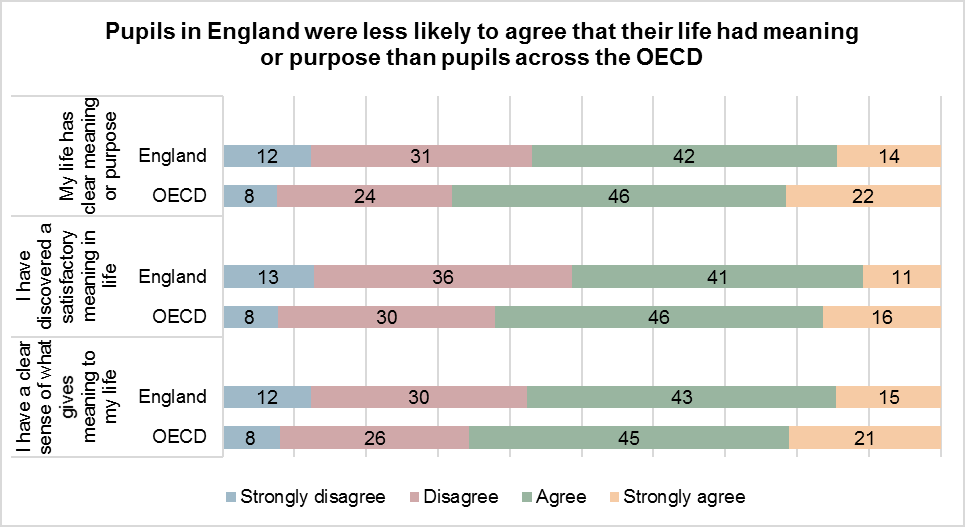 They were also more likely to feel "miserable and worried", and also less likely to agree that their life had a "clear meaning".
The NAHT union said the wellbeing scores "tarnish" any academic success while the Association of School and College Leaders called for more pastoral support funding to help pupils "under great pressure in a society in which the stakes often seem very high to them in terms of achieving their goals".
NFER chief executive Carole Willis said the reasons why English pupils were more likely to have negative feelings than pupils across the OECD countries needs "further investigation".
4. UK rises up the ranks, but no 'big sign' of progress
Although separate data is available for England, Scotland, Wales and Northern Ireland, the UK participates in PISA as one country, and is ranked as such.
The main report shows the UK has improved its position in the PISA tables, moving from 22nd to 14th in reading, 27th to 18th in maths and 15th to 14th in science.
However, the UK's average scores in reading and science did not improve significantly, and the improvement in the country's position has been attributed in part to a drop in performance from other countries. Average scores across the OECD also fell in 2018 compared to 2015.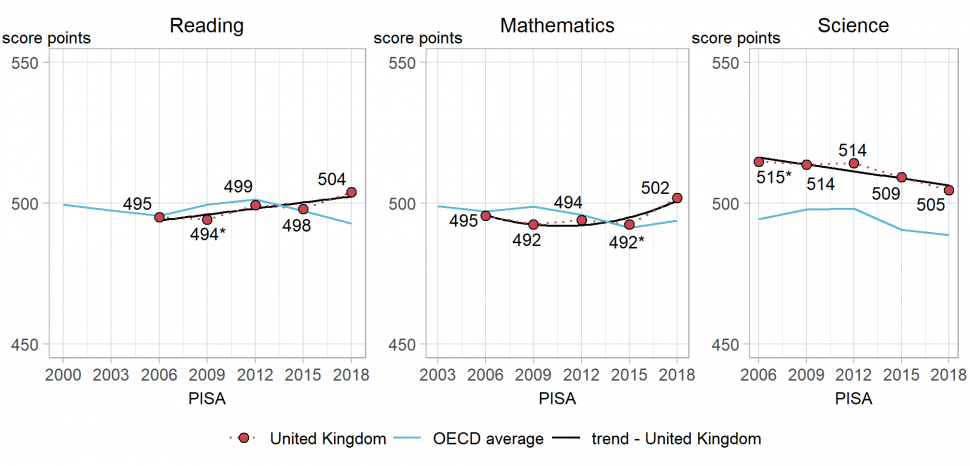 Andreas Schleicher, head of the OECD's education and skills directorate, said the UK's results represented "positive signals", rather than a sign of significant progress.
"On the cognitive aspects, reading and maths, on some of the classroom environment variables, I don't think this is a big sign of progress, but it is a positive signal that there is momentum in the system," he said.
He said at the current rate of progress it would take "a very long time" for the UK to catch up with the highest-performing economies, and said teachers needed to be given more time for research and collaboration,
"Those are areas that, in the long run, will be very very important for success," he said.
5. So, is there a verdict on the Gove reforms?
It's tricky.
The country's performance in PISA is considered by ministers to be an important measure of the success of their reforms.
In evidence to the Parliamentary education committee in 2015, the Department for Education explicitly named the study as one of the ways it would measure "the increased performance of the school system as a whole".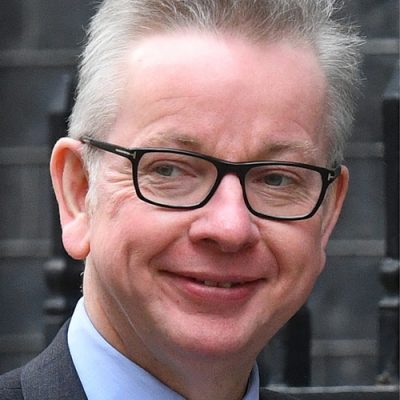 As Education Datalab points out, the PISA 2018 cohort started school around 2008, so their period at school not only lines up with the age of austerity and government cuts, but with the "significant reforms" to GCSEs introduced by Michael Gove while he was education secretary.
For example, they are the first PISA cohort to be taking all their GCSE examinations under the new 9-1 grading system, without coursework and under the new curriculum.
Speaking yesterday, Schleicher said it was "very very hard to make a direct link between what we do and what we achieve on PISA".
Kevin Courtney, joint general secretary of the National Education Union, insisted the findings "reflect an education system before the market reforms" adding the next round of Pisa tests in 2021 (and published in 2022) will give a "better verdict on the Conservatives' management of the English education system".
The Conservatives did not respond to a request for comment, but the party did brief the Sunday Times newspaper over the weekend that it too was focusing on the 2021 tests as a marker of its success.
Either way, school leaders urge caution.
"As these results come during a general election campaign, there will be a greater temptation than normal among politicians and commentators to attempt to use them to score points," said Association of School and College Leaders general secretary Geoff Barton.
"However, we would caution people against over-claiming or over-blaming any one factor on the difference in results between countries and over time."