Parents want 'outstanding' schools inspected more often, but believe short inspections are increasingly behind unreliable judgments.
Ofsted has published its annual parent survey today. A total of 1,111 parents responded to the poll, carried out in November last year.
Here's a round-up of some of the more interesting findings.
1. Parents think Ofsted is reliable, but have concerns over short inspections
Nearly three-quarters of parents think Ofsted is reliable. However, of those with reliability concerns, over half (52 per cent) now say this is because inspections are too short to provide a "meaningful picture" – up from 44 per cent in 2017.
In January 2018, Ofsted introduced its new one-day inspections for schools rated 'good', but such inspections will be extended to two-days from September.
A total of 44 per cent of those parents who said Ofsted was unreliable also said too much notice is given to schools, again up on 2017 (when it was 37 per cent).
Unsurprisingly, this goes against the general consensus among schools leaders, who do not like the idea.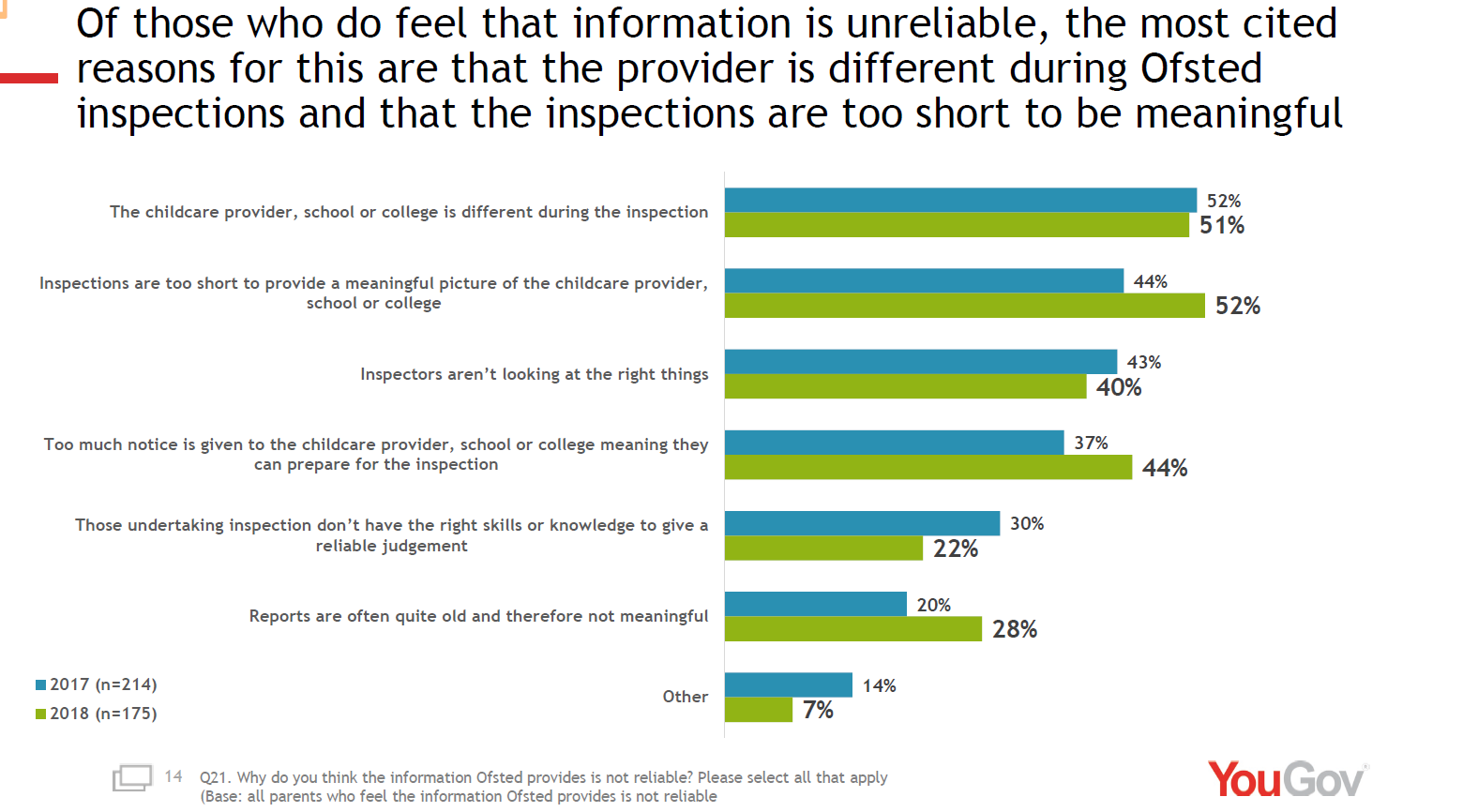 2. Parents want outstanding schools inspected more often
Nearly three-quarters of parents agreed that 'outstanding' schools should be inspected just as frequently as 'good' schools (72 per cent).
However, eight in 10 parents didn't actually know about the inspection exemption for 'outstanding' schools.
Ofsted has long been pushing to get the exemption dropped, but the DfE has so far resisted, though ministers have told Ofsted to inspect more 'outstanding' schools anyway.
3. Academies more likely to focus on results over content
Nearly a quarter of parents thought their school placed a greater focus on getting good results for children than the content of a child's learning.
However, parents with children at an academy or free school were "significantly more likely" to think this (27 per cent), compared to parents at a council-maintained school (21 per cent).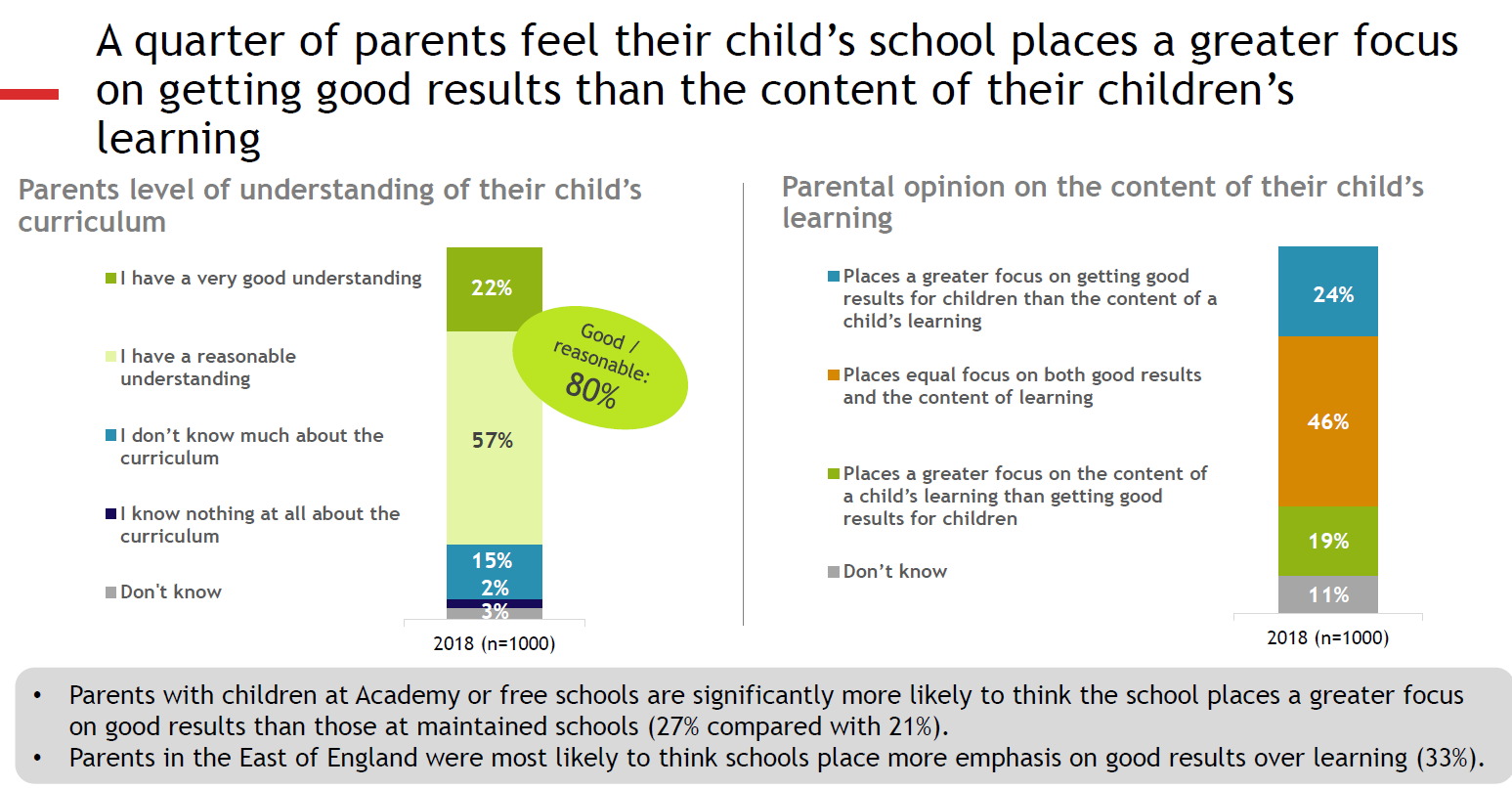 4. Few parents think languages and music are 'sufficiently covered' in schools
Ofsted has made a lot of noise about the schools narrowing the curriculum. This finding seems to fit into that narrative – with less than half of parents feeling a whole host of subjects are "sufficiently covered" in their child's education.
Just a quarter of parents felt design and technology was covered enough, while 30 per cent felt the same about languages and 32 per cent about both music and geography.
But nearly a third of parents think their child seems to have more teaching time on a wide range of subjects than last year.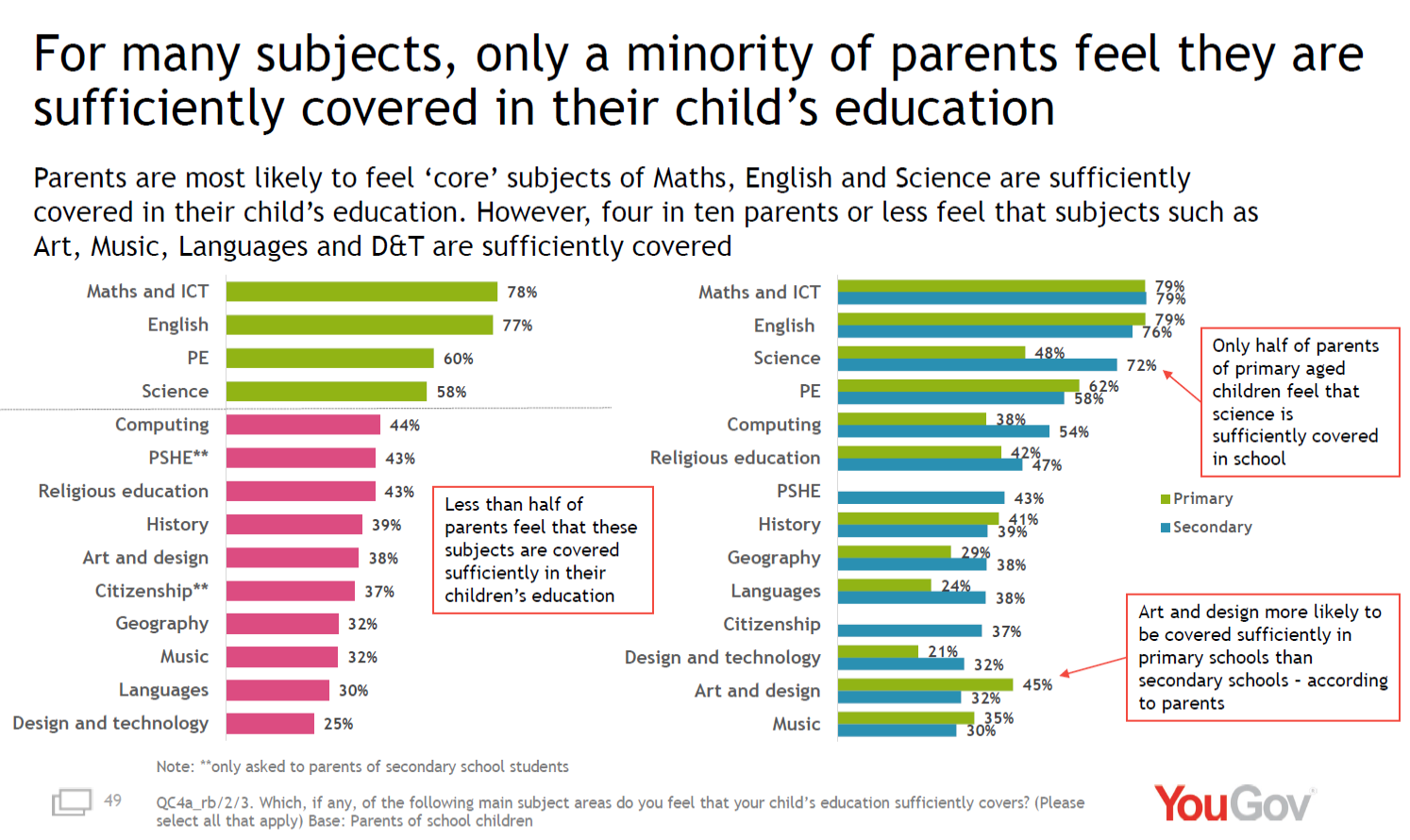 5. Two-thirds of parents think Ofsted helps to improve standards
More than two-thirds of parents now believe Ofsted helps to improve standards of education – up from 63 per cent in 2017, to 67 per cent last year.
Agreement is higher in primary schools (70 per cent) when compared to secondaries (64 per cent). Confidence in Ofsted's impact is also higher amongst BAME parents (77 per cent) compared to 67 per cent who are white.
This compares to fewer than one in four teachers believing that Ofsted is a "force for improvement" in England's education system.