Opponents of isolation rooms claim they disproportionately punish the poorest and most vulnerable pupils. OGAT, one of the trusts under intense media scrutiny over isolation rooms, claims its strict behaviour policies are part of its "turnaround strategy" for the schools it takes over. Schools Week has data that sheds new light on those claims
Some schools in the Outwood Grange Academies Trust are still sending about a third of their pupils into isolation nine years after the trust took them over, casting doubts on its claims that the practice is a "turnaround strategy" for challenging schools.
New data also shows that a disproportionate percentage of those pupils are on free school meals, although the percentage of eligible pupils has dropped at almost every secondary in the trust. Critics suggest the drop could be a consequence of more deprived pupils constantly being placed in isolation and so choosing to leave.
Data on 14 of the trust's 16 secondary academies was obtained under the freedom of information act by Simpson Millar, the law firm, which is pursuing a judicial review on behalf of an Outwood Grange pupil who it claims spent almost a third of his time in isolation rooms last year. It sent the data* to Schools Week.
It shows half of pupils at two schools were put in isolation.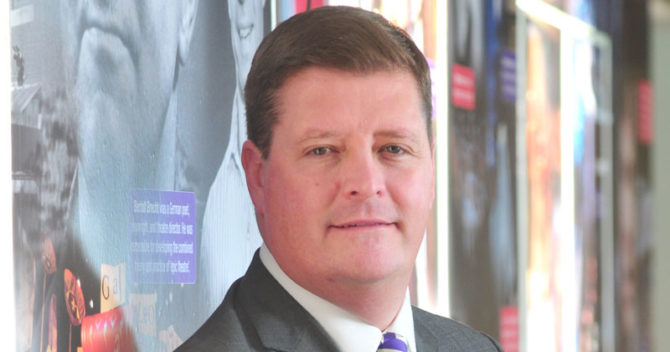 Martyn Oliver, the chief executive of the trust, has previously said the strict strategies helped "to set a reasonable level of behaviour in turnaround schools".
But the new data – which is for 2017-18 only – suggests schools still issue large numbers of orders, known as "C5s", for pupils to go to isolation rooms.
For instance, Outwood Academy Adwick in Doncaster issued a C5 to 36 per cent of its pupils last year – the sixth highest rate across the 14 schools included in the data. The school joined the trust more than nine years ago.
Outwood Grange Academy, the trust's founder school in Wakefield, which opened in 2009, issued C5s to just under a third of its pupils. Outwood Academy Acklam in Middlesbrough, which joined five years ago, did the same for 40 per cent of its pupils.
A Schools Week investigation last year found the use of isolation rooms is common practice in many schools, with more than two-thirds of the country's largest trusts using such spaces. Many heads have said they are a helpful part of a supportive behaviour management policy.
An OGAT spokesperson also said staff would have revoked many of the C5s. "Hundreds of detentions and isolations are not completed as part of the schools' work on intervention strategies."
Pupils sent to the rooms also received one-to-one tutoring and time out in nurture spaces
Many pupils sent to the rooms also received one-to-one tutoring and time in "nurture" spaces.
Jules Daulby, an education consultant and inclusion campaigner, said the trust's argument that isolation rooms were used as a turnaround strategy in new schools "clearly isn't valid anymore".
"These figures show the strategy doesn't seem to be working. Until the trust looks at the root cause of poor behaviour, these figures will remain very high. It's as though there's a separate school, all in isolation."
She said that putting pupils in isolation sent "subliminal" messages to the most challenging pupils and their parents that they were not wanted, prompting them to move to other schools.
Pupils eligible for free school meals (FSMs) are disproportionately more likely to be issued with a C5 at all except one of OGAT's secondaries – although national data shows the poorest pupils are among the most likely to be suspended or excluded.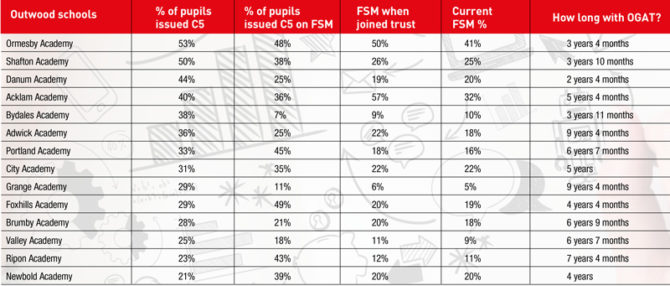 At Outwood Academy Foxhills in Scunthorpe, almost half (49 per cent) of pupils issued a C5 were on FSMs, although only 19 per cent of pupils in the school were eligible.
At Outwood Grange Academy Valley in Worksop, 18 per cent of pupils handed the orders were on free school meals; 9 per cent were eligible.
In response to the new data, OGAT told Schools Week that more FSM pupils had entered its academies. However, data shows the proportion of pupils eligible for FSMs had fallen at 10 of the 14 secondary schools since they joined the trust.
OGAT said this could be attributed to more pupils from better-off backgrounds joining schools as they improved.
Leora Cruddas, chief executive of the Confederation of School Trusts, said it was "unfair to single out a particular trust in this way".
She called for "a much calmer, more proportionate and evidence-based conversation about behaviour. Learning support units have long been a policy to create continuity of learning and avoid exclusions, particularly of more vulnerable children."
*Two secondary academies, Outwood Academy Bishopsgarth and Outwood Academy Carlton, were unable to provide data within the timeframe