Primary schools are using isolation rooms to punish pupils as young as five years old, with some secondaries admitting they are willing to put older pupils into seclusion for up to five days in a row.
A Schools Week investigation has today lifted the lid on the scale and details of how schools across the country use isolation as punishment for unruly pupils.
The rooms are spaces separate from the classroom, where pupils are sent as a behaviour-management intervention. Many schools use them as part of an escalating set of disciplinary measures.
Our research found over two-thirds of the country's largest academy trusts have schools that use some form of isolation, although with varying labels from "inclusion units" and "consequence booths" to "time-out spaces" and "calm rooms".
At least four trusts used isolation or intervention spaces on primary-school pupils. That included the Ark Academy chain, where 20 out of its 38 schools had isolation rooms.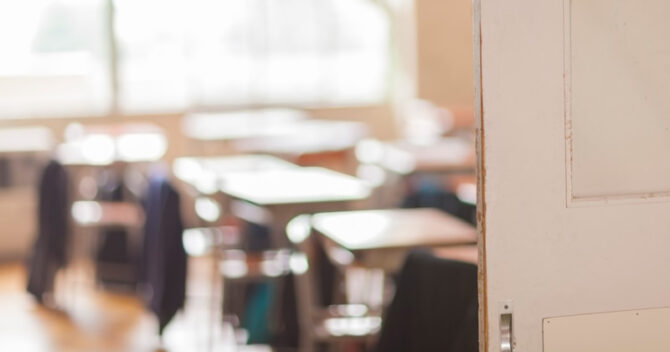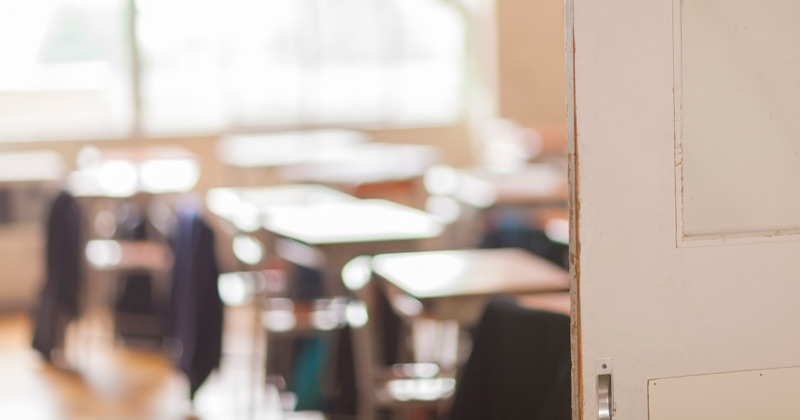 Primary pupils can be removed for a maximum of half a day, and secondary pupils for up to a week.
Behaviour policies for St Barnabas Multi Academy Trust in Cornwall state pupils will be moved to a "reflection room" if they break a rule for the fourth time.
The trusts said they are used for children from year 1 upwards. Youngsters can remain there for up to one day.
Other trusts said they could put a pupil in isolation for up to a week, while many others give pupils generic online resources instead of the equivalent work from lessons.
Isolation booths are the bleakest sign of an institution giving up
Our findings were echoed in major research published by the Department for Education on Wednesday that found a majority of secondaries, and a minority of primaries, make use of "internal inclusion units".
Both maintained schools and academies use isolation spaces but academies are more likely to do so, according to the research. However most schools don't have evidence that such strategies actually work, the report found.
The use of isolation was criticised in a Guardian newspaper article earlier this year that revealed the Outwood Grange Academies Trust, which runs 30 schools, does not allow pupils in isolation rooms to look left or right, chew, tap or sigh – rules one parent dubbed "barbaric".
Another critic has claimed isolation booths are the "bleakest sign of an institution giving up", and are largely used for pupils with learning or emotional difficulties.
But OGAT said the rooms were a place for pupils to calm down and reflect. Many trusts told Schools Week the rooms also allow for supportive conversations without disrupting lessons for other pupils.
Most schools use some sort of isolation rooms
Schools Week sent a freedom of information request to the 90 largest academy trusts asking if they use isolation rooms. A total of 71 responded, of which 48 (68 per cent) confirmed at least some of their schools used the rooms.
Only three trusts – Surrey-based GLF Schools, St Barnabas trust and Cambridge Meridian Academies trust – said all their schools make use of isolation spaces.
Of the 10 largest academy trusts, three did not provide full responses. Academies Enterprise Trust and Ormiston Academies Trust did not respond at all, and Harris Federation said its academies may use supervised isolation rooms but it could not provide further information.
Mark Lehain, interim director at pro-free school group New Schools Network, said it would be a "rare" school that didn't have a place where pupils could be separately educated.
It would be a rare school that doesn't have a place where pupils can be separately educated
Good schools will know when an isolation room could be "overly detrimental to pupils' wellbeing", he added.
However some trusts clearly oppose isolation rooms, with 22 chains saying none of their schools used them.
A spokesperson for the Surrey-based Bourne Education Trust, which includes five secondaries, said pupils have one-on-one conversations with staff but the trust "does not believe isolation rooms work".
Trusts which cater specifically for pupils with special educational needs are also unconvinced.
The Eden Academy Trust, which has seven special-needs schools in Middlesex, said isolation rooms are an "ineffective behaviour-improvement strategy" for pupils with learning difficulties.
Schools Week approached several councils on the use of isolation rooms in their schools but was told details could not be obtained.
Even primary schools are secluding pupils
Sean Powers, interim executive principal of St Barnabas trust, said pupils from year 1 upwards – aged five or six – can be placed in what they call "reflection spaces". The spaces are only accessed when "really needed", with a record kept of the removal and parents informed, he said.
Ark states it provides a separate space for pupils who "find it difficult to manage their behaviour in the classroom". Primary pupils are removed for a maximum of half of a day and secondary pupils for up to a week. The trust said pupils engage in reflective and restorative activities.
REAch2 Academy Trust, which has 60 primary schools, said it does not use isolation spaces, but pupils may be removed from lessons to complete their work separately.
Three out of the five primary schools under the Cheshire-based Heath Family (NW) trust use isolation rooms for up to one day. Chief operating officer Craig Parkinson said these were "warm and supportive environments" which include therapeutic activities to help children.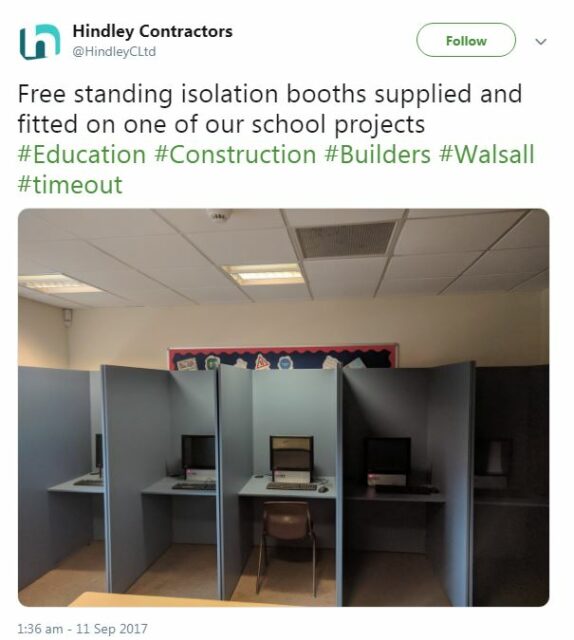 Finally, three of four schools with the Northern Ambition Academies Trust, which only has one secondary, remove pupils to "intervention spaces" as a last resort, preceded by other interventions. Pupils can be removed for a whole day but only if they have been aggressive.
But Jules Daulby, director of education at the Driver Youth Trust, said removing primary pupils should be used to calm them down, not as a punitive measure when schools "don't know what to do with them".
"If you've created a room for these isolations in primary school, and a paid member of staff is in there too, then the money you're paying that staff member should go on preventative help instead."
Isolation rooms are 'bleakest sign of institution giving up'
Paul Dix, chair of the alternative-provision TBAP Multi-Academy Trust, has claimed in his book on behaviour When the Adults Change that a "room with isolation booths is the bleakest sign of an institution giving up".
Such spaces tell children that adults don't know what to do with them, he wrote.
Many trusts told Schools Week the isolation rooms are an alternative to fixed-term exclusions – and help to reduce permanent exclusions.
For instance, the Collaborative Academies Trust said being sent home makes pupils "happy", so an internal exclusion is preferred.
However, the latest exclusion data shows pupils with identified special educational needs accounted for around half of both permanent exclusions and fixed-term exclusions.
The removal of a pupil must be meaningful to them
Dix believes more than 80 per cent of pupils in any isolation room are likely to have additional needs, including "hidden needs" such as trauma, anxiety or neglect.
Leora Cruddas, chief executive of the Confederation of School Trusts, which represents academy trusts, said it is right leaders seek to make schools a "safe and scholarly environment".
However the removal of a pupil must be meaningful to them to enable them to change their behaviour, she said, with interventions assessed "on a case-by-case basis".
'She will fall behind'
Many parental complaints about isolation rooms relate to why pupils were sent there, and how long they remain.
Schools Week can reveal 10 of the 44 trusts that divulged how long pupils remain in isolation rooms had schools in which youngsters can remain in isolation for up to one week.
Airedale Academy in Castleford, part of the Northern Ambition Academies Trust, says in its behaviour policy that pupils in isolation must "have both their break and lunch in isolation" too.
A primary teacher who did not wish to be named told Schools Week her year 7 daughter has become anxious and unhappy at school since being repeatedly placed in isolation at a secondary.
The parent claimed the isolation resulted from her daughter chatting in class and not wearing the correct uniform.
The pupil is "only in there with a few books" and the parent claimed she was not told her daughter had been isolated.
However DfE guidance does not state parents must be informed their child has been placed in isolation, nor that the school must record isolation or internal-exclusion statistics.
Daulby has called for regulations requiring schools to record how many times and how often pupils are placed in isolation.
The school concerned is also part of a trust that told Schools Week its isolation rooms have positive benefits.
Responding to the wider question of the use of isolation rooms, Jon Coles, chief executive at United Learning Trust, said schools must have environments in which pupils will obey simple instructions without a long discussion.
But he warned against the "workhouse feel" of punishing pupils in a way that teachers would not punish their own children.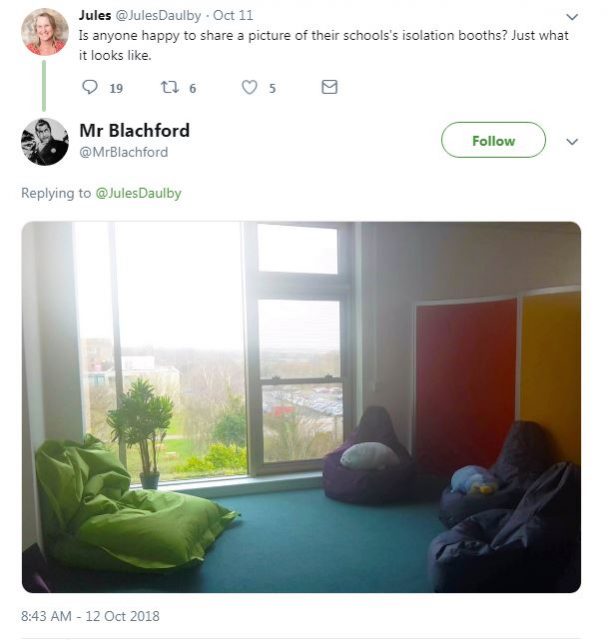 Pupils given 'online resources'
Another issue is whether pupils are missing learning time. More than half (52 per cent) of 47 trusts who answered our question on this said pupils in isolation did not get identical work to their classmates.
For example Delta, Maltby Learning, Oasis Community Learning and Alpha academies trusts said pupils may get work "appropriate" for their age group instead.
Northern Education Trust in Newcastle, which has 20 schools, said pupils can read using the Accelerated Reader software or get work packs.
But the Education Endowment Foundation said the programme had only a "modest" impact on weaker readers in secondary school, offering about three months extra progress.
What the guidance says
The government's statutory behaviour guidance is vague, with the DfE stating disruptive pupils can be put in isolation for "a limited period of time" which is left to schools to determine.
Schools must "act reasonably in all circumstances", and any use of isolation that prevents pupils from leaving a room "of their own free will should only be considered in exceptional circumstances".
Pupils' time in isolation should be as constructive as possible, it adds.
The government has also used the Blessed Trinity Roman Catholic College as an example of using an "on-call" room for pupils removed from lessons. The room is successful because it is used to help pupils "reflect on their behaviour and cool down from the incident".
A spokesperson for the DfE said it is "up to schools to decide what forms of discipline they adopt, as long as they are lawful and used reasonably".