Ofsted had to close a survey that asked parents for their views on whether inspections should restart as soon as pupils go back to school, or wait for as long as up to a year.
Parents were also quizzed on what impact they believe restarting inspections would have on their confidence in sending children back to school, and what the inspectorate should prioritise.
These are ongoing conversations, we're keeping our options open and no decisions have been made
The survey was aimed at the members of Ofsted's parent panel, a group of parents with school-aged children whose views are used to shape the watchdog's work.
However the link was posted on social media and Ofsted said the survey had to be closed today – three days early – after they were "inundated with thousands of unsolicited responses".
The survey form asked for the email address used to register with the parents panel, but it appears any email address could be used to access the questions.
Ofsted said it will only be focusing on the responses from those who are on the parent panel. The others will be disregarded.
The Education Policy Institute think tank has suggested Ofsted inspections are suspended until next year to help disadvantaged pupils "catch up" when schools reopen.
One of the survey questions asked parents how soon after children returning to education or childcare should Ofsted start inspecting again.
Answers ranged from straightaway, to a full academic year.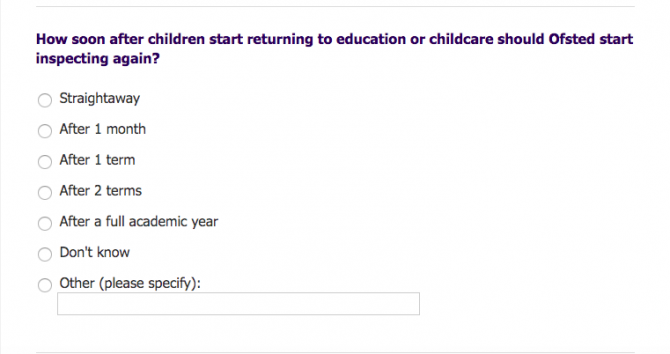 Parents were also asked what Ofsted should prioritise in inspections. Options included quality of education, pupil behaviour, how well the school is supporting the most disadvantaged children get back in education or teacher wellbeing.
An Ofsted spokesperson said they asked the panel a "few questions" to help understand how parents are feeling about the current situation in schools.
They added: "As you would expect, we're listening to lots of groups – from teaching unions to parents – about how and when we might return to something approaching routine inspection.
"These are ongoing conversations, we're keeping our options open and no decisions have been made. The questionnaire was only ever intended for our parents panel, but the link was shared on social media and we were inundated with thousands of unsolicited responses."
Posting on Twitter, Ofsted added: "Sorry to anyone who is disappointed that the survey has closed."