Gavin Williamson has opened up about the challenges he's faced in the pandemic, admitting that "not every day has been brilliant" and he has bought a puppy to help get him through.
One thing about pets is they always seem to be pleased to see you, especially dogs
The education secretary addressed the virtual annual conference of the ASCL school leaders' union this morning before taking questions from members.
His comments come amid rumours he will be moved in Boris Johnson's upcoming reshuffle.  Williamson's stewardship of education during the pandemic has been fraught with last-minute U-turns, blunders and even threatening legal action against school leaders – making him one of the most unpopular politicians during the crisis.
A recent poll by Conservative Home found Williamson had an approval rating of -43.6 among Tory members, making him the least popular cabinet minister and one of only two with a negative rating.
Speaking this morning, Williamson admitted he'd faced his own struggles, and had relied on his family – including a new puppy – to get him through.
"Not every day has been brilliant. I think that I, like so many others, probably benefited from having a supportive family around me and just being able to talk to people. I've been very lucky to have that level of support, but not everyone is quite lucky to be able to have that," he said.
"But for me personally the thing that's made the biggest difference is definitely family, having them around, having them to talk to. And probably like a lot of families we seem to have made an investment in a puppy during that time. And one thing about pets is they always seem to be pleased to see you, especially dogs."
He also admitted to having been "lobbied" by his teaching assistant wife on issues "where maybe the Department for Education hasn't always got it perfect all the time, and it's always good to hear it from the frontline".
"Our pillow talk is maybe a little bit different," he added.
£1.7bn for recovery 'only scratches the surface'
Williamson also spoke about the importance of helping pupils recover from the impact of the pandemic. He pointed to £1.7 billion in funding, including over £700 million announced this term, but admitted that it "only scratches the surface".
He said the extra recovery funding was to give leaders "basic tools" to assist them "just in the next few months and over the next year", but that a "much bigger debate" would be needed about what to do in the long-term.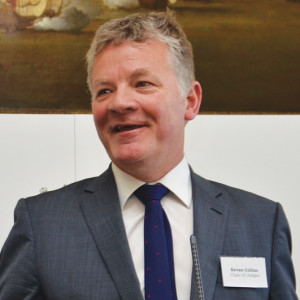 Sir Kevan Collins has been appointed as the government's education recovery commissioner to look at that long-term strategy.
Williamson revealed he and Collins would work "closely" to "consider a wide variety of possible measures including changes to the school day and term dates".
Ed sec claims he's 'not keen' on phrase 'catching up'
But in an apparent volte-face, Williamson said he was "not keen" on the phrase "catching up". This is despite the education secretary having referred to "catch up" 59 times in Parliament over the past year, according to Hansard. The DfE also frequently uses the phrase in its communications.
"I actually want to see us looking at how we're really boosting those children, making sure they attain the very best. That's a conversation we're going to have to have over the next few weeks and the next few months."
Williamson admitted he had at times felt "quite emotional" to see how leaders had gone "above and beyond" during the pandemic.
"We've asked so much of them but at every stage they have always been there doing what's required and that's been truly inspirational for me."
The comments are unlikely to appease school leaders who have faced legal threats from Williamson after they attempted to close schools early for Christmas amid rising infection rates.