The founder of a new "no frills" low-cost private school has insisted it is a "success story", despite having just 12 pupils.
James Tooley (pictured),  a professor of education at Newcastle University, has defended the low pupil roll at the Independent Grammar School: Durham, which opened in September, despite predicting 65 starters in summer.
The Times reported at the weekend the school – which charges parents £52 per week – had "struggled to fill places" after the government's school information website revealed only six pupils were on roll. The numbers would be based on the school census in autumn.
But Tooley told Schools Week: "This is a new school and a new concept. Despite negative coverage, we have a dozen set of parents who have shown their faith in us.
"We had a great parent meeting last night. That's a success story. You don't expect a business of this kind to be full so quickly."
He also said the school, which is in an old church building, had been impacted by picketing by unions, but added the "new model" will take time to grow. Tooley told The Times while the school isn't breaking even from the fees, it has enough investment to keep it running for at least three years.
The school's £2,700 annual fees are well below the average private junior day school fees of £12,873 a year, and also below state funding of at least £3,500 per primary school pupil.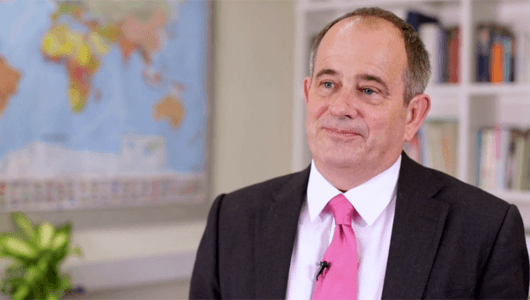 The government's website states the age range of pupils at the school is between 4 and 9 years old. Tooley wouldn't confirm how many pupils were in each year group.
But he added: "We are very happy,… Many private schools start very small and grow successfully.
"Everything is going ahead as planned, and we will be building a bigger school as we had anticipated."
Tooley has previously told Schools Week four members of staff would be in place for the school's opening. Two would be newly qualified teachers paid at the expected rate (around £25,000 pa) and the other two are intended to have more experience.
One of those is Chris Gray, the founder and former principal of Grindon Hall Christian School in Sunderland.
Gray resigned from his former school, which converted from a private school to a free school in 2012, after 14 years at the helm and when it was rated 'inadequate' in 2015.
We have a dozen set of parents who have shown their faith in us
Both Tooley and Gray have personally invested in the schools alongside outside backers.
In June, Tooley said the school had 150 parental expressions of interest, which would be worked through to confirm which 65 pupils will attend in September, before expanding the school to 200 and later as an all-through school.
The founders have also previously said they hope to set up similar models in nearby areas to create an overall private school chain.
Another low cost private school is being mooted in London, which would charge parents £100 a week and, like the IGS: Durham, deliver a traditional curriculum focusing on core academic subjects.