NHS commissioners have backtracked on proposals to diagnose children with autism only if they also have a mental health condition, after an outcry that pupils would be left unsupported.
Four clinical commissioning groups (CCGs) in south-west London came under fire after it emerged this month they had suggested limiting autism diagnoses to children with additional conditions such as anxiety or depression as a way to reduce huge waiting lists.
The plan stated they would instead rely on using extra support from within social care and education to reduce the diagnostic burden on the NHS.
But after complaints – including from teaching unions concerned the changes could mean pupils would lose out – Schools Week understands the plans have been dropped.
A spokesperson for the South West London Alliance confirmed in an email that the "proposals for restricted access criteria are not being implemented", and would not be introduced in future without consulting stakeholders.
When pressed as to whether the plans could still go ahead, the spokesperson told Schools Week "the proposals to reduce eligibility criteria are not going ahead."
The National Autistic Society also said it had been "assured" services would not be restricted to only those with mental health problems, and would continue to be available for children "across the autism spectrum".
The proposals to reduce the eligibility criteria are not going ahead
Tim Nicholls, policy manager at the charity, said he was relieved the "vague" suggestion that schools should do more to support pupils without a diagnosis appeared to have been abandoned for now.
"That is not the job of teachers."
However a statement from the South West London Alliance, which covers the four CCGs in Richmond, Kingston, Merton and Wandsworth in question, said it was still looking at ways to redesign the service to cope with rising autism referrals.
Minutes from a meeting of the South West London and St George's mental health trust in May (pictured below) showed the CCGs had "tasked" the trust with "revising the current eligibility criteria to focus specifically on those cases where a clear mental health or co-morbid condition is indicated".
The effect "must be to reduce" the number of pupils "able to access a full diagnostic assessment", with the new set up to be supported by the "education services."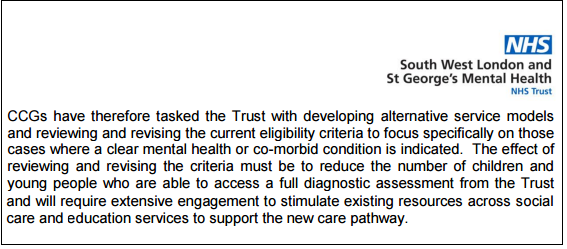 The minutes revealed the mental health service at the alliance has capacity for 750 assessments a year, but is currently getting 1,300 – or 25 a week.
Simon Knight, director of education at the National Education Trust, and an SEND expert, said he was concerned any changes would be "another example" of directing "increasingly meagre resources" to only the most serious cases. Knight said autistic pupils could be at greater risk of being excluded from schools as a result.
There has been a 25 per cent increase in autism diagnoses over the past four years, according to government figures.
Previous analysis by Schools Week revealed a majority of local area inspection letters by Ofsted and health watchdog the Care Quality Commission (CQC), which assess special educational needs provision, noted services were struggling with autism diagnoses especially.
The waiting lists are undoubtedly a funding issue
Eighty-five per cent of pupils who are permanently excluded, and 76 per cent of pupils who are excluded for a fixed period, have an SEND statement, Education Health and Care Plan, or SEND support in school, the most recent DfE data on exclusions also shows.
Kim Johnson, past president of the National Association of Head Teachers, who has worked with SEND pupils, said the issue of waiting lists was "undoubtedly" one of local authority funding, and unlikely to change while SEND pupils remained "worryingly low" on the political agenda.
Meanwhile, pupils are waiting 3.6 years from first seeking help to getting an autism diagnosis as a national average, according to research by Goldsmiths University in 2012.
The spokesperson for the SWL Alliance added: "We absolutely recognise the concerns of families of children with a neurodevelopmental condition and these must be addressed in any proposal.
"We need to get the model of service and service capacity right to meet the full range of needs".
Save