Most of the politicians who had the top education jobs in the last parliament look set to return as MPs, at least according to the latest odds offered by bookies.
Justine Greening, the education secretary, and Angela Rayner, her Labour shadow, are odds-on to win big in their seats of Putney, south London, and Ashton-under-Lyne, Greater Manchester, respectively in today's election.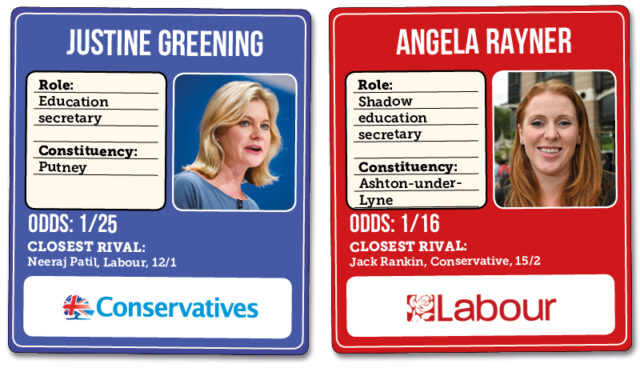 As far as the bookies are concerned, schools minister Nick Gibb is in the safest position, in his staunchly Conservative coastal seat of Bognor Regis and Littlehampton. He won the seat with a majority of more than 13,000 over UKIP in 2015.
Mike Kane, the shadow schools minister, is also in a robust position in Wythenshawe and Sale East, another Greater Manchester constituency. He won a 10,000+ majority in 2015 and is likely to win big again this time, albeit over a Conservative challenger rather than UKIP, which came second two years ago.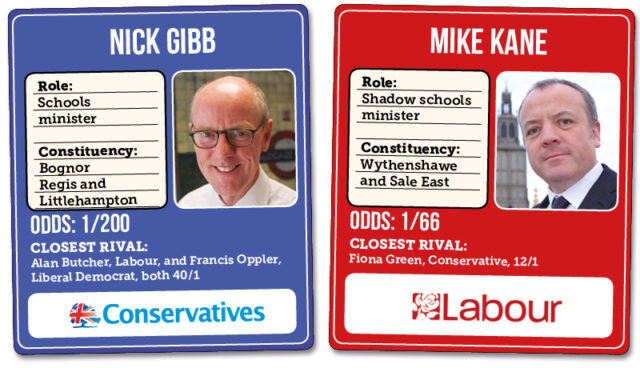 Edward Timpson, the children's minister and the Conservative candidate for Crewe and Nantwich in Cheshire, and Emma Lewell-Buck, the Labour candidate for South Shields in the north-east, who shadows him in parliament, are also enjoying fairly decent odds of returning to the Commons.
However, Labour has fought a fierce campaign against Timpson, selecting a former teacher to stand against him, focusing on school funding as a key issue.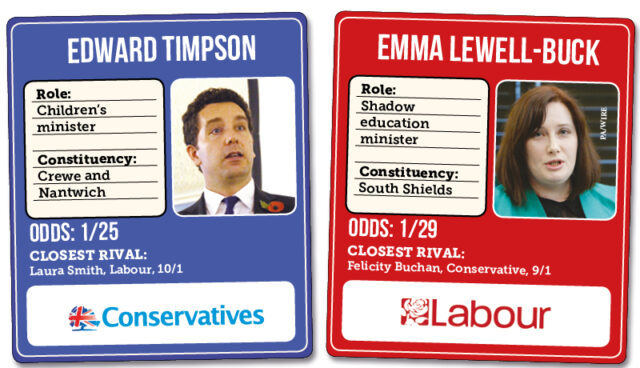 Neil Carmichael, the former chair of the education committee, is defending a 3,000 majority in Stroud, Gloucestershire, against former teacher David Drew, who was formerly the area's Labour MP from 1997 to 2010 and is a close friend of Jeremy Corbyn. Drew is popular in the town, but Carmichael is still favourite to win the seat for the third time.
The only real potential upset was faced by Sarah Olney, the newly-appointed Liberal Democrat education spokesperson. Olney beat former London mayoral candidate, Zac Goldsmith, in a by-election last year, but Goldsmith was favourite to win the seat back.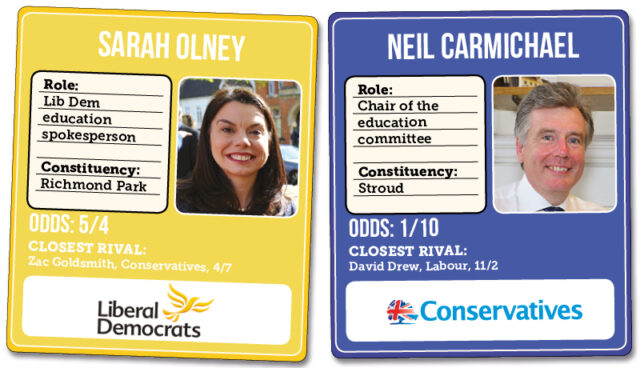 Odds from William Hill website, correct as of Wednesday June 7.