The national schools commissioner will retire from the civil service at the end of this academic year, he has announced.
Sir David Carter, who has served in the role since February 2016, will step down at the end of August.
In a video message recorded to announce his retirement, Carter described "the most amazing, brilliant leadership journey" and "a role that I feel incredibly privileged to have the opportunity to undertake".
I've never had a holiday in term time, and September this year will be the first opportunity to do that
However, he does not "intend to disappear from the system" and still wants to "play a role" with multi-academy trusts in the future.
"I believe passionately in that model. I believe passionately in the CEOs and the leaders who make such a difference to children's lives, and I want to work with those leaders to help them fulfil the ambitions that they've set for themselves, but also for the children that they're responsible for," he said.
He also paid tribute to his colleagues in the regional schools commissioners team, saying he was "hugely proud" to have been a part of it and was leaving at a time "when they're actually performing at their best".
His decision to retire was made for professional reasons, as he felt he had achieved "some of the things I said I wanted to do", and for personal reasons as he wants to spend more time with his family.
"I've never had a holiday in term time, and September this year will be the first opportunity to do that," he said. "When you're leading your inset days, I will be sitting somewhere really warm, and I will be thinking of you."
My news this morning! pic.twitter.com/1tEziPagDO

— David Carter (@Carter6D) April 27, 2018

Carter has had a 21-year career in the education sector, having previously worked as the first regional schools commissioner for the south-west and the chief executive of the Cabot Learning Federation.
Damian Hinds, the education secretary, paid tribute, saying he was "extremely grateful" for his "excellent work" during his four years in the civil service.
"He has drawn on his wealth of experience in the classroom and at the forefront of academy trusts to nurture innovative approaches that have helped raised standards across the country," he said.
"I wish him the best of luck in the future and look forward to appointing a new commissioner who can build on this work so that we continue to give all children the education they deserve."
Paul Whiteman, general secretary of National Association of Head Teachers, acknowledged the "productive relationship" the union has enjoyed with Carter.
"One area for concern for our members has been the overlap between regional schools commissioners and Ofsted, and David has been open and willing to work with school leaders on this issue," he said.
"We hope his successor will take this work forward, particularly as the DfE is keen to look for ways to reduce the unnecessary workload created by accountability.
"We wish David well for any future role he chooses to take."
The Department for Education said a new commissioner would be announced "in due course".
Fantastic four: Schools Week's favourite David Carter moments
1. Winning over Wilshaw: Former Ofsted chief inspector Sir Michael Wilshaw memorably described the RSCs as "faceless agents" of the government, but apologised for causing offence by "speaking bluntly" a few months before he retired.
2. Overseeing the transition of Perry Beeches: Carter oversaw the closing down of the controversial Perry Beeches Academy Trust in Birmingham, after a government investigation discovered it had funnelled £1.3 million to a private company without following proper procedures. The same firm then paid a "second salary" to superhead Liam Nolan, totalling £160,000 over two years on top of his £120,000 salary.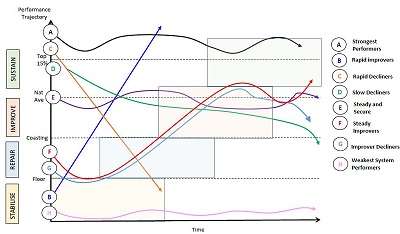 3. Spaghetti junction: We loved David's now infamous spaghetti diagram of declining improvers (see right).
4. Speaking at just about every event ever: Whoever Carter's replacement is, they will have big, booming public speaking shoes to fill.