The majority of free schools opened in areas of need, research has found, but they are usually neither innovative nor opened by parents, and they do not take in enough poor pupils.
The National Foundation for Educational Research, together with the Sutton Trust, have conducted an in-depth analysis of the 311 free schools open as of September 2017, seven years after the coalition government made them its flagship education policy.
Free schools are new schools which, like academies, are outside local authority control and directly funded by the government, and can be set up by groups such as charities, universities, teachers, parents or academy trusts.
Researchers now want a complete rethink of their "mission", claiming they fail to educate enough poor pupils and have instead simply "become the vehicle for new schools at a time of rising rolls."
They also want the government to consider streamlining the roles of groups including the New Schools Network, regional schools commissioners, and trusts which currently all help applicants to open new free schools.
Schools Week has the key findings:
1. Most free schools have been set up in areas that need more places
Debate has raged about whether free schools open in areas with a lack of places – gaining heat when the National Audit Office said in 2013 the schools were only patchily helping.
However, researchers find that while the issue may have dogged the early years of the programme, "over time this has shifted, and in later years most new primary free schools have been opened in areas with at least some need".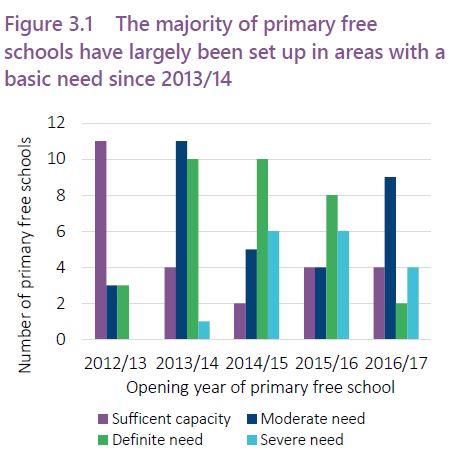 Whereas in 2013, a staggering 65 per cent of primary schools were set up in planning areas which already had enough spaces, the next year 84 per cent of primary free schools opened in areas in need.
Over the past four years in total, 85 per cent new primary free schools have opened in an area of some need.
And while no primary free schools opened in areas of "severe need" in 2012, that proportion has since shot up – to a quarter the following year, and 27 per cent and 21 per cent in the years after that. Those opening in areas of moderate and definite need were also relatively high.
Moderate need is where forecast demand for school places is five per cent greater or smaller than the number of places actually available. Definite need is where forecast demand for places is up to 20 per cent greater than the places available, and severe need is where demand is over 20 per cent greater than places available.
The report warns that where primary schools are still opening in areas that have enough spaces, they and nearby schools will struggle financially as they fail to recruit enough pupils.
Secondary free schools have also been set up in areas that need them – but many more are still needed, researchers found.
Recommendation: Given the greater need for secondary school places,  regional schools commissioners should "where appropriate use some planned sites for primary schools for secondary school facilities" instead.
Who is responsible for approving new free schools also needs to be clearer. The report suggests that since the Office of the Schools Adjudicator already oversees school admissions, its remit could be extended to oversee new free schools too.
2. Multi-academy trusts, not parents, are opening free schools
One of the intentions of the free school programme was to encourage  parents to set up schools in their communities. However, only one in five free schools has had parents involved in their creation – and that proportion has decreased over time.
Parents were involved in setting up about 40 per cent of secondary free schools opened between 2011 and 2013. Of those established since 2015, this has dropped to less than 20 per cent.
For primary and all-through free schools, those opened with parental involvement has dropped from 32 per cent to just four per cent.
Instead, 59 per cent (178) of all free schools have been opened by multi-academy trusts since the free school programme began.
Recommendation: Given that free schools are increasingly set up and led by trusts, rather than parents, and that RSCs are playing a larger role in advising on whether a new free school application should be approved, the government should review the respective roles of the different players in the commissioning process.
This includes reviewing the role of the New Schools Network, "to avoid needless duplication of effort and improve value for public money".
Mark Lehain (pictured) interim director of the NSN, said his the organisation "very much welcomes the re-focusing [on the role of free schools] and look forward to working with groups who are targeting new schools in [disadvantaged] areas."
3. Free schools have fewer poor pupils than their catchment areas
Another mission of the free school programme is to provide high-quality schools to poorer pupils, and government ministers frequently claim they achieve this. But both primary and secondary free schools have lower proportions of disadvantaged pupils than their catchment areas.
At primary level, 16 per cent of the pupils in the catchment areas of free schools are eligible for free school meals, but only 13 per cent of pupils attending those schools are eligible.
Similarly, 17 per cent of secondary free school pupils are eligible for free school meals, compared with 19 per cent of pupils in secondary free schools catchment areas.
"These figures suggest that free schools are slightly less representative in terms of disadvantaged pupils compared to the communities that they serve."
However, free schools are more ethnically diverse than their catchment areas. For primary free schools on average, 61 per cent of their pupils are from an ethnic minority, even though only 51 per cent of their catchment area is. Similarly, in secondary free schools, 47 per cent of their pupils are from ethnic minorities, compared with 45 per cent in the catchment area.
Recommendation: As part of the funding agreements for new free schools, they should be expected to "actively recruit disadvantaged and other under-represented groups of pupils" so they reflect their community.
4. Only about a third of free schools are actually innovative
As new schools created from scratch, free schools are also intended to experiment with innovative approaches to teaching and learning.
However, only a third "were found to have demonstrated such a novel approach."
Researchers defined innovation as "genuine novelty in the curriculum or ethos", giving examples such as the Rural Enterprise Academy in Staffordshire, which serves a large farming community and gives pupils access to a working farm, fish hatchery, florist and horse centre.
Another example is the Judith Kerr primary school in south London, where pupils are taught in both English and German, and all staff can speak both languages.
Primary schools are more innovative, with 35 per cent of 152 primary free schools which are still open qualifying as such.
The secondary sector compares more poorly, with just 29 per cent of 113 open secondary free schools counting.
Recommendation: The government must rethink the mission of free schools. They are no longer parent-led, nor often innovative – they are simply new schools now. Free schools need a "clear and distinctive mission".
5. We still can't be sure about free schools' performance
When measuring outcomes, NFER and the Sutton Trust looked at secondary free schools because those set up in 2011 will have had at least one full cohort of pupils spending their entire secondary schooling at them.
Unlike the DfE's previous analysis, the researchers made sure they matched the key stage 4 pupils in free schools to a control group.
Having done this, they found that free school pupils achieve an Attainment 8 score 1.52 points greater than the pupils in the comparison group, which is equivalent to a grade and a half in one subject.
They also achieve a Progress 8 score 0.12 greater than the comparison, which means a score about one eighth of a grade higher than similar pupils who go to other schools.
The differences are even greater for disadvantaged pupils. Their Attainment 8 score is just over three points higher than disadvantaged pupils in the comparison group, which is equivalent to a higher grade in three subjects. Their Progress 8 score is 0.26, equivalent to a quarter of a grade higher in each subject compared with disadvantaged peers.
Researchers said the "initial evidence appears promising", but warned the number of free school pupils with key stage 4 outcomes was still too small to be certain about the impact of free schools on attainment.
A spokesperson for the Department for Education said nearly half of free schools which have opened "are in the most deprived areas of the country.
"We are now inviting applications for more free schools and will prioritise those proposals that want to set up in areas with the lowest educational performance and greatest need for more good school places."