The DfE has published its annual accounts for spending in the academies sector during the 2017-18 year.
The previous report was published in November last year, but the government had promised to make publication of the report more timely.
Here's what we found.
1. More academy bosses on £150k+ despite Agnew's crackdown
Despite academies minister Lord Agnew's heavily-publicised crackdown on executive pay, a higher proportion of trusts now pay staff over £150,000.
A total of 146 trusts (4.8 per cent) had staff on over the £150,000 threshold, up from 125 (4 per cent) in 2016-17. Trusts with staff paid between £100,000 to £150,000 has also risen slightly, up from 941 last year (30.1 per cent) to 988 in 2017-18 (32.4 per cent).
But the accounts state any change in pay because of the crackdown will "take some time to be reflected…and the full impact will be realised in future years".
The number of trustees now paid over £200k in the sector is up to 18, from 16 in 2016-17.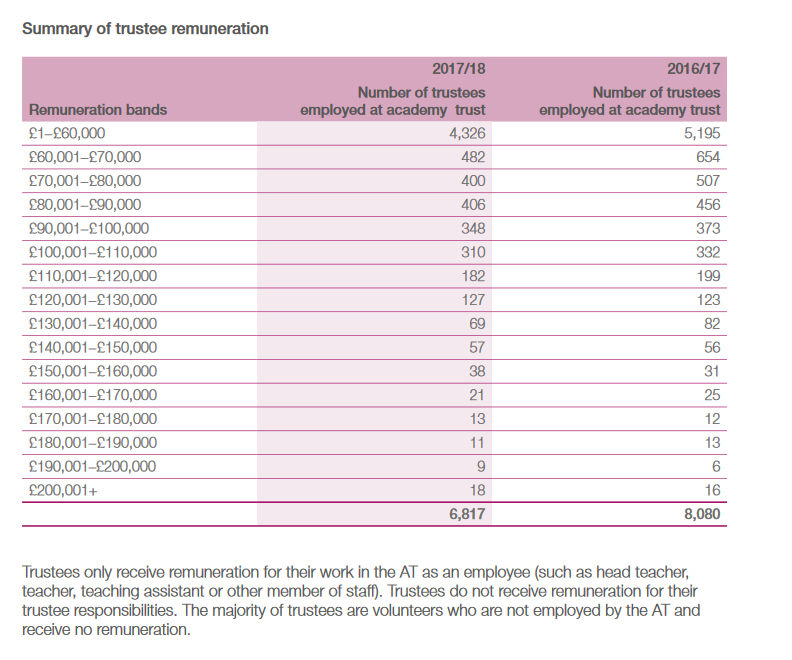 2. More trusts fall into deficit
Just like in the maintained school sector, more academy trusts are falling into the red. A total of 195 academy trusts posted a deficit last year (6.4 per cent) compared to 185 in the previous year (5.9 per cent) *note: this is academy trusts – not the figure for individual academies, which will be different.
Unsurprisingly, by far the largest number of trusts with deficits were academy trusts with just one school (134). Another 42 trusts in deficit had two to five schools, with 13 made up of six to ten schools, and six trusts with over 11 schools.
While the actual cash held among the academy sector has increased by some £400 million (from £3.5 billion to £3.9 billion), that represents a slightly lower rate than the increase in sector size.
It explains why the DfE is doing its upmost to get schools in single academy trusts to join MATS (see here and here)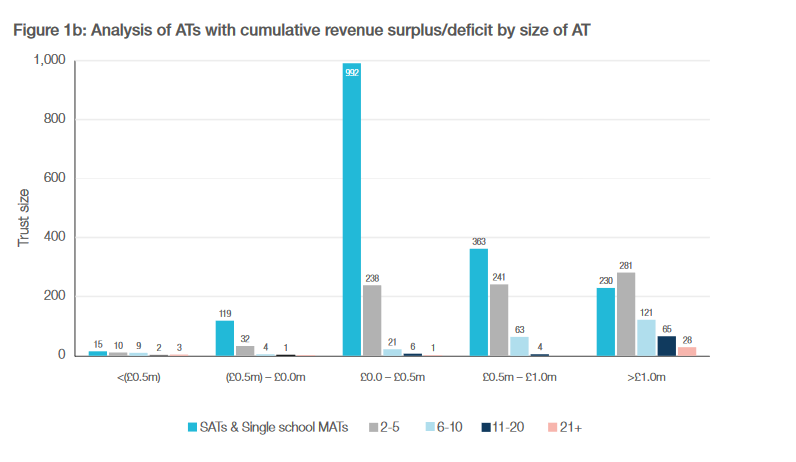 3. Efforts to shove academies into MATs are paying off
The number of academies in single-academy trusts has fallen from 1,976 in July 2017, to 1,743 academies as of July 2018.
Meanwhile, the number of academies in MATs has rocketed by a quarter – up from 4,949 academies (in 987 MATs) in July 2017, to 6,177 academies (in 1,141 MATs) in July 2018.
The mean number of academies in a MAT was five. At least seven trusts now have more than 40 schools.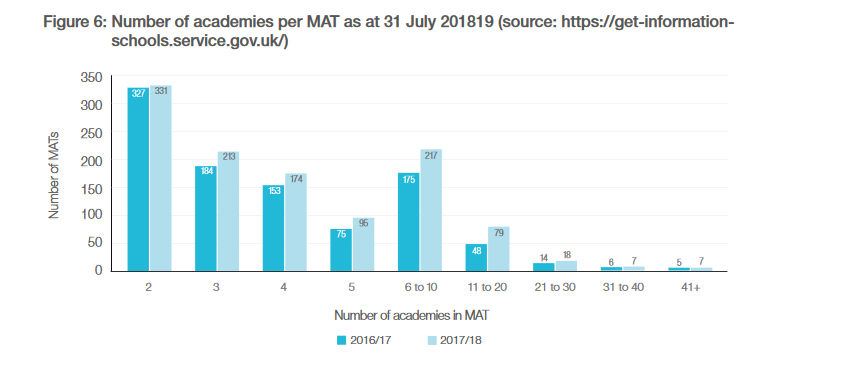 4. More financial irregularities, but no investigations published
There has been a slight increase in instances of auditors flagging finance concerns in trusts' annual accounts – up from 137 (4.5 per cent) in 2016-17, to 177 (5.9 per cent) in 2017-18.
These concerns, raised when trusts don't comply with funding rules, mostly relate to financial management or reporting, the accounts stated (as opposed to other stuff like related-party transactions, or procurement process).
Separately, the government received 28 allegations related to fraud or financial misdemeanors in trusts between August 2017 and July 2018 (compared with 36 for the previous year).
This led to 15 "visits" to institutions by department staff – four fact-finding, six finance reviews, and five investigations. None of the investigations have been published yet, with two of the six finance reviews still to be made public.
As previously reported, there's also been a rise in trusts being hit by fraud (49 times last year compared to 32 in 2016-17). The total value of reported fraud was just over £1 million (compared to £773,894 in 2016-17). Just over half of the £1 million has been recovered.
5. Off-payroll numbers plunge, with less spent on pay-offs too
The number of trusts with staff paid off-payroll has fallen dramatically – down from 144 in 2016-17, to 68 last year. There has been some high-profile cases, and a change in the rules which may have contributed to the drop.
The amount spent on severance packages for departing staff has also fallen from £74 million in 2016-17 to £68 million this year (although one trust paid out between £100,000 to £150,000 on one pay-off).