The proportion of secondary schools that were full or over capacity increased last year, new data reveals.
Department for Education statistics released this morning show 17 per cent of secondary schools were full or over-capacity in 2019, up from 15 per cent in 2017.
In contrast, the proportion of full or over-capacity primary schools continued to decrease to 20 per cent in 2019, from 21 per cent the year before.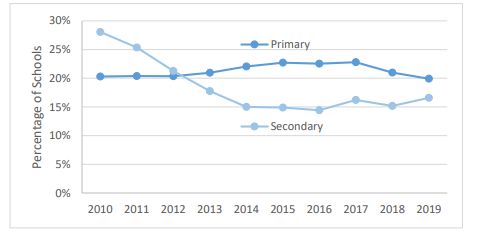 A population bulge brought on by a baby boom in the early-2000s is in the process of making its way from primary to secondary level.
In 2018, DfE forecasts predicted the number of pupils in English secondary schools would rise by 418,000 by 2027.
And the new data supports this trend, with the DfE warning: "Local authority forecasts submitted to DfE suggest primary numbers may peak in 2021/22 and then level off.
"Local authorities expect secondary pupil numbers to continue to rise as the increase previously seen in primary numbers continues to move through the secondary phase."
Overall between 2018 and 2019, 83,000 schools places were added to the schools estate – 33,000 primary places and 49,000 secondary places.
The report explains "secondary places have increased at a faster rate than actual secondary pupil numbers over recent years, in preparation for this large birth cohort".

Elsewhere, the report found the total number of unfilled places in the school system has increased to 1.1 million places in 2019 – 13 per cent of total school places available.
In 2019, there were 482,000 unfilled places in primary schools – a 3 per cent increase from 2018.
In secondary schools there were 621,000 unfilled places in 2019, a decrease of 3 per cent from 2018, although still significantly higher than the number of unfilled places in 2010,  which was 355,000.