The government has issued another warning to academy trusts over executive pay, this time asking those that paid employees more than £100,000-a-year in 2016-17.
The letter from Education and Skills Funding Agency boss Eileen Milner is the latest in a series of interventions by the government over largesse in academy pay.
Letters went out yesterday to to all multi-academy trusts that were either paying a salary of £150,000 or more to one employee, or salaries between £100,000 and £150,000 to two or more employees, in 2016-17.
They follow a previous round of letters from Milner, sent in April to trusts paying a salary of £100,000 to £150,000 to multiple employees in 2015-16, to ask them to justify why they were setting wages at these levels. Milner has also previously written to single academy trusts with staff on more than £150,000-a-year.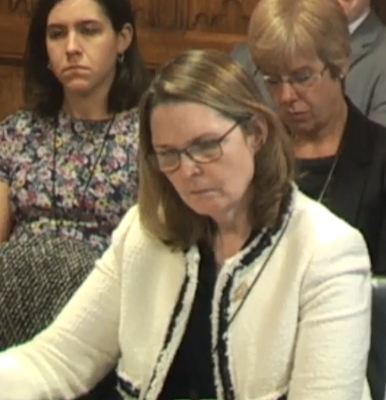 A freedom of information request by Schools Week revealed that most of the 92 academy trusts with multiple staff on £100,000 to £150,000 a year in 2015-16 were small.
Out of the 92 trusts named, 56 had fewer than 10 schools, and 11 had just one each.
Larger trusts on the list included the Academies Enterprise Trust, Reach2, United Learning, Oasis Community Learning, Delta Academies Trust, The Kemnal Academies Trust, the Harris Federation and Ark Schools.
In December 2017, Milner also wrote to the trustees of single academy trusts with staff earning more than £150,000 a year and to trusts at risk of experiencing financial difficulties.
The latest letter from Milner, published today, requested further information about the "process" and "rationale" for setting salaries at this level.
"You should have a clear process and rationale for the salaries set, including for all of your non-teaching staff posts," Milner wrote.
"You will be aware that there has been, and continues to be, considerable scrutiny over tax payer-funded executive salaries in recent months, and our review of the 2016-17 accounts return information is an important aspect of this."
"Trusts have a responsibility to ensure value for money and that salary and other remuneration payments are transparent, proportionate, reasonable and justifiable."
For all employees with salaries of £100,000 and above, trusts must give an overview of their roles and responsibilities, the rationale for setting the salary at this level, details of the trust's pay policy and process, and the "level of challenge" that justifies the salary levels, such as financial or geographical difficulties for the trust. The percentage of time spent teaching must also be given.
For non-teaching staff – those who spend less than 25 per cent of their time on teaching – the trusts must provide details of remuneration and benefits packages in addition to base salaries, the length of notice required by if an individual wishes to leave, and the length of their probationary period.
Milner is not the only government representative to have warned trusts over pay.
In February, the academies minister Lord Agnew wrote to chairs of academy trust boards urging them to take their financial responsibilities seriously and not over-reward trust bosses.
"I would not expect the pay of a CEO or other non-teaching staff to increase faster than the pay award for teachers," he said.
In this week's letter, Milner said the government "would expect the remuneration committee to minute its rationale for awarding any salaries at these levels, distinguishing between teaching and non-teaching staff".
It should also "show that it has scrutinised and approved all other emoluments such as eligibility to participate in the Teachers' Pension Scheme, travel, accommodation, bonuses, notice periods and holiday entitlement", she said.
The trust have until July 20 to provide their responses.