The government has revoked more than 30 academy orders, some after schools have spent years in limbo and often after they have been at the centre of fierce battles over their futures, a Schools Week investigation has found.
Analysis of government data obtained under the freedom of information act found 33 schools have spent more than 16,000 days subject to academy orders that were later revoked.
The government's got a challenge, because if it's slapping academy orders on without sponsors lined up, there are problems in doing it this way
Twenty of the orders were in place for upwards of a year, while seven schools were left in stasis for more than two years.
Orders are automatically issued to local authority-maintained schools rated "inadequate" by Ofsted.
The revocations come as protests against conversions gain publicity. But as one union leader insisted more action will come, Sir David Carter, the former national schools commissioner, has urged academy trusts to fight back.
Meg Hillier, the Labour MP who chairs the public accounts committee, has now called for a shake-up of the conversion process.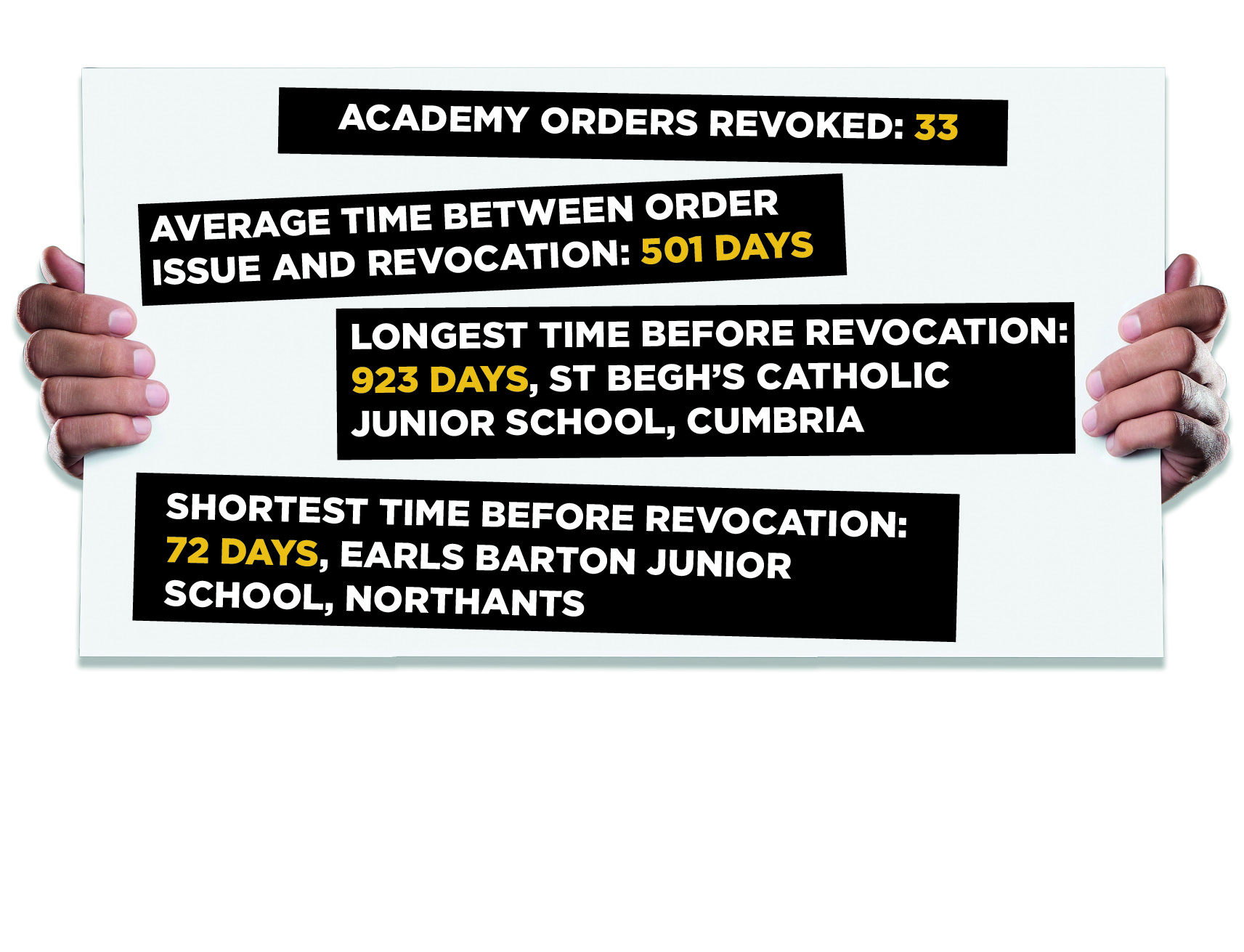 She warned that schools were left with a "horrible sword of Damocles" hanging over them by a "political process" with little thought about the "practical side".
"The government's got a challenge, because if it's slapping academy orders on without sponsors lined up, there are problems in doing it this way, in trying to force it," she said.
Guidance says revocations 'will only be used in exceptional circumstances'
The right of education secretaries to revoke academy orders was introduced in the 2016 education and adoption act. However, statutory government guidance on schools causing concern says that the power "will only be used in very exceptional circumstances".
Of the 33 academy revocations, 27 were the result of a follow-up inspection that left the schools with a higher grade, five were issued because the school merged with another, and one because a school closed.
The numbers also seem relatively stable. Although just four orders were revoked in 2016, 14 were lifted in 2017 and 12 in 2018.
Three have been revoked so far this year, the latest at William Torbitt Primary School in the London borough of Redbridge, which turned its inadequate rating into a "good" within seven months.
The decision by Damian Hinds, the education secretary, to revoke the order after such a short time led to calls from the National Education Union for a rethink of academy conversion policy. It said that the current system did not take into account the capacity of schools to improve under local authority oversight.
Union protests are 'picking up' and targeting voluntary conversions too
Kevin Courtney, the joint general secretary of the National Education Union (NEU), hailed a "fantastic campaign" at William Torbitt, which he described as "another school saved for local authorities". He said parental and union protest would continue to change minds.
"We think it's picking up. Around those campaigns that started with teacher and support staff issues, parents were really involved in them and real parent activism developed over them."
But campaigners are claiming responsibility for more than U-turns on forced academisation. According to NEU data, governing bodies at 11 schools have abandoned plans to voluntarily convert after teaching union members balloted for or took strike action.
"We're finding huge parental support wherever they come up," Courtney said.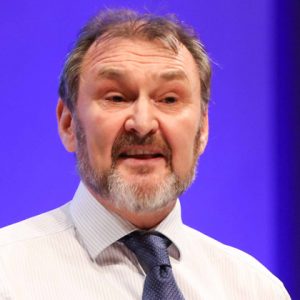 "We generally wouldn't ballot unless there was an existing parental campaign."
The campaigns don't always succeed, however.
In Stevenage, Barclay School still looks set to join Future Academies, despite vehement local opposition. Campaigners are concerned that Future, set up by Lord Nash, the former academies minister, has few links to the local community. They are also worried about the uncertainty for pupils.
Hundreds of parents and teachers have taken to the streets in protest in the Hertfordshire town, but Courtney admitted his union had accepted defeat.
"Of course we don't win everywhere, even where we've got fantastic parental campaigns and really strong teacher campaigns at the same time."
'Lack of local accountability sparks parent protests'
Although unions can only strike against academisation on the grounds of potential changes to their terms and conditions, Courtney said teachers were often motivated by other issues, such as the "style of education they might have to deliver" in an academy.
You're a very long way removed from any accountability processes
"It is genuinely about the change of employer, because they want to stay with the local authority, but the motivation is wider than that perhaps."
Hillier said the lack of local accountability was behind the increasing mobilisation of parents against academies.
"To be clear, we parents aren't always rational because we're thinking about our own child and their situation, and it may be that there are bigger problems in a school, but the difference is you can't go to the council or someone local to talk about it. You've got a big multi-academy chain, the schools commissioner or the department.
"You're a very long way removed from any accountability processes."
'Academy trusts need to fight back'
The parent-led John Roan Resists group has been protesting against the academisation at John Roan School, in Greenwich, south London.
The University Schools Trust (UST) pulled out of taking over the school, rated inadequate in June last year.
Earlier this year the protest group wrote an open letter to United Learning, which it said was interested in sponsoring the school, claiming that it "gives their staff less rights than those in the public sector". The group also accused United Learning of being more interested in "school assets than our children".
Jon Coles, the trust's chief executive, published an open letter to counter the claims.
He said, for instance, that the right of academies to ignore national pay and conditions allowed his trust to pay teachers more than they would receive in maintained schools, and to provide extra non-contact planning days.
Sir David Carter, who served as national schools commissioner until last year, called for other trusts to follow suit, warning they were currently "on the defensive far too often" because they're "not good enough at telling the positive news about what they are doing to raise standards".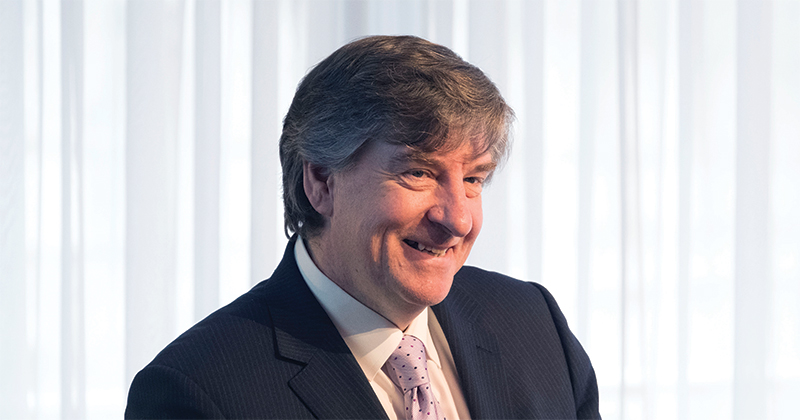 "They do not generally talk about the benefits of an academy being part of their trust from the perspective of children, staff and parents and, as a result, there is a lot of confusion for parents about what a MAT is, who the people are who lead it and how they contact the trust to raise concerns. We have to do better in this area."
Carter believes multi-academy trusts should professionalise communications and engage "high-quality professionals to help them on either fixed-term contracts or call-off contracts when their support is needed".
Carter also said a time would come when academies would be trusted by the public, but this would require the system to improve.
"The biggest challenge I saw as national schools commissioner was that I could identify a number of really brilliant and sustained improvements where trusts were providing great leadership and children were achieving outcomes that had never been witnessed before. But I could also point to a smaller number where standards did not improve."
A spokesperson for the Department for Education said statutory guidance was clear that academy orders would only be revoked in "very exceptional circumstances".
This included where a maintained school closed or merged because it was unviable "or where Ofsted has re-inspected the school and judged that it is no longer inadequate, and the current leadership and management is capable of driving continued improvement."