Lord Agnew, the former academies minister, has departed the Department for Education.
The academy trust founder has got a new job at the Treasury after a controversial stink in Sanctuary Buildings, where his dogged pursuit of savings in schools annoyed a lot of headteachers.
His exploits also earned him a fair few headlines, and he has even spoken of his deliberate attempts to court controversy in order to get his message through to schools via the media.
So what better way to see him off, than with a round-up of Schools Week front pages that depicted those exploits over the years.
1. Agnew's bubbly bet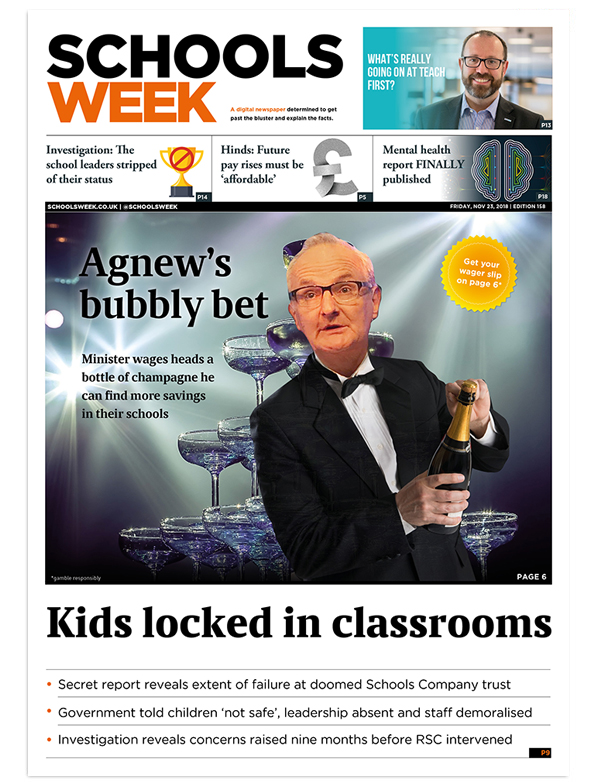 Dispatched to Birmingham to brief delegates at the Schools and Academies Show on the government's school savings agenda, Lord Agnew told the event that he was "like a pig out hunting for truffles when it comes to finding waste in schools", and insisted more can be done.
He then said he would bet any headteacher "a bottle of champagne and a letter of commendation" that he can identify more potential savings in their schools.
"I would challenge anyone here, if they want to have a wager with me that I can't find some waste in your school, I will take you on," he said.
"And I will use the teams that I have got at the DfE to win that wager. But if I lose the wager, which is entirely possible, I promise to give you a bottle of champagne and a letter of commendation."
2. Exposed: Agnew's £35m school waste claims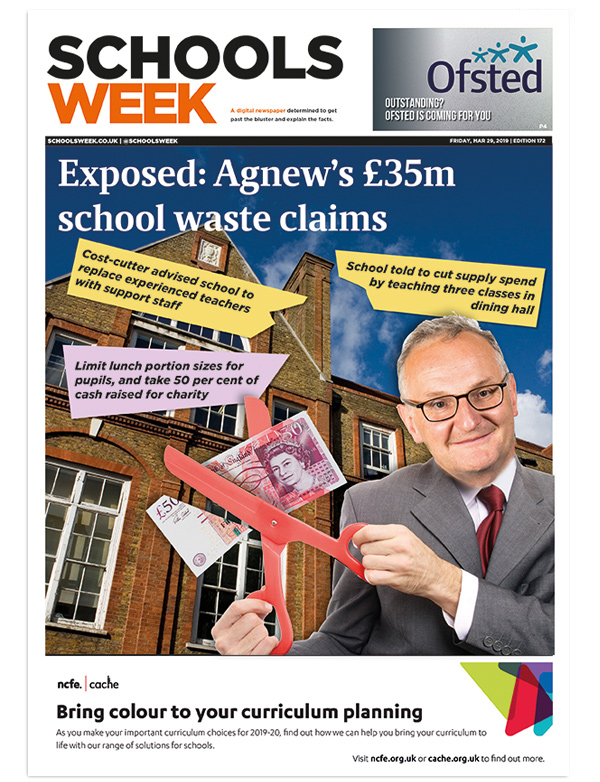 One of Agnew's pet projects at the DfE was the creation of an army of school cost-cutting consultants, and the minister is very proud of their work.
In November 2018, he boasted at a conference that the advisers – normally school business managers – found £35 million of "essentially misdirected resources" at 72 schools and trusts, which amounted to a "colossal sum of money".
Curious about the claims, Schools Week got hold of some of the advisers' reports.
Our investigation found that advisers had told a school to replace experienced teachers with support staff on term-time contracts, while another was urged to limit lunch portions for pupils.
The secret reports also revealed other tips from the "school resource management advisers" include saving money on supply teachers by instead using spare staff to cover three classes at a time in the dining hall.
3. 'I'm not a Dickensian character'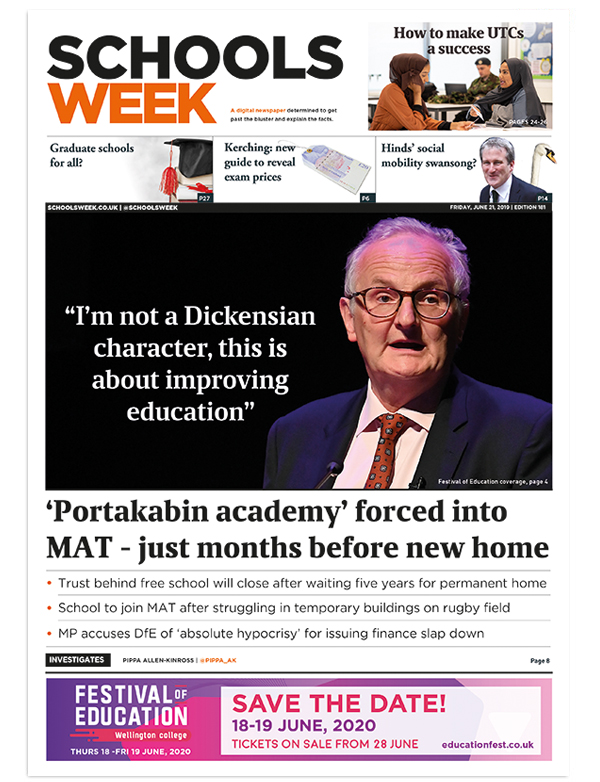 Agnew defended his approach during a Q&A at last year's Festival of Education, insisting his obsession with cost-cutting is about "improving education".
The minister was sent in place of his then boss Damian Hinds, who was detained in London because of the ongoing Conservative leadership election.
Challenged over his advisers' recommendations about portion sizes, Agnew insisted that focusing on those examples  "trivialises the whole discussion", as the school in question was throwing a quarter of its food away.
"Every school I have worked with since I became minister we have found a way through their budgetary issues. That is the reality of it."
"I'm in this job because I care about education. I'm not paid to do it. I'm only here because that's what I want to see. I know there's an urge to write about me as some kind of Dickensian character but it is about improving education."
4. Agnew reveals his REAL cost-cutter intentions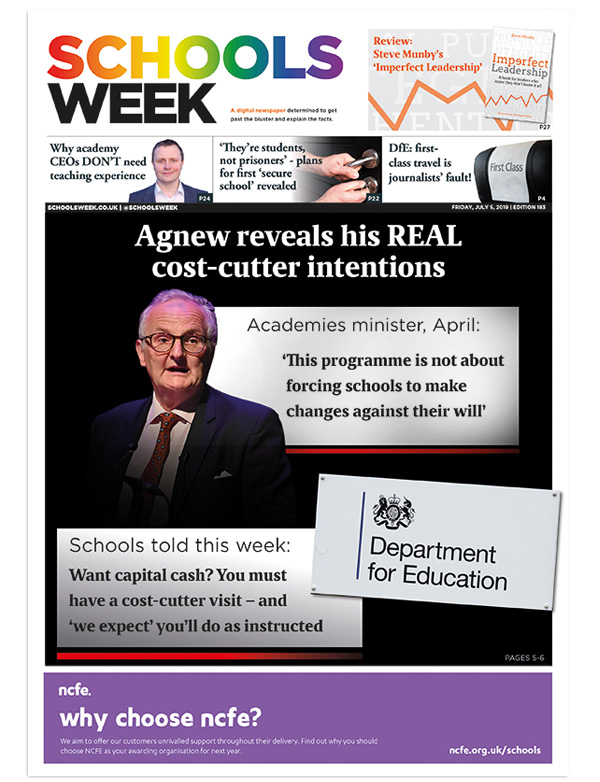 The academies minister had always insisted that the advice of his cost-cutters, though important, was "not about telling schools that they are doing things wrong or forcing them to make changes against their will".
But a letter sent out last July seemed to suggest otherwise.
It revealed that successful applicants for the £430 million condition improvement fund – to keep schools in "safe and good working order" – were told they will only get the cash after agreeing to an SRMA visit.
In a letter sent to trusts, and seen by Schools Week, this was listed as an "additional element" of the funding. It doesn't appear to have been included in documents setting out requirements for applicants published last year.