Massage treatments, 24/7 helplines and walking groups are among the services schools are providing to help teachers' mental wellbeing.
New figures collated by Schools Week suggest the number of sick days taken by teachers for mental health reasons, including stress and depression, are on the up.
Since the 2015-16 academic year, 27 per cent of all sick days were attributed to mental health-related causes – based on freedom of information responses from 63 councils and academy trusts.
However, the figure last year was 29 per cent, four percentage points higher than the previous year, and the highest among the past four years.
The data is collected by councils and trusts, but may not show the true number of sick days taken for mental health reasons as some employees may feel uncomfortable revealing the nature of their absence.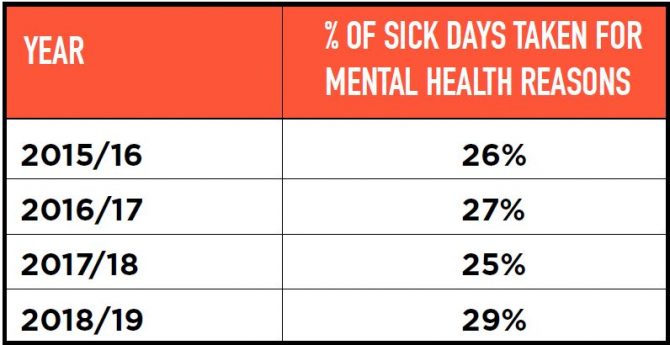 The Enquire Learning Trust, which runs 29 academies across the north of England, recorded the highest percentage of mental health absentee days among the 11 trusts that responded, at 35.2 per cent.
But Lauren Pilgrim, the trust's director of human resources, said this was due to a "transparent and supportive culture" where "employees feel free to discuss their mental health".
She acknowledged that "pressure on finances" in recent years had led to staff reductions and a "more challenging workload".
The trust runs "a significant healthcare package" for employees – including a 24/7 helpline staffed by qualified counsellors, counselling support and cognitive behavioural therapy.
There is also support in place for physiotherapy, reflexology and a range of massage treatments, because, as Pilgrim explains, "mental health can be affected by other, more physical, conditions".
The trust pays around £70,000 a year, the equivalent to around £4 per employee a month, for the Westfield Health service. Pilgrim said other trusts in the sector were beginning to move towards such schemes, claiming it had produced a reduction in absence rates, boosted morale and encourages retention by demonstrating how highly the trust values its staff.
The scheme, which the trust has used since 2014, can be accessed directly and anonymously by employees who then claim back for the services used. These can be accessed whether staff are on sick leave or not.
The trusts usually request that treatment is accessed outside school hours but, where, this is not possible, a plan is agreed for them to attend that causes the least disruption for pupils.
Schools Week contacted all 152 local education authorities in England and the largest and most prominent academy trusts.
In total, 52 education authorities responded and 11 trusts – those remaining either did not reply or did not hold the information.
Our findings are considerably lower than the national workplace average statistics. Health and Safety Executive (HSE) figures show 54 per cent of sick days in Britain during 2018-19 resulted from anxiety or depression, based on the Labour Force Survey (LFS).
The HSE also estimates there were 129,000 work-related ill-health cases in the education sector between 2016-17 and 2018-19 – 52 per cent of which were a result of stress, depression or anxiety.
According to research from the UCL Institute of Education published last month, one in 20 teachers in England are reporting long-lasting mental health problems.
Professor John Jerrim of the IOE said teachers aren't "dissimilar to other professional groups" and added the disparity between Schools Week's findings and that of the LFS was likely down to the ways in which the information is measured and recorded.
Jerrim said a more reliable measure could be retention and recruitment as "those getting massively stressed are likely to leave the profession". The IOE will itself be publishing more research into teachers' mental health later this year.
Of the councils that responded, Sefton Council recorded the highest percentage of mental health absentee days, at 44.8%.
A spokesperson said teachers were supported through pastoral support on site and counselling and cognitive behavioural therapy through its occupational health service.
The Elliot Foundation had the lowest percentage among the trusts that responded, with just 2.7 per cent. It is in the process of rolling out a wellbeing strategy across its 28 schools, a spokesperson explained. Current initiatives include walking groups and flexible working schedules.