The pupil premium has done little to boost the attainment of long-term disadvantaged youngsters, who are actually falling further behind their peers, a new study has suggested.
A blog post by Education Datalab has explored the impact of the premium, which represents extra money given to schools to close the attainment gap between disadvantaged pupils and their peers.
Pupils who get the funding include those who have been eligible for free school meals at any point in the last six years – with £1,320 paid per secondary pupil, and £935 for a primary pupil.
Datalab looked at the attainment progress of pupils, compared with a national average based on its own calculations, broken down by how long they have been claiming free school meals.
It presents quite a challenge
The study found that attainment had been improving for pupils who were eligible for free school meals for less than 60 per cent of their time in schools.
However the improvement was small for pupils eligible for free school meals between 60 per cent and 90 per cent of the time.
And for pupils who were eligible for free school meals on almost every occasion the school census was taken (90 per cent of more), the study found their attainment, in relation to the national average, had actually fallen.
Author Mike Treadway said that boosting these "long-term disadvantaged" pupils' attainment presents "quite a challenge", and that the gap can only be closed if these pupils make progress that is above the national average.
However a further analysis found only a minority of schools where long-term disadvantaged pupils have value-added scores at or above the national average of 100.
Last year just 12 per cent of schools at key stage 2 (879 schools) and seven per cent at key stage 4 (158 schools) achieved it, with numbers dropping dramatically when schools in London are not counted.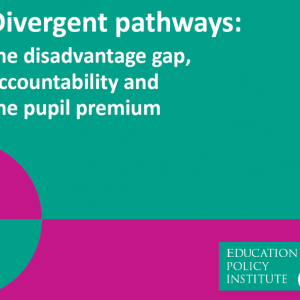 "Whilst there are some signs of hope – the number of schools where disadvantaged pupils make average or better progress has been increasing over time – there is obviously a long way to go," said Treadway.
It's the latest study that questions the impact of the pupil premium funding given to schools – which topped £6 billion between 2011 and 2015.
The Public Accounts Committee said in 2015 that "urgent steps" were needed to ensure the attainment gap was closing.
At that time, the gap had closed by just 1.6 per cent in secondaries, and 4.7 per cent in primary schools.
More recently, a report by the Social Mobility Commission, published last month, criticised the slow progress – particularly in secondary schools.
The group called for the government to introduce a new "ambition" that the attainment gap will be closed in 10 years.
A Department for Education spokesperson said at the time that "tackling social mobility is at the heart of the government's ambition to make Britain a country that works for everyone".
The DfE has been approached for comment.