Long-awaited DfE board minutes 'fail to set example' on transparency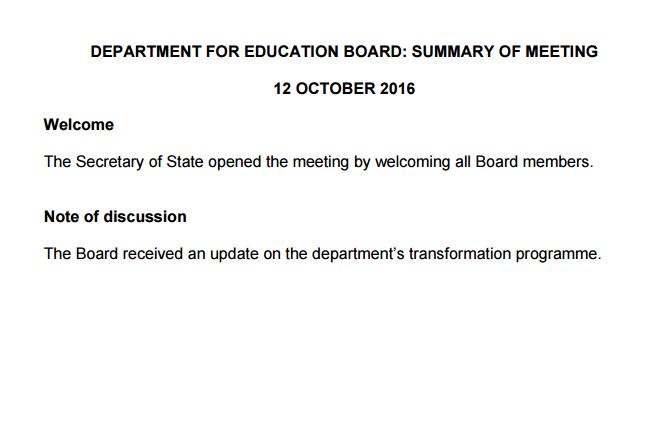 The Department for Education (DfE) has been accused of "failing to lead by example" on school transparency after publishing concise board meeting minutes up to two years late.
Board meeting minutes stretching back to June 2015 have been published today after a two-year wait, with some updates amounting to no more than a 10 word sentence.
Governors have said the DfE "would be in special measures" if it was a school or governors' board.
The updated minutes from the board were published following their limited transparency being repeatedly highlighted by Schools Week.
From the meeting in October last year, the description came to 10 words: "The Board received an update on the department's transformation programme."
The update from December 2015 was 12 words: "The Board held discussions on the department's readiness to deliver its goals."
Governors would never get away with these minimal reports
In others, the board's discussions seem tautological. From June 2015, the minutes say:
"Strategic priorities – the Board discussed the setting of the department's strategic priorities.
"Major delivery risks – the Board discussed the management of major delivery risks."
The longest update came to 50 words.
Mike Cameron, a governor, said the DfE were increasingly failing to deliver updates on time.
"Why has it taken two years to publish these minutes? It's a sign of being dysfunctional, if it takes two years to publish something that's one sentence long."
The DfE has missed its deadlines for consultations on issues, including whether to make the English Baccalaureate compulsory, which teachers expected at the end of January. 
Janet Downs, member and blogger for Local Schools Network, which campaigns for local authority-run schools, said the government was "merely going through the motions" of taking minutes.
"This is not transparency. It's obfuscation."
It is not a statutory requirement for the DfE to publish its board meeting minutes. It does publish a paper register of interests for its directors, which Schools Week reporters have gone to look at before.
But these new minutes come after the government has toughened up the level of competency it expects from governors in January, with a new framework following financial scandals at schools.
The framework outlines six "principles and personal attributes" for governance – strategic leadership, accountability, people, structures, compliance and evaluation.
Ian Usher, product manager at Modern Governor, an online service for governors and trustees, said the DfE was failing to lead schools by example.
It's a sign of being dysfunctional
"Governors wouldn't get away with these minimal reports."
He added that if the Education Funding Agency scrutinised the DfE "with the same eyes it looks at schools", the department would be in "special measures".
The DfE has been criticised over "unaccountable and opaque" board minutes before, in relation to headteacher board minutes.
The government pledged to publish these as of January 2015, but Neil Carmichael, chair of the education select committee, said later that year the headteacher board minutes were not being published "in a timely fashion".
A spokesperson for the DfE said guidance from the Information Commissioner's Office (ICO) said publishing summary minutes "can be an appropriate approach". Attendance and frequency of meetings was in the annual departmental accounts, he added.
The ICO guidance says "authorities may wish to routinely publish public minutes or summaries of the minutes ?suitable for publication.
"These would generally contain enough information to be useful to the public without disclosing anything which should not be made public."
On the board are the education ministers including secretary of state Justine Greening, schools minister Nick Gibb, children's minister Ed Timpson and chief executive of the Education and Skills Funding Agency Peter Lauener, as well as various civil servants.