Ministers were warned the decision to allow a Kent grammar school to build a new site more than eight miles away was at serious risk of losing if put to a judicial review, the former schools minister David Laws has revealed.
Laws's recently-published diaries, chronicling his time as a minister in the coalition, claim lawyers had advised the Department for Education that "by 70 per cent to 30 per cent" the balance of judgment was that the proposed new grammar site would be considered "a new school" and "therefore would be illegal".
The advice indicated the government had just a 30 per cent chance of winning a judicial review of its decision.
If the Tories try to go ahead and ignore the legal advice, then we are going to have one hell of a public row
New selective schools have been banned since 1998, but the expansion of the Weald of Kent Grammar School, through a new site, was waved through by Nicky Morgan in October 2015.
Morgan said at the time this was in keeping with Conservative policy that "all good schools should be able to expand". But critics accused the government of allowing the opening of a new grammar school by the back door.
A proposed judicial review into the decision, led by the campaign group Comprehensive Future, was dropped in 2016 after campaigners could not access critical government information.
The group said their request for details on the legal advice and other information given to the government was "not forthcoming and unaccountably delayed".
The revelation raises fresh questions about the decision-making process around the grammar decision just weeks after the Weald of Kent's £19 million new annex opened in Sevenoaks, more than eight miles from the school's main site in Tonbridge.
Laws, who also claims in Coalition Diaries 2012 to 2015 that he instructed DfE permanent secretary Chris Wormald to show him the exact legal advice also seen by Morgan, warned of "one hell of a public row" if the advice went unheeded.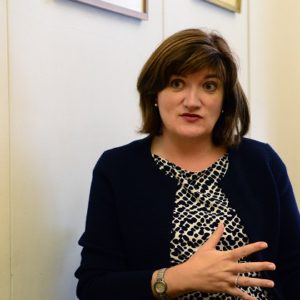 "We…had a briefing from officials on the Weald of Kent grammar school issue," he said. "The advice is quite helpful. Basically, it says that by 70 per cent to 30 per cent the balance of judgment is that this is a new school and therefore would be illegal.
"As far as I am concerned, this proposal should now be dead in this parliament. What I shall say to Nicky is that if she wants to delay her decision until after the election, I am happy with this, but if the Tories try to go ahead and ignore the legal advice, then we are going to have one hell of a public row."
According to Laws, who is now executive director of the Education Policy Institute, Morgan paid him a "surprise" visit in his office to discuss the issue and the legal advice she had received.
"Without sitting down, Nicky said that the whole thing was very sensitive and she was happy for me to see the legal advice, but she wanted to see it herself first.
"Later on, I phoned Chris Wormald and made clear to him that not a single dot or comma of the legal submission must change between it being seen by Nicky and by me.
"Chris agreed. If you put civil servants on the spot, they will make sure that nothing goes off track."
Morgan tells a different story, however. She said further legal advice was sought between May 2015, when Laws lost left the government, and October 2015, when she made her final decision.
"He didn't see all the advice," she told Schools Week. "As a lawyer I would not have made a decision without being very clear it was within the law to do so.
"I didn't announce the decision until 5 months after he lost his seat – that's a lot of legal advice time."