Language experts have warned about a shortage of language skills among young people, as new figures show a decline in take-up.
The Language Trends Survey, published today by the British Council and Education Development Trust, highlights a number of challenges facing language teaching.
After the introduction of the English Baccalaureate (EBacc), which requires every current year 7 to study English, maths, science, history or geography and a modern foreign language until they are 16, there was an initial increase in the proportion of pupils taking a language at GCSE, but this number has now stagnated.
There been no improvement in take-up of languages post-16, with the number of A-level entries in French and German continuing a decade-long drop.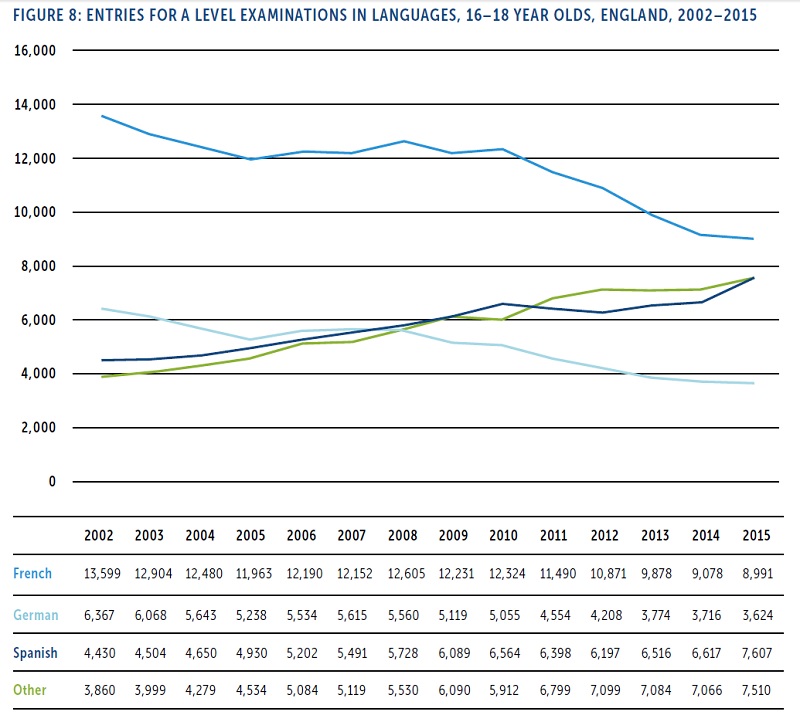 Report authors said while more pupils are taking Spanish and other languages, it does not make up for the shortfalls in French and German.
Experts have previously warned that schools need to find a further 3,500 language teachers to be able to teach the subject properly in the coming years.
There is wide variation in the proportion of pupils sitting a GCSE in a language across the country – 42 per cent of pupils in the north east compared with 64 per cent in inner London.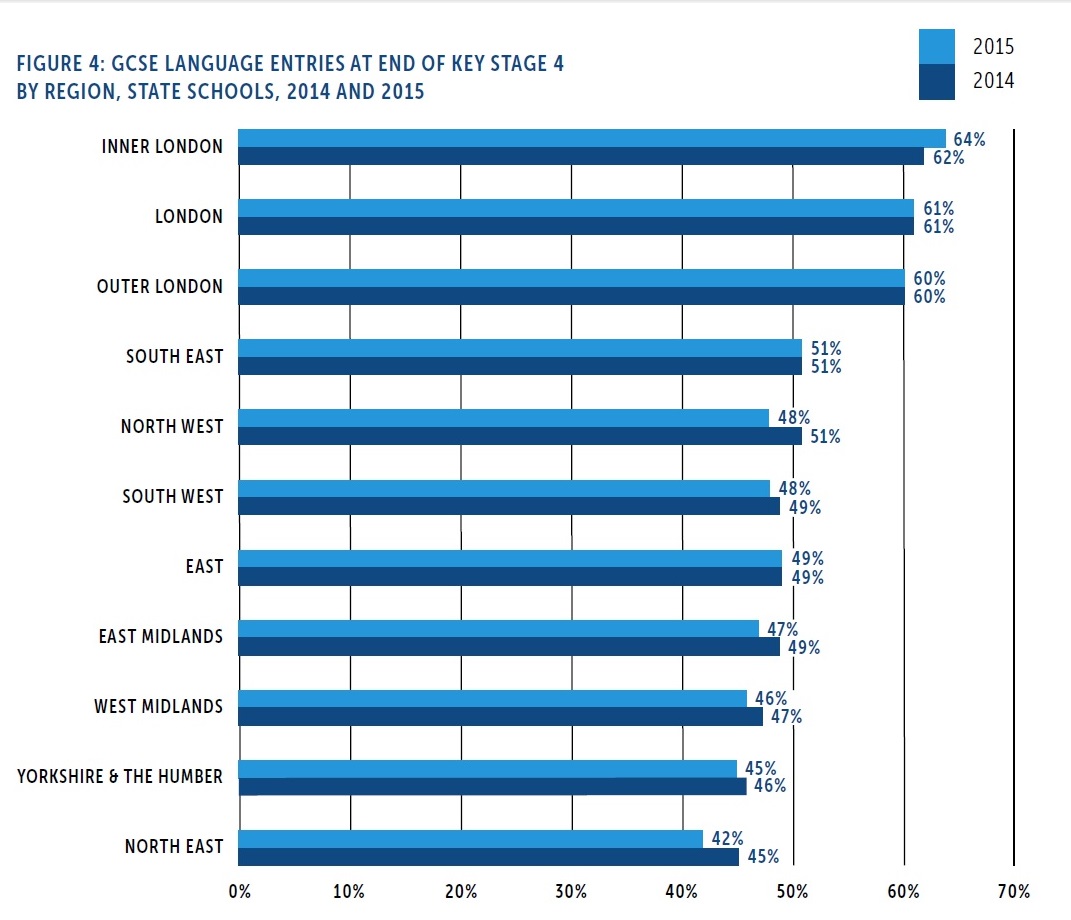 The report said some state schools believe post-16 languages are "financially unviable".
The report does, however, give a positive nod to the primary sector, stating that 42 per cent of primary schools have increased resources available for languages, and all surveyed schools taught the subject.
But secondary schools reported that the quality of teaching at primary school is not consistent and pupils did not have a "worthwhile level of knowledge to apply their studies at secondary" level.
Teresa Tinsley, report co-author, said: "Languages are already one of the harder GCSEs and teachers fear that with the new exams it will be even tougher for pupils to get a good grade.
"Combine this with the expectation that a wider range of pupils will be sitting the exam and it is not surprising that teachers feel embattled. Improving their morale and confidence in the exam system is crucial if languages are to thrive in our schools."
Mark Herbert, Head of Schools Programmes at the British Council, said: "If the UK is to remain competitive on the international stage, we need far more young people, not fewer, to be learning languages in schools.
"The country's current shortage of language skills is estimated to be costing the economy tens of billions in missed trade and business opportunities every year."
Tony McAleavy, director of research and development at Education Development Trust, added: "It is encouraging to see primary school teachers continuing to value teaching languages, though there is a clear need for more curriculum time to be made available for the subject."
A Department for Education spokesperson said: "As global communication becomes easier, we know that employers increasingly prize the ability to speak a foreign language. That's why we made languages a compulsory part of the primary curriculum and since 2014, we have seen an increase in the take up of language A-levels.
"By introducing the Ebacc, we have stopped the decline in modern foreign languages seen in the last decade, where 200,000 fewer GCSE students studied a modern language in 2010 than in 2002. Last year's results showed 20 per cent more pupils are taking languages at GCSE than in 2010 while A-level entries in modern languages have increased by nearly 4 per cent since 2014."