An online learning platform has stopped describing top Conservative MPs – including Gavin Williamson – as "sponsors" after a backlash over comments made by one of its founders.
Politicians including Williamson and education committee chair Robert Halfon were until today listed as sponsors of the Invicta Academy, which was set up last summer by Conservative activists.
But the platform has now changed its website to list the MPs as "supporters", and removed any reference to financial support. Halfon told this newspaper he had asked Invicta to clarify his involvement.
A number of other MPs have been removed from Invicta's website altogether – although one told Schools Week he believed his name was removed in error, and has requested that it be added back in.
The organisation has also clarified that it receives most of its funding through donations, but not from any national politicians or the government.
Invicta has faced questions about its funding and links with the government following the publication of an interview with co-founder Stephen James.
In the interview, he claimed teaching unions were discouraging their members from doing live remote teaching and that some state schools hadn't provided enough live lessons during the first lockdown.
It comes amid a row over remote education which saw education secretary Gavin Williamson claim last week that live teaching was the "best way" of delivering teaching during partial school closures. The claim had previously been described as an "unhelpful myth" by Ofsted.
The government has said it expects schools to carry out a certain amount of remote learning each day including "both recorded or live direct teaching time". But teaching unions have warned against models which use too much live teaching.
Education committee chair asked Invicta to clarify his role
Invicta was set up last July by James, a teacher and Conservative activist, and Anna Firth, a Conservative member of Sevenoaks council. It is currently providing free live online lessons developed by 80 qualified teachers to around 1,000 children a day. Teachers are paid for their work.
Up until today, the academy listed a number of prominent Conservative politicians including Williamson and Halfon as "sponsors" on its website.
But the site has been updated to replace its previous "sponsors" page with a similar one labelled "supporters". The wording has also been changed to remove references to financial support from so-called sponsors.
Halfon told Schools Week he had asked the academy to change the website to remove references to him as a sponsor.
"They just asked me to support them, and I think it's a great idea and said I'd be happy to support them. But I'm certainly not a sponsor and I've asked them to change that," he said.
Asked about James's comments in the Mail, Halfon said: "I think Invicta Academy is doing a brilliant job but I recognise that hundreds of thousands of teaching and support staff are doing a brilliant job in unbelievably tough circumstances. I'm a supporter of anything that helps get our kids learning again."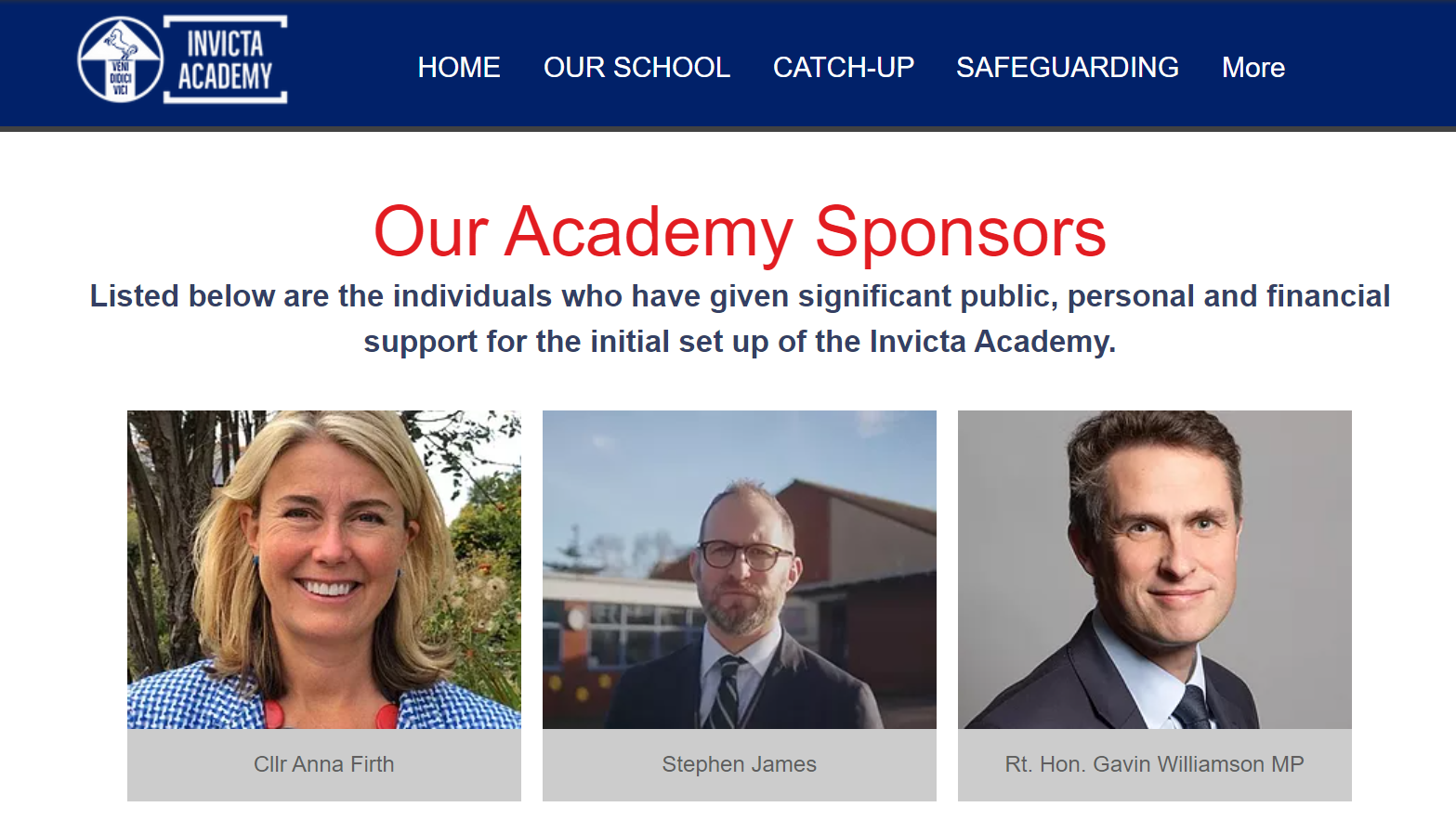 When asked about Williamson's involvement last September, the Department for Education said he had praised Invicta's work but had "no further involvement" with the programme.
Neither Williamson nor Halfon have declared any link to Invicta in the MPs' register of interests.
Teachers 'working extremely hard', says founder
James and Firth decided to found the academy last July after discussing the difference in approach between the King's Rochester private school, where Firth is a parent, and state schools in the area.
"What [state school pupils] were getting is essentially worksheets sent home in packs at the beginning of each week," James told Schools Week. "And the teacher in me said 'that isn't teaching'."
But James acknowledged that things are "so much better" in the latest lockdown.
"Schools, especially secondary schools I think have really upped their game. But even still I think more can be done."
James, who is also deputy chair of Folkestone and Hythe Conservatives and a founder of the Conservative Friends of Education group, was criticised yesterday over comments made in an interview with the Mail on Sunday, in which he claimed teaching unions had encouraged their members not to carry out live remote teaching.
In its latest guidance to members, the National Education Union said live-streamed lessons "can be a useful tool", but warned against approaches that are "very largely live-streamed", as they "overwork staff and do not produce good learning experience for students".
James told Schools Week his comments were not meant as a criticism of teachers, and said he wanted to start a conversation about the need for a more "joined-up" approach from schools.
"I know that teachers are working extremely hard and are absolutely grafting away. But I also know just from my own experiences in schools that you could have 10 schools in a town, and they could all be working on the same problem in very very different ways."
Donor funding model has raised £100k
According to James, Invicta Academy is mostly funded by donations, and has raised around £100,000 so far, which is used to pay teachers and provide devices to children who don't have them.
Its main benefactor is the Henry Oldfield Trust, a charity based in Sittingbourne and run by Richard Oldfield, the former vice lord lieutenant of Kent.
Other donors include Melissa Murdoch, a trustee of the private Sevenoaks School, Tony Cann, founder of teaching tool Learning by Questions and Kent county councillor Rory Love, who James says gave money from his council member's grant to pay for devices for poorer pupils.
The academy also raised over £23,000 through a GoFundMe campaign last summer, and had been using a "self-sustaining" model between September and December last year, charging parents who could afford to pay £2.50 per lesson to subsidise free lessons for poorer pupils.
However, James said that following the announcement of partial school closures, its lessons were free.
"We were hoping that that model would sustain us, but obviously when the third lockdown happened, that attracted a further donation from the Henry Oldfield trust, meaning we didn't have to use that self-sustaining model."
The academy also offered 11-plus tutoring in selective Kent on a similar basis, charging parents who can afford to pay and offering free tutoring to poorer pupils.
MPs removed from supporters list
Invicta's website has also been updated at some point to remove a number of MPs from its sponsors list, including Helen Whately, Adam Holloway, Tom Tugendhat, Sir Roger Gale, Helen Grant, Tracey Crouch and Craig Mackinlay, who are all Conservative politicians with constituencies in Kent.
But Mackinlay told Schools Week he suspected he had been removed in error and was asking for his name to be re-instated.
"Have no doubt, I continue to be a supporter of the Invicta Academy," he said.
Invicta Academy was approached to explain the change.