School leaders believe video lessons they have created for online learning during the pandemic could be used in future to help educate pupils in subjects with recruitment problems.
A remote education study published by Ofsted today also found video lessons from "subject experts" could be used to provide teacher cover when staff are absent.
Another potential future benefit from remote education systems developed during the pandemic was to use video lessons "where there are subject specific teacher recruitment and retention issues".
Overall, Ofsted's study found three-fifths of teachers surveyed said they were confident providing a high-quality remote education. Although the report notes schools are at different stages of development and there remains a wide variability in the remote learning on offer.
However the report found parents are most concerned about keeping their children focused and motivated to study during the pandemic.
Data from a YouGov survey revealed 40 per cent of parents listed their child's focus on studying as a main concern. Similarly, 36 per cent listed their child's motivation to engage as a main concern.
Eleven per cent of parents raised issues with access to an appropriate device.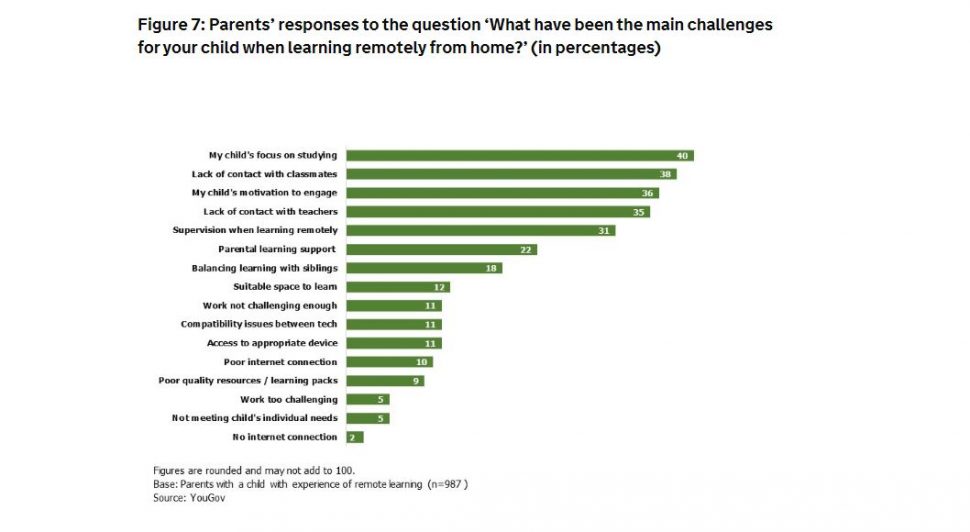 Chief inspector Amanda Spielman said: "While remote education will help to mitigate the learning lost when children are out of the classroom, it's clear that pupils' motivation and engagement remains an issue.
"This, along with the pressure remote learning places on teachers and parents, is proving a real barrier to children's learning and development."
The issue is more of a concern for children with special education needs and disabilities (SEND), too.
The YouGov survey found that 59 per cent of parents of a pupil with SEND said that their child has been disengaged with remote learning.
Ofsted found that while some special schools have adapted their remote education to support SEND pupils, such as supplying assisted reading technology, more work needs to be done to engage children with send.
Meanwhile, other future benefits of remote education listed by school leaders included employing the technology to avoid lost learning during snow days or extended period of pupil absence.
While schools suggested video lessons to provide cover after the pandemic has "some potential workload benefits", teachers reported remote learning has increased the workload burden placed upon them.
According to findings from a YouGov questionnaire, 86 per cent of teachers said their workload has increased since the implementation of remote education.
The report was produced in part from information gleaned during semi-structured interviews with school leaders across 798 interim visits last year, along with interviews with 25 remote education leads and 20 in-depth interviews with teachers.
Ofsted begins its online monitoring inspections today which will see inspectors joining online lesson in order to "understand how education is being provided by the school".