The Inspiration Trust has been named as the new sponsor of Hewett School, with a legal agreement preventing it from evicting community users from its land.
The decision comes despite vocal opposition from parents and community leaders in Norwich against the transfer of the school, which was placed in special measures last year, to the trust.
Just last week the trust, founded by former Department for Education (DfE) board member Theodore Agnew, had to defend its suitability after a consultation found the majority of respondents were against the move.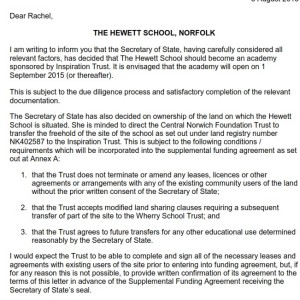 One of the big issues included concerns Inspiration would sell off land from the substantial site should it take over, which chief executive Dame Rachel de Souza had called "baseless allegations".
But the DfE has told Inspiration it can only have the land on the conditions it does not terminate leases of the existing community users without the approval of Nicky Morgan or her successors, and reserves part of the site for a proposed new free school for pupils with autism.
Dame Rachel said: "We are thrilled by the opportunity to make the Hewett great again for the people of Norwich."
Inspiration has also announced a number of proposals which aim to address some of the concerns raised by those in opposition.
It will keep the Hewett name, naming the school The Hewett Academy, and a new badge will be based on Mordecai Hewett – a Norwich man who set up a charity to help youngsters find their feet in the 17th Century – who the school was named after.
The current school uniform will be kept and a parental advisory body set up to "maximise parental involvement".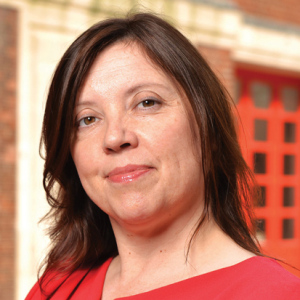 Norwich South MP Clive Lewis, who has fiercely opposed the transfer plans, has also been offered a spot on the governing body.
Dame Rachel added: "We know there is great love for the Hewett locally and some nervousness about its future. With his community role and existing experience as a school governor, I have today written to Mr Lewis inviting him to join the new governing body.
"We are proud to be stepping up to the challenge of reinvigorating the Hewett, and we hope Mr Lewis will too."
But the moves do not seem to have appeased campaigners. Mr Lewis, in a statement, said he was "angry and disappointed for local parents whose views have been ignored".
"It's unfortunate that yet again the community, and most importantly the children of Hewett, have been let down."
https://twitter.com/webackhewett/status/628889011977887744
But Principal Tom Leverage said: "I know some parents have some concerns about the changes, but for me the most important thing is that we now have certainty for our pupils, our staff, and our school."
He added: "The Trust has promised its full support for my plans as we begin this new chapter in the school's proud history."
The Department for Education said Inspiration Trust was a "strong sponsor with a proven track record of delivering rapid improvements in underperforming secondary schools". Adding: "This has been taken with the best interests of children in mind and will help to secure the long term future of the school."