The amount of time between inspections of outstanding schools with the longest gaps has risen to 11 years, Ofsted's annual report and accounts have revealed.
Even though the inspectorate did a better job meeting its inspection target for schools this year compared with last year, stretched resources means it is increasingly struggling to visit the schools that haven't been inspected for the longest.
On a positive note, redundancy pay-outs continue to fall and chief inspector Amanda Spielman didn't get a bonus in the light of swingeing cuts.
The report comes at a tough time for the inspectorate, following a damning report from the National Audit Office, which said it was now "at the limit" of what it can do on scarce resources. 
Here are some of the most important findings.
1. Ofsted is still not checking up on 'outstanding' schools
The average number of years since the last inspection among the 10 per cent of outstanding schools with the longest gap between inspection has increased.
Instead of 10 years between these inspections like last year, the gap is now 11 years. This means Ofsted missed its own target of a nine-year gap.
The inspectorate hints that it may "further shift" its inspection resources to resolve the issue. It hopes that by 2022 the gap between inspections of outstanding schools with the longest gaps will be five years.
Meanwhile, there is a four and a half year gap between short inspections of 'good' schools.
2. Ofsted's budget is much smaller these days
The report confirms that Ofsted will have almost halved its budget by the end of 2019–20, which it has achieved by "sacrificing the frequency of some inspections and the length of time that inspectors have when they visit providers".
Only "hard work over many years to increase our efficiency" has enabled the inspectorate to cut its budget so drastically.
The inspectorate's gross budget, which includes income, will have reduced from £171 million in 2015–16 to £149 million by 2019–20. That's a net reduction of £22 million.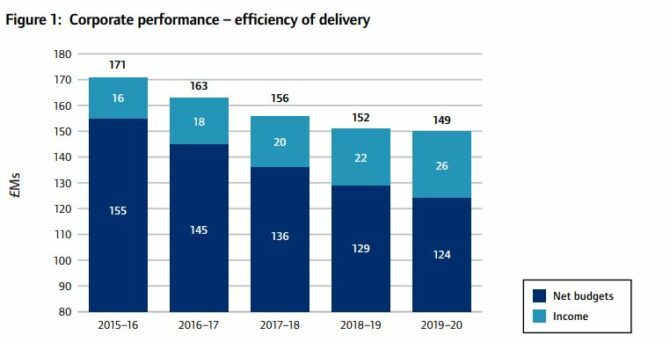 3. Ofsted hasn't hit its inspections target yet – but numbers are improving
Last year, Ofsted missed its target number of inspections of state schools by 17 per cent, but this year its moved closer to its goal, falling short by just six per cent. The shortfall was partly due to inspections being cancelled during heavy snow in March, said the report.
This year 8,040 inspections of schools were carried out, compared with 6,870 last year.
One change that has helped is more inspectors getting training to lead short inspections of good schools.
4. Spielman received no bonus – but others did
Chief inspector Amanda Spielman recieved no bonus payments this year – a contrast to her predecessor Sir Michael Wilshaw who was awarded between £15,000 and £20,000 last year.
However bonuses did go to Matthew Coffey, Ofsted's chief operating officer, Sean Harford, national director for education and Karen Shepperson, director of people and operations.
Coffey received a bonus of between £15,000 and £20,000, though this was lower than last year when he was awarded between £20,000 and £25,000.
Harford and Shepperson were also given bonuses of between £15,000 and £20,000.
Nine people got salary pay rises: Andrew Cook, Lorna Fitzjohn, Christopher Russell, Bradley Simmons, Paul Brooker, Shepperson, Cathryn Kirby, Louise Grainger and Mike Sheridan.
Meanwhile Luke Tryl, director of corporate strategy, was the only person to take a slight pay cut – from a band of £95-£100,000 to £90-£95,000.
5. Exit package pay-offs continue to drop
This year, £660,000 was paid out in exit packages to 18 individuals.
That figure is less than the £792,000 paid out to 12 people last year.
6. More cash was spent on consultants and temp workers
No money was spent on consultancy work last year, but this year £123,000 was paid out to consultants.
Meanwhile, £4.2 million was spent on temporary and agency staff, up from £3.3 million last year.
7. More than 80% of teachers say inspections create 'unacceptable burden'
Only one fifth of teachers think Ofsted inspections do not create additional work. Eighty-two per cent agreed with the statement that inspections introduced "unacceptable levels of burden into the system."
However, this proportion was the exact number that Ofsted set as its own target for this year.
By 2022, it is aiming for only 66 per cent of teachers to agree with that statement.
8. Three-quarters of teachers don't think Ofsted is a force for improvement
Only 24 per cent of school teachers agree or strongly agree with the statement 'Ofsted is a force for improvement in England's education system.' That proportion is up from 19 per cent last year.
This sombre view also trails woefully behind other sectors such as social care and further education, where 70 per cent or more are positive about the inspectorate's work.
Ofsted is "investing heavily in challenging the underpinning assumptions within education inspection" to try to address the issue, says the report.

9. Fewer parents think Ofsted is a valuable source of information this year
This year 67 per cent of parents said they believed Ofsted is a valuable source of information about education and childcare.
That's a fall from 69 per cent last year, and means Ofsted missed its own target of 67 per cent.
By 2022, it is aiming for 80 per cent of parents to believe its reports are a top resource.
10. More providers think their latest inspection was fair
Just 62 per cent of school teachers said their latest Ofsted inspection "was a fair and accurate assessment" of the strengths and weaknesses of the school.
However, this was an increase on last year when the figure was 57 per cent. It all exceeds Ofsted's own expectations, who aimed for 58 per cent of teachers to agree their school's inspection was fair and accurate.
But the figure is far lower than for further education leaders, 92 per cent of whom think their most recent inspection report is fair and accurate.
11. 50 illegal schools were reported this year – up from 31 last year
The inspectorate found 336 illegal schools, and issued warning notices to 52 of them. It had aimed to issue notices to 40, so is above its own target.
These were reported to the DfE, which is the regulator and can take action. The report does not state how many were closed.