School funding in England fell by eight per cent in real terms over the past eight years, according to a new analysis by the Institute for Fiscal Studies which takes account of post-16 and local authority support spending for the first time.
Rising pupil numbers, increasing costs and flatlining funding have contributed to the real terms cut observed between 2009-10 and 2017-18, according to the IfS, an independent think tank.
The fall in spending in today's analysis is more severe than previously calculated because cuts to money for sixth forms and extra support services provided to schools by local authorities have been taken into account.
Previous analyses only took account of the money going directly into schools for pupils aged five to 16, which has not fallen at nearly the same rate as other services.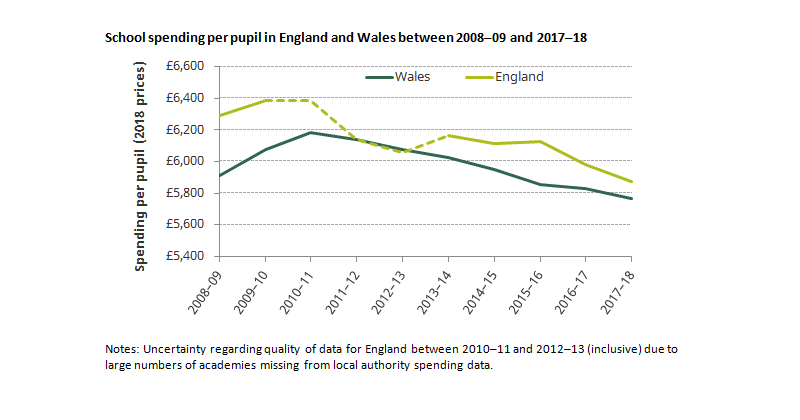 Sixth form spending has fallen by 25 per cent over the past eight years, while LA spending on services that help schools, like home-to-school transport, central administration and support for pupils with special educational needs, has been cut by 55 per cent over the same period.
The IfS's analysis also shows that school funding has fallen faster in England than it has in Wales, where overall school spending has fallen by five per cent over the same period.
"Policymakers in both England and Wales have chosen to protect spending directly allocated to schools for pupils under 16, and to make much larger cuts to sixth form allocations and to local authority spending," said IfS research fellow Luke Sibieta, who carried out the analysis.
"Schools in England have faced the additional pressure of a fast growing pupil population, whilst numbers in Wales have remained roughly constant."
A spokesperson for the Department for Education did not dispute the findings or comment on real-terms cuts in recent years, but instead pointed to cash-terms increases in school funding. She also said that if school funding is compared to its levels in 2000, then it is also higher in real-terms.
"School funding in England is at its highest ever level, rising to £43.5 billion by 2020," she said. "Funding for the average primary school class is £132,000 – up £8,000 in the last decade, in today's prices. The same class of pupils would get £171,000 in secondary school – up £10,000 on the decade in today's prices.
"In fact, analysis from The Institute of Fiscal Studies itself has shown that real terms per pupil funding for five to 16-year-olds in England in 2020 will be more than 50 per cent higher than it was in 2000. We have also protected the base rate of funding for 16 to 19-year-olds until 2020, worth £4,000 per student for 16 to 17-year-olds."