Sir Michael Wilshaw was awarded a bonus of at least £15,000 in his final year as chief inspector, despite Ofsted having to make savings to meet a shrinking budget.
Ofsted has this morning published its annual report and accounts. It shows Wilshaw was given a bonus of between £15,000 to £20,000, with chief operating officer Matthew Coffey given a bonus of between £20,000 and £25,000.
That comes despite the watchdog highlighting in the annual report that its budget has fallen dramatically in recent years.
Schools Week has got the key findings from today's report.
1. Ofsted has missed short inspections target … again
As we reported earlier today, Ofsted has missed its target for completing short inspections for the second year running.
Because the watchdog missed the target last year, it decided to set an "aspirational" target for this year.
"We delivered a higher volume of these inspections than last year, though still short of target."
But it is catching up on last year's shortfall.  A total of 83 per cent of planned inspections in maintained schools or academies were completed this year.
It's a big improvement on 2015-16, when only 67 per cent were completed.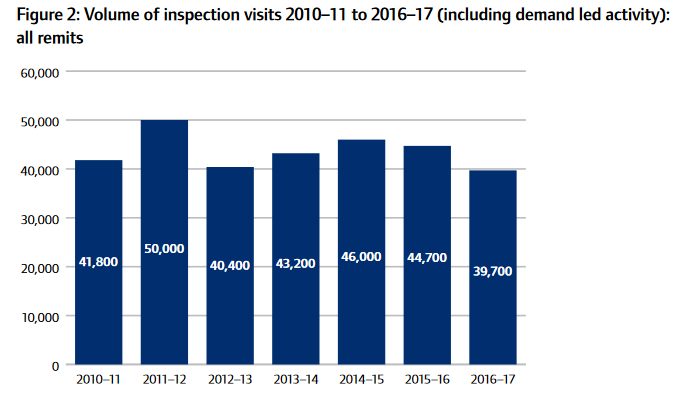 2. The watchdog is seemingly doing inspections for cheaper as cash is squeezed
It appears Ofsted has learnt how to provide inspections cheaper than previously. The watchdog has lost £54 million in funding since 2010-11, but carried out only five per cent fewer inspections this year than in 2011.
Chief inspector Amanda Spielman, in her foreword, said: "Despite a 27 per cent fall in our overall budget, we have continued to carry out broadly similar number of inspections across our different remit areas as we were doing six years ago."
3. But despite cost concerns, bonuses for senior staff rose (inc £15k for Wilshaw)
Accounts show that bonus payments for the most senior staff totalled at least £75,000 – up from at least £65,000 last year (bonus payments are listed with £5k ranges, so we chose the lowest range).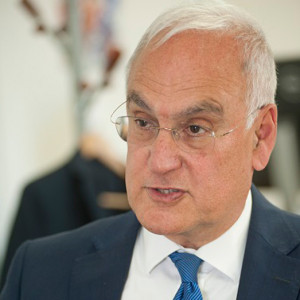 Matthew Coffey, chief operating officer, was awarded a bonus between £20,000 and £25,000, with the outgoing chief inspector Sir Michael Wilshaw awarded between £15,000 and £20,000. (Wilshaw didn't get a bonus in at least the previous three years).
Three other staff members, including national director Sean Harford, got at least £10,000.
4. 31 illegal schools reported to the DfE this year – but not all closed down
Ofsted set up a taskforce of six inspectors to identify schools operating illegally (unregistered schools). In 2016-17, a total of 92 suspected unregistered settings were inspected, with 31 warning notices issued, and reported to the DfE (which is the regulator and can take action).
However, just 22 of these were closed or altered their operations to comply with the law.
Schools Week reported in March that the government had committed a further £1 million to fund the taskforce, despite failing to bring a single prosecution against an unregistered school. But there are concerns the DfE is not doing enough to take action where concerns are raised.
5. Most schools say Ofsted improves their provision
Despite the common view that schools aren't the biggest fans of Ofsted, 94 per cent of providers surveyed after inspection said the findings would improve their provision.
This was up from 92 per cent last year, but just below the watchdog's 95 per cent target. The figure for schools was 93 per cent.
Providers said that professional dialogue with inspectors was valued the most.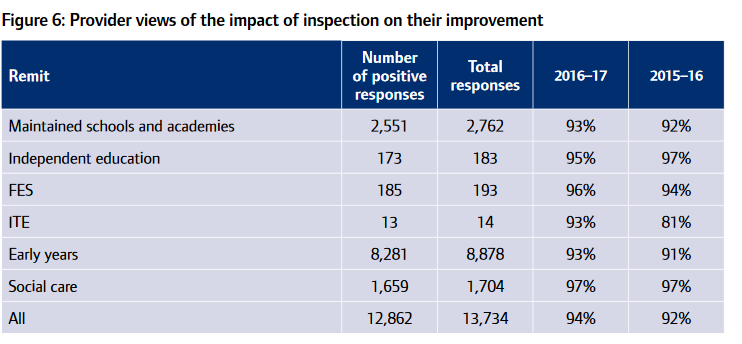 6. Exit package pay-offs have decreased
Ofsted paid out £792,000 in 2016-17 as part of exit packages to departing staff (which includes those made redundant).
That's nearly half the £1.3m paid out in 2015-16. However that related to 43 staff leaving the company – over £30,000 each.
The £792,000 total exit payment for this year was for just 12 people leaving – which is actually £66,000 each.
7. Ofsted review will be published later this year
When Spielman took the helm, she launched a strategic review of the inspectorate – with the guiding principle that Ofsted should be a "force for improvement".
The review will look at if Ofsted is carrying out work efficiently, understand schools' experience of inspections, and how they respond to inspection feedback.
A new strategic plan will be published in "late 2017", the annual report confirmed.