Nearly a fifth of teachers were not teaching in a state-funded school in England within 16 months of qualifying, new statistics released today show.
Figures released by the Department for Education reveal that the percentage of teachers working in a state school a year and four months after being awarded qualified teacher status dropped from 83 per cent in 2016-17 to 81 per cent in 2017-18.
There were 20,539 postgraduate trainee teachers awarded QTS in 2017-18 who were teaching in a state school at that point after qualifying.
However, while the percentage of teachers working in state-funded schools has decreased, the number has actually risen slightly since the previous year.
Statistics from the DfE show that in 2016-17 there were 20,433 new teachers were working in the state-sector within 16 months of qualifying.
For the first time this year, statistics on the employment status of new teachers focuses solely on those in the state sector.
The figures previously included those teaching in the independent sector and abroad, and looked at their employment status six months after qualifying, rather than 16.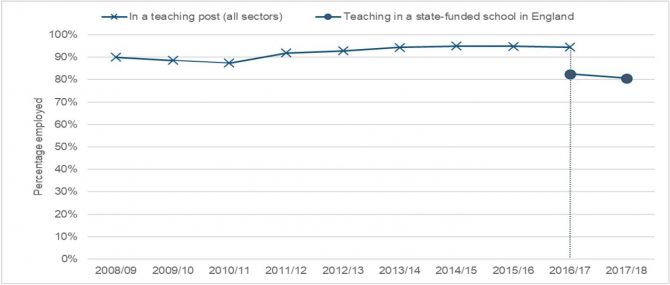 Earlier this year it was revealed that the proportion of trainee teachers taking the school-led route has dropped for the first time in four years.
The figures revealed that 53 per cent of final year trainees went via the school-led route, rather than through a higher education institution (HEI).