The government must take action to stem a "shameful" increase in pupils leaving education without basic qualifications, the children's commissioner has said.
Analysis published by Anne Longfield's office today shows growing numbers of pupils failing to achieve five GCSEs at a C or above by the age of 18, with pupils with special needs or receiving free school meals the most likely to miss the grades.
The analysis shows that almost one in five (18 per cent) of all pupils who left education at 18 last year did so without five A*-C GCSEs. The number of pupils in this situation– 98,799 – is 24 per cent higher than it was in 2015.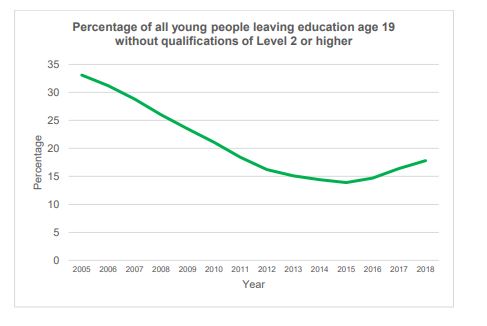 For pupils in receipt of free school meals, more than a third (37 per cent) left school without any substantive qualifications, rising from 28 per cent in 2015. Almost half (45 per cent) of pupils with special educational needs did not have five GCSE passes when they left school.
However, the Department for Education has insisted the report "does not provide the full picture".
Longfield (pictured) has written to schools minister Nick Gibb to formally request that the DfE conducts an independent review into falling attainment, including recent changes to the education system and their impact.
She has also called for the DfE to commit to halving the number of pupils failing to get substantive qualifications by the age of 19 within five years, and to set out a clear action plan for improving the opportunities for those who do not achieve the grades by the age of 16.
Longfield said it was "shameful" that almost 100,000 pupils in England left education at 18 without proper qualifications last year.
"While we should celebrate the progress that is being made in raising standards for millions of children, it should never be an acceptable part of the education system for thousands of children to leave with next to nothing."
The report also raised concerns about growing attainment gaps. For example, the gap between 19-year-old pupils with special educational needs and those without has risen from 26 per cent in 2015 to 33 per cent in 2018, while the gap between children in the least and most deprived areas has risen from 13 per cent to 17 per cent in the same time period.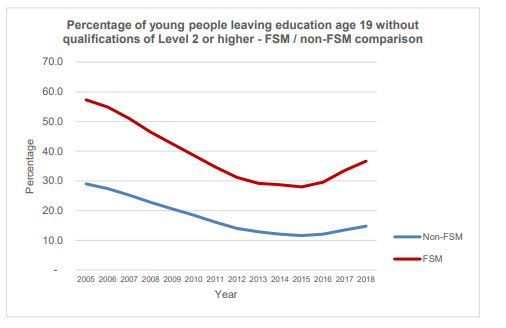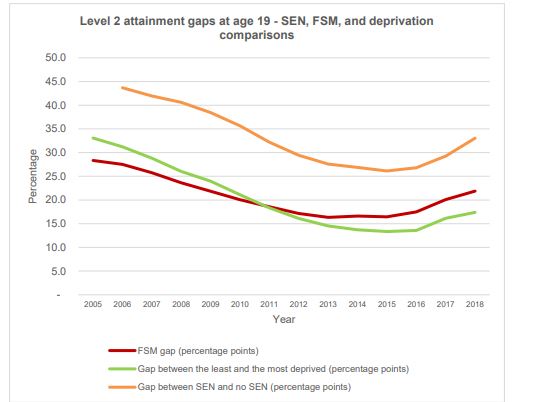 In Nottingham, a third of all pupils (32 per cent) had not achieved five A*-C grades by the age of 18. In three local authorities – Derby, North Lincolnshire and Swindon – less than half of pupils receiving free school meals reached the grades.
Last year, London had the lowest attainment gap between pupils who do and do not receive free school meals at 11.9 per cent, while the East Midlands had the highest attainment gap at 27.8 per cent.
The report noted a "sharp change of direction" since 2015, as before this point attainment gaps had been closing.
Paul Whiteman, general secretary of the National Association of Head Teachers, said the number of pupils leaving school without basic qualifications has "risen sharply in recent years as the full impact of real-terms cuts to school funding has become clear".
"Children from disadvantaged backgrounds are the victim of a decade austerity. They have disproportionately suffered from cuts not just to education, but to all the wider services that should be there to help them.
"Successive governments have failed to invest in those who need it the most, and now we see the result."
A spokesperson for the DfE said the report "does not provide the full picture, comparing against figures that include qualifications we have since removed from performance tables because they did not serve pupils well."
He added that the proportion of 19-year-olds with English and maths GCSEs has risen from 50.9 per cent in 2010 to 68.1 per cent in 2018.
Nerd note: Because this analysis is based on pupils who turned 18 last year, the old legacy GCSE grading system is used