Boris Johnson's school budget boost actually amounts to just £4.3 billion extra in in real-terms, a new report which offers a "sober assessment of the government's hyped-up" funding pledge has claimed.
Johnson pledged to reverse education cuts during the leadership contest by adding £4.6 billion plus inflation each year into the schools budget by 2022-23.
Last month, the Department for Education revealed further details of the extra cash – claiming it totalled a £14 billion boost to budgets.
However the fine print of the announcement showed schools will see a £7.1 billion rise in funding annually by 2022.
Now the IFS, in its second annual report out today, has claimed this actually equates to just £4.3 billion in today's money (without including future inflation).
The report states this will only just about cover the eight per cent cuts in spending per pupils since 2009, amounting to a 7.4 per cent growth in funding.
And even with this increase taken into account, it still amounts to a 13-year real terms freeze, described by the IFS as an "unprecedented period without growth".
Geoff Barton, general secretary of the Association of School and College Leaders, said the report is a "sober assessment of the government's hyped-up announcements over education funding".
"It should also be noted that none of these spending commitments start until 2020 and do not alleviate the current crisis in our schools and colleges."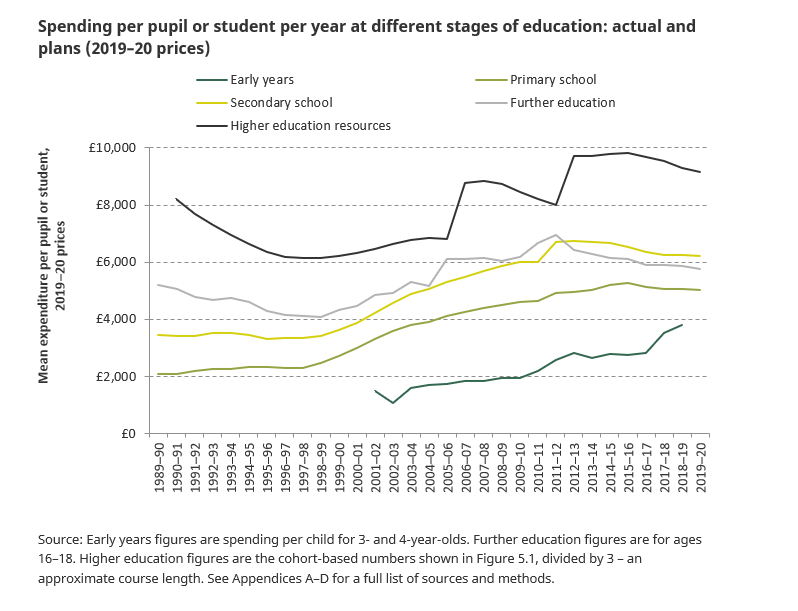 The report highlights a 57 per cent cut in spending per pupil on services provided by councils, and a cut of more than 20 per cent in sixth form funding per pupil. The IFS has previously said it would cost £4.7 billion a year to fully reverse the cuts by 2022-23.
Paul Whiteman, general secretary of the National Association of School Leaders, said the new money is "very welcome" but "could still leave school leaders struggling to make ends meet".
"The expectations on schools are far more extensive than they used to be, and with fewer resources and services available to them."
Jules White, a headteacher who leads the Worth Less school funding campaign, added: "Any new money should be acknowledged but when will the government give us a long term and transparent settlement which charts not only additional spending but additional costs too?"
The IFS report said school spending per pupil grew around five per cent per year during the 2000s, meaning school spending per pupil is likely to be around 40 per cent higher in real terms in 2019-20 than it was in 2000-01.
The report also found that teacher assistant numbers have continued to rise in primary schools, increasing by around 50,000 (40 per cent) since 2010.
The numbers had already more than doubled from 50,000 to 125,000 between 2000 and 2010.
It said the increase could reflect the fact that teaching assistants tend to be cheaper to employ than teachers. However, in secondary schools their number has fallen by 13 per cent since 2011.
Although the government has committed to providing a £300 million increase in spending per student on further education and sixth forms next year, the IFS said this will still leave them over £1 billion short of what they would need to fully reverse the cuts imposed since 2010.
A Department for Education spokesperson said: "We recently announced a £14billion investment in schools – the biggest cash boost for a decade, which the independent IFS has said will restore schools' funding to previous levels in real terms per pupil by 2022-23.
"Together this package will give all young people the same opportunities to succeed and access the education that's right for them regardless of where they grow up. The Prime Minister is clear that education is one of his main priorities, and we want a system that boosts productivity, improves social mobility and equips children and adults with the skills and knowledge they need to succeed."