An open bidding process should be introduced for school takeovers to combat the secrecy and occasionally poor choices made by schools commissioners, a new report has urged.
Currently regional schools commissioners and their headteacher boards decide behind closed doors which sponsors should takeover a failing school.
While minutes of the meetings are published, they do not include detailed information about why sponsors were chosen.
But a new report published by the Centre for Education Economics (CfEE) today – to mark its name change from the Centre for the Market Reform of Education – has called for the system to be replaced by an "open tendering framework".
Sponsors would have to make a formal bid, which would be published in the public domain, and should be allowed to suggest tailored funding agreements and performance targets so more trusts are encouraged to work in the most challenging areas.
The CfEE said "too great trust" is placed in the judgment of "too few individuals" under the current academy system.
Too great a trust is placed in the judgment of too few individuals
James Croft, author of the report and director of the CfEE, added "no one knows how the conversations with the RSCs" about sponsorship agreements go, and headteacher board minutes don't state if other offers were made.
The report follows several investigations by Schools Week on the lack of transparency within headteacher boards.
Current brokering models do not encourage trusts to compete with each other to produce strong bids, and so "profoundly run the risk of poor sponsor fit", the report stated.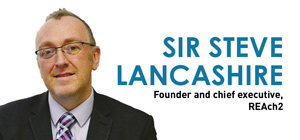 Meanwhile, CfEE said incentives for academy trusts to take on schools in poorer areas are "nowhere near adequate". This could be improved by allowing bidders to "come up with a performance metric that is more appropriate", and to also suggest the resources they would need to hit them, Croft told Schools Week.
Currently, pupil progress is compared against a national average, which critics have previously said discourages trusts from taking on challenging schools for fear of performing poorly in league tables.
Croft also stated the Office of the Schools Commissioner (OSC), which RSCs belong to, was "too close to politics". He said it should instead become a non-ministerial department like Ofsted to make sure it was technically accountable to Parliament but independent of the Department for Education (DfE).
This arrangement would make headteacher boards less likely just to "pick winners" and move to a "more transparent and less political reform process.
But Robert Hill, an education consultant and former government advisor, said tendering only really worked if there was a "surfeit of people" wanting to take on 'inadequate' schools, but currently "no one was queuing to do it".
Tendering was also often a lengthy process, which could be a problem when failing schools needed speedy takeovers for the "sake of pupils", he added.
Some sponsors might also be the most obvious natural fit to take over or open a new school because of a strong local presence or particular expertise, rendering a tendering process unnecessary.
The CfEE isn't the first to call for an open tendering process.
Bill Watkins, chief executive of the Sixth Form Colleges Association, said the group had proposed competitive tendering process in its general election manifesto.
Some sponsors might be the most obvious natural fit
"The whole process at the moment is a ring-fenced discussion within the headteacher boards, and opportunities to open new sixth forms are not made available to all."
Following the Education and Inspections Act in 2006, local authorities ran open tendering processes when a new academy or voluntary-aided school was set to open – occasionally taking the contract itself if the offers were deemed inadequate.
This practice was "fairly transparent and open," said John Fowler, policy manager at think tank the Local Government Information Unit.
But open tenders gradually dropped off as the academies policy picked up pace from 2010, with RSCs and their headteacher boards introduced in September 2013 to make the decisions.
A DfE spokesperson said the current set-up was a "key part of our school led-system that gives education professionals the freedom to improve schools through collaboration and sharing best practice"
"Decisions on sponsor takeovers are based on an understanding of the specific nature of each case, including detailed analysis of potential sponsors."
The added minutes of meetings, and register of interests, are published online.