Autism-specific schools make up almost half of all special needs free schools.
The "more complex" requirements of autistic pupils compared with other special needs have led to high exclusion rates and a rising demand for specialised school places, experts told Schools Week.
Of the 44 special needs free schools set to open or already opened in the past five years, 21 (48 per cent) primarily or solely focused on autism, according to figures from the New Schools Network, a charity that helps groups to open new schools.
A further eight of the 44 schools also catered for autism pupils.
Teaching geared towards the condition's combination of high cognitive ability and sensory or social discomfort was not possible in most mainstream settings, said Barry Payne, chair of the Wherry School Trust, which is opening an autism-specific school in Norfolk next September.
Payne, who is also executive headteacher at the Parkside special needs school in Norwich, said a general policy of "inclusion" could not cater for autistic pupils.
"We talk about inclusion, and if everyone had the funds, you could produce the ideal school with all the facets to allow an autistic child to thrive. But what actually happens with limited funds is we try to fit them into the system and they suffer.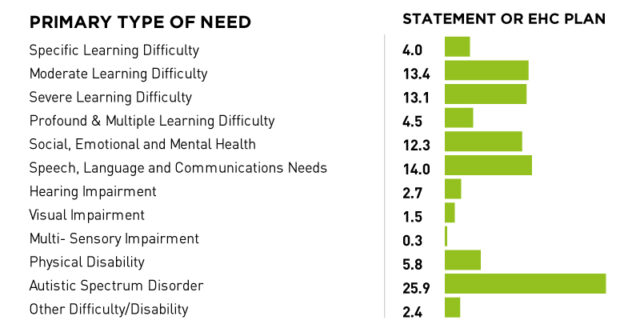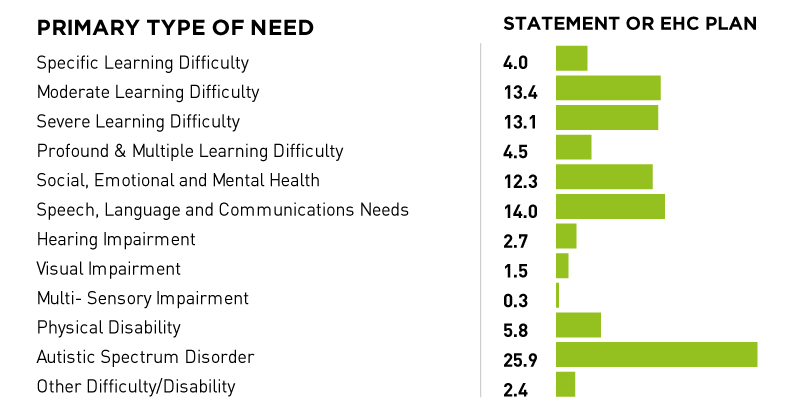 "I am fed up turning away children from our complex-needs special school who are able but autistic. Many have been excluded or are out of school and being home-schooled."
The Wherry school will open with 48 pupils and grow to 100, teaching both an "academic" and "social" curriculum, he said.
Yet other experts said some autistic pupils benefit from access to a mainstream school.
Ed Archer, a director at Ambitious About Autism, a charity that helps to run the Autism Schools multi-academy trust, said the Rise school in west London, which caters for autistic pupils, shared its campus with mainstream secondary Springwest academy.
"This enables pupils to access learning and social opportunities alongside their mainstream peers, whist receiving the specialist support they need."
Angela O'Rourke, principal of Endeavour academy in Oxford, an oversubscribed autism special school for pupils aged 9 to 19, said access to mainstream settings would suit some young people, but knowledgeable staff and smaller numbers of pupils in specialist schools allowed for tailored timetables.
Endeavour academy mainly took pupils excluded or "in danger of exclusion" from other special needs schools, she said.
Just over half of all pupils excluded permanently or for fixed periods have identified special educational needs, the most recent Department for Education (DfE) data shows.
And autistic pupils had the second highest exclusion rate among pupils with special needs statements, only behind those with "social, emotional and mental health" needs.