Graham Stuart's continued interest in education is glaringly obvious. Tucked away in the corner of a whiteboard on his parliamentary office wall are the words: "sampling assessment of student desk book".
He gurns when I point it out. "Erm . . . I remain interested in how best to assess and deliver accountability for schools, so it's up on my list of things that I wish to worry . . .
"Well, it's just . . . rather than . . . if you use sampling rather than the exams for every child, then, you know . . . I mean, it's just . . ." He waves his hand resignedly. "It's just up there."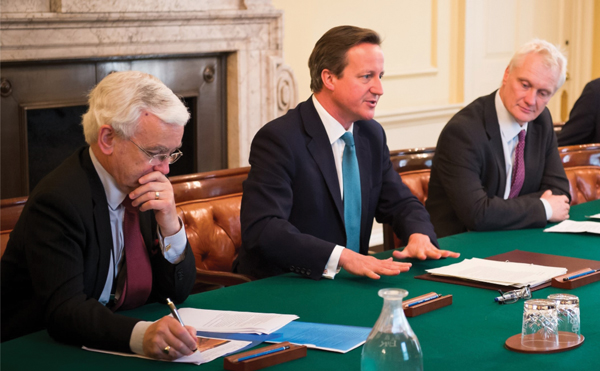 Such hesitations are rare for the former chair of the education select committee, a scrutiny body of MPs who, under his leadership since 2007, became one of the most important brakes on Michael Gove's speedy reforms after the 2010 election.
Stuart credits the group with getting Gove to u-turn on plans to bring back O-levels and to slow down the pace of GCSE and A-level reform. Certainly his questions could be ferocious. Academies minister Lord Nash was asked: "Aren't school chains just redoing the bureaucracy of local authorities without the democratic accountability?" Whereas former children's minister Tim Loughton was simply asked: "Why were you sacked?"
So what gives the 53-year-old his gumption? As we talk, I start to wonder if it isn't simply bloody-mindedness.
We skitter through his childhood.
"My parents settled in Carlisle, then they went to America for a bit — Rochester, New York, my father was an assistant professor there — then he decided he didn't really like 1950s America, came back to the UK and settled in Carlisle, where he became a consultant anaesthetist at an unusually young age."
The young Stuart was sent to prep school and then to Glenalmond College in Perthshire, Scotland.
"From there I decided I was interested in politics, so I read Solzhenitsyn's One Day in the Life of Ivan Denisovich, which I found riveting. I decided that ideologies such as socialism, which oppress the individual and use the group as a weapon for political manipulation and control, need to be resisted. I thought I would do law and be a barrister — and then look to go into politics. That seemed a standard pattern."
However, the standard pattern was not to be. Heading to Selwyn College, Cambridge, he completed the first year then decided to take time off: "I had about a year and a half in California, and eventually got dragged back to keep my parents happy."
After a month of studying law on his return he started a What's On in Cambridge guide with some friends. By his third year the business was paying him "more than a merchant bank".
Believing that running a business was more noble than working in the City of London ("I was quite moralistic at that stage") he continued in publishing with a view to becoming independently wealthy and then to move into politics without the need to hawk for cash to pay for campaigns.
"I'm not as wealthy as I'd like to be, but things pretty much went to plan."
Two things stick out in his story.
"Things pretty much have gone to plan"
First, he didn't complete his degree at Cambridge, finding it difficult to balance academic work with his business, plus roles as rowing captain and chairman of the university Conservative Association.
"I glimpsed, during my final dissertation, that I could do some good work but I thought: 'I haven't got time'. So to my father's chagrin I left Cambridge without a degree. There we are."
Second, during his time in California he completed a marathon wearing someone else's old shoes.
"They were worn out before I got them. But I trained in them and my toes were coming through — the last eight miles were agony. I was really angry that I'd finished. I thought, 'If I'd had the courage to stop . . .' Of course now it's much better to have finished it than not, but at the time I was thinking, 'You idiot!'"
The stories contrast: giving up and sticking at it. The reason soon becomes clear: Stuart doesn't like to do things badly.
Still running his business, he was selected as the candidate for Beverley and Holderness in 2003, taking the seat in the 2005 election. For the first two years he joined the environment committee but struggled: "I decided that I hadn't worked hard enough really."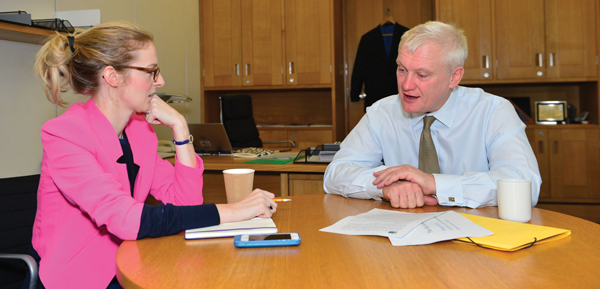 He decided on a move to what was then the children's, schools and families committee, later to become the education committee. And adamant that he would not make the same mistakes again, he became a zealous over-reader. Colleagues describe how he would have read "absolutely everything" before pre-committee breakfasts.
"I think (a) you've got to take select committees seriously, and to do that you've got to take yourself seriously; and b) you need to be on top of what you're talking about."
But he is equally adamant that the committee worked well because of its members, as well as his leadership, and likens this to the work in schools.
"It's a team thing. It's a human thing — just like business or education — you have to get the right team. The trick was to get everyone enthused and to make them feel we could make a difference. And we did make a difference."
He disagrees with the idea that the committee was a more effective opposition to the Coalition's education plans than the Labour party.
"I broadly supported Michael Gove's insights, [which surprised some people], they said, 'I thought you must dislike him or something', but I liked him and thought his insights were pretty sound."
After the 2015 general election, however, Stuart decided it was time to step back from education. It had dominated his life and he wanted time to pursue other interests, particularly the environment, which remains a passion.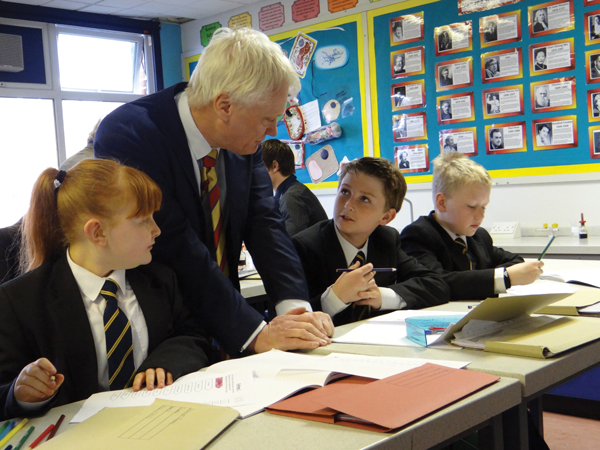 But there was one final education twist. In June he became the vice-chair of the f40 funding group, a campaign body forcefully advocating for a national "fair funding formula". The Coalition government promised over its five years to complete the formula but never did. Current education secretary Nicky Morgan has hinted that something on the issue will be announced in the upcoming spending review. If Stuart and the group get their way, children will be more equitably funded across the country.
"It's straightforward. The top ten funded education authorities get an average of £6,300 per pupil, and the bottom ten, £4,200. There is no rhyme or reason to those separate allocations apart from the fact that from the beginning of the dedicated schools grant, it was based on spending at the time, coupled with various changes made since."
He's right — there is inequality. But this has typically been because more complex demographics made the cities more expensive to fund. Critics argue that flat funds would simply bump up cash in rural, mostly Conservative areas, and reduce it in more urban Labour areas.
Stuart is incredulous: "If you look at our proposal the biggest gainer in the country is Barnsley, not some rural Conservative seat."
He also points out that the funding gap has widened. "With an extra £1,000 for each pupil in a class of 30, there's an additional £30,000 just for that class . . . that's not creating equality."
So does he want to see schools paid a flat-cash amount for every pupil, regardless of location or complexity? "That would be inequitable and unfair because there are differences in costs. But it would be less inequitable, and less unfair, than any other system that we have now."
It's not a straightforward yes, but it's close, and if he puts the dedication and seriousness into pushing for it that he has with the other endeavours he has cared about in life, it seems likely that he'll get it.
IT'S A PERSONAL THING
What is your favourite book?
One Day in the Life of Ivan Denisovich
What do you eat for breakfast?
Cornflakes
What is the best advice you have ever been given?
"Our greatest glory is not in never failing, but in rising every time we fall" (Confucius)
What was your favourite childhood toy?
A pedal tractor
If you could live in any era from history which would choose and why?
Now – because of modern dentistry!