Tory party conference exists in a bubble. It always does.
One of the most popular stalls is one that sells baby grows with Margaret Thatcher quotes on, and another one sells tailored suits (as if a harassed cabinet minister, running from fringe meeting to fringe meeting via Sky News, would stop to have his inside leg measured. Though, apparently, we don't talk about inside legs being touched these days).
But this year was especially bubble like.
Outside, Parliament was sitting. There was a helicopter on standby to whisk the PM back down to London should there be a vote of no confidence.
But Gavin wasn't worried… He bounded onto the stage alongside Nick Gibb – an unlikely comedy warm-up man
As you couldn't fail to see from every square inch of the conference branding, it was almost time to 'Get Brexit Done'.
And yet, and yet. Within the hallowed halls, and outside of the teeming Manchester rain and teeming Manchester residents' spit, the Tories partied like it was 1959.
Gavin Williamson spoke to a half empty hall. That was probably a disappointment. It was probably equally a disappointment that not one of the audience was in camouflage, or was brandishing a weapon (if you don't count walking sticks).
But he at least got his own slot; he was preceded by a panel of lesser-known Tory cabinet ministers (LKTCM) who suffered the indignity of being squeezed onto a panel rather than being granted their own speech.
Solo speeches also didn't have any questions, whereas the LKTCM had to run the gauntlet of some pretty hostile scrutiny from Lord James O'Shaughnessy, formerly of this beat of course.
A sample: "Well Matt (Hancock), tell us more about this brilliant announcement you've just made on hospital funding, but also tell the audience – are you worried Labour will put this at risk?"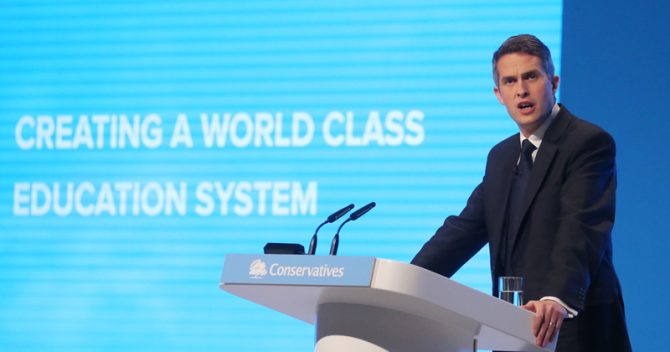 Readers, I have to tell you that Matt was worried. James was worried. All the LKTCM were worried.
But Gavin wasn't worried.
He bounded onto the stage alongside Nick Gibb – an unlikely comedy warm-up man.
A group of free school heads then told some great stories all about how they've improved education. Nicely chosen to represent a wide range of demographics, they tickled the audience's ideological tummies.
Half an hour later, Gavin started. "We mustn't be ideological", he boomed.
Labour was ideological. Their conference was ideological. Scrapping private schools (or, to quote his amusing malapropism, "scrapping primary schools") was ideological.
Well yes, but … did he hear the people on stage before him?
Gavin then took aim at "Blairite targets and an obsession with the 50% who go to university". He, Gavin, would not be obsessed with targets.
I mean, hold on. Is that a target? It sounds like a target. It looks like a target
Pause.
"So today, I can announce a new ambition to overtake Germany in the opportunities we offer to those studying technical routes by 2029."
I mean, hold on. Is that a target? It sounds like a target. It looks like a target. And Gavin is a military man. I'd have thought he likes targets.
But no. Ambition was the word du jour.
And further education was very much the ambition of the speech.
He's right in his diagnosis of the weakness of FE policy from government, of course. But so were the other 40 education ministers who preceded him that made similar claims.
It is then my sad duty to report that he told a joke. I'm afraid my fingers were curling around my pen so hard at the telling of it that I can't quite read my writing, but I believe it concerned England not always beating Germany at football, but a determination that we would beat them at, like, apprenticeship starts?
Other than a handful of new post-16 specialist maths institutions, schools policy got nary a mention.
All too briefly, the speech concluded. The parade ground of the main stage emptied. Gavin marched off, ramrod straight. There were ambitions to be met, after all.
Verdict: 2 stars. A little too much cognitive dissonance for my liking. And a better joke writer needed.
Simons is Schools Week's occasional parliamentary sketch writer. He was reviewing education secretary Gavin Williamson's talk at the 2019 Conservative party conference on Monday.