Film: Education select committee retrospective, YouTube
Television is democracy at its "ugliest" said Paddy Chayefsky, the American playwright famed for gritty "kitchen sink" dramas. His work recorded the private lives of ordinary people and elevated them to art. By contrast, the education select committee's video retrospective of its past five years, released this week on YouTube, takes the recordings of politician's public moments and dumbs them down to exposition. But it's not ugly. It's actually sort of brilliant.
Opening with the mandatory shot of a hand scribbling on a chalkboard ("Closing the gap: The work of the Education Select Committee"), there falls an out-of-place shot of a Union Jack (presumably you might not have known this was the UK otherwise) and then – in full corporate video splendour – is Graham Stuart, the committee chairperson, ready to give his views on the past five years.
A Conservative MP who never once let his party leanings show, Stuart has been a marvellous chair. A clip early in the video shows him questioning then-schools minister, Liz Truss, who the viewer is told was recalled to the committee for ignoring its recommendations.
"Do you know why you are here?" Stuart asks.
"I am delighted to have any opportunity to speak with the education select committee" Truss purrs.
"Yes, but do you know why you are here?" is the firm reply.
Sadly the film shows few of these knockabouts. It concentrates instead of the work of the committee, cycling through the topics of different inquiries – children's centres, achievement gaps, the condition of buildings, GCSE reform.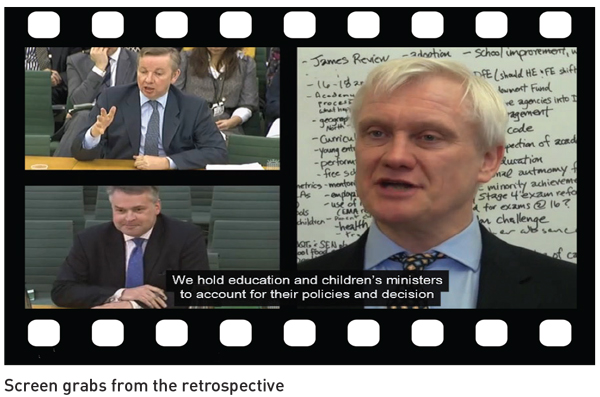 On the latter, chair Stuart seems particularly pleased to mention that when former education secretary Michael Gove was furiously told by the committee that his planned return of "O-levels" didn't stack up, he graciously U-turned.
Indeed, we are treated to the precise moment in the Commons when Michael Gove stood up and said that his reforms were "a bridge too far".
On the matter of the committee's inquiry into academies and free schools, we are shown two choice moments. One is when chief executive of Ark, a well-established and largely successful academy chain, is asked her opinion on the policy. "I am tempted a bit like Zhou Enlai when asked about the French Revolution to say it's too early to tell," she replies.
The other, more daring inclusion, is of Theodore Agnew – non-executive director of the Department for Education and trustee of Inspiration Trust – saying that "there have been mistakes, some of the chains grew too quickly. I don't think Whitehall should be overseeing 4,000 schools". Given his part in the process it is a bold statement, and one can't help but feel a cheeky parliamentary researcher was delighted to uncover and stick it into the montage.
Most exciting for those who like to watch the education select committee live on parliamentlive.tv (or, sometimes, on BBC Parliament) there is a nod to the growing real-time Twitter discussions that take place and a screen-shot of tweets during a debate. As someone who regularly got out of bed in the early hours when I lived abroad to watch the debates, and tweet along with others, it's nice to see the community being recognised.
As part of the committee's work to improve education scrutiny, it has also organised inquiries in other parts of the country (hello Hull!), had BBC youth reporters in to make films, and crowd-sourced investigation ideas and questions for MPs.
It has been an impressive and valiant effort to take the message to the people. Through the cameos of each MP and the call at the end to "send us your ideas" for the next parliamentary round of committees, there is also a genuine sense that – above party loyalties and petty squabbles – these MPs want genuine change and will work together to ensure it happens.
Democracy isn't always pretty. Neither is television. But somehow, by putting the two together, beautiful things appear to have happened.