There have been conflicting statements this week on whether teachers are more likely to catch Covid-19.
Dr Jenny Harries, the government's deputy chief medical officer, told MPs there was "no evidenced increased risk" for education staff, but admitted there was still "uncertainty" about the role schools played in transmission of the virus.
However, a National Education Union (NEU) analysis of government attendance figures found infection rates among school staff were "much higher" than in the general population.
Who is right? Schools Week investigates…
How the NEU's analysis works and what it found
The Department for Education's weekly figures show the proportion of teachers and school leaders absent with a confirmed case of Covid reached about 1 per cent on December 17. For teaching assistants and other staff, it was about 1.1 per cent, with higher rates in special schools.
So how do you compare this to the cases per 100,000 figure that the government uses to show the infection rate among the public?
The NEU took the proportion of staff absences due to a confirmed Covid diagnosis and divided it by two. This was to reflect that until mid-December, confirmed cases had to self-isolate for two weeks.
It then multiplied that figure by 1,000 to generate a rate per 100,000 people, enabling a comparison between teacher Covid rates and national infection rates.
The analysis estimated that on average, between October 12 (when staff absence data started to be collected) and the end of term on December 17, the rate of Covid infection was 1.9 times higher among primary and secondary teachers than the general population.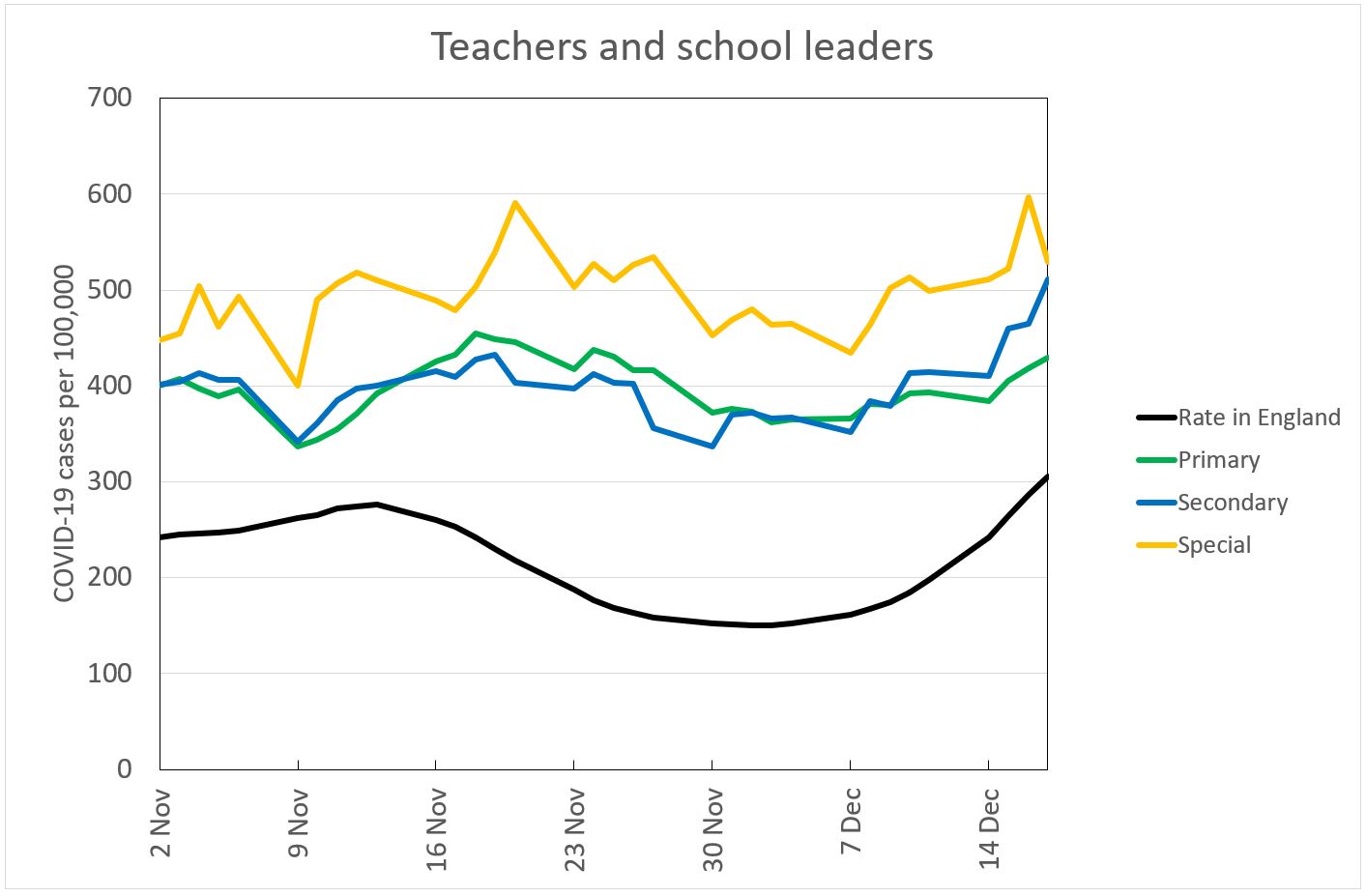 It was two times higher among special school teachers.
For teaching assistants and other staff, rates were three times higher in primary schools and almost seven times higher in special schools.
Dr Mary Bousted, the union's joint general secretary, said the "shocking figures" raised "further very serious questions" about the government's handling of coronavirus in schools.
Researchers urge caution, but figures suggest more risk
Do the figures stack up?
Luke Sibieta, a research fellow at the Institute for Fiscal Studies and Education Policy Institute, said he would "urge a bit of caution".
"They are comparing two different sources of data: a survey of schools and national testing data amongst the population. These aren't fully comparable."
However, he said that "on any given day last term", between 0.5 and 1 per cent of teachers and other staff were absent because of confirmed coronavirus.
"That is very clearly on the high side," he said.
Research published by the EPI this week found that absence rates for teachers with Covid-19 were six times higher than pupils in primary schools, and up to three times higher in secondary schools.
The research also found that absence rates of teachers with a confirmed case "ranged significantly" across the country – from 2 to 3 per cent of secondary teachers in Bury, Hartlepool, Thurrock, Calderdale, Blackburn and Salford to almost none on the Isle of Wight in Herefordshire. There was "far less local variation" in pupil absences.
Dave Thomson, from FFT Education Datalab, said it would have been better for the NEU to have compared the data to rates among the working-age population.
For example, his analysis of case data by age shows the rate among 20 to 64-year-olds stood at 385.8 per 100,000 on December 17, compared to 306.2 among all age groups.
However, even compared to the working-age population, the NEU estimated rates are still higher, apart from secondary teaching assistants and other staff .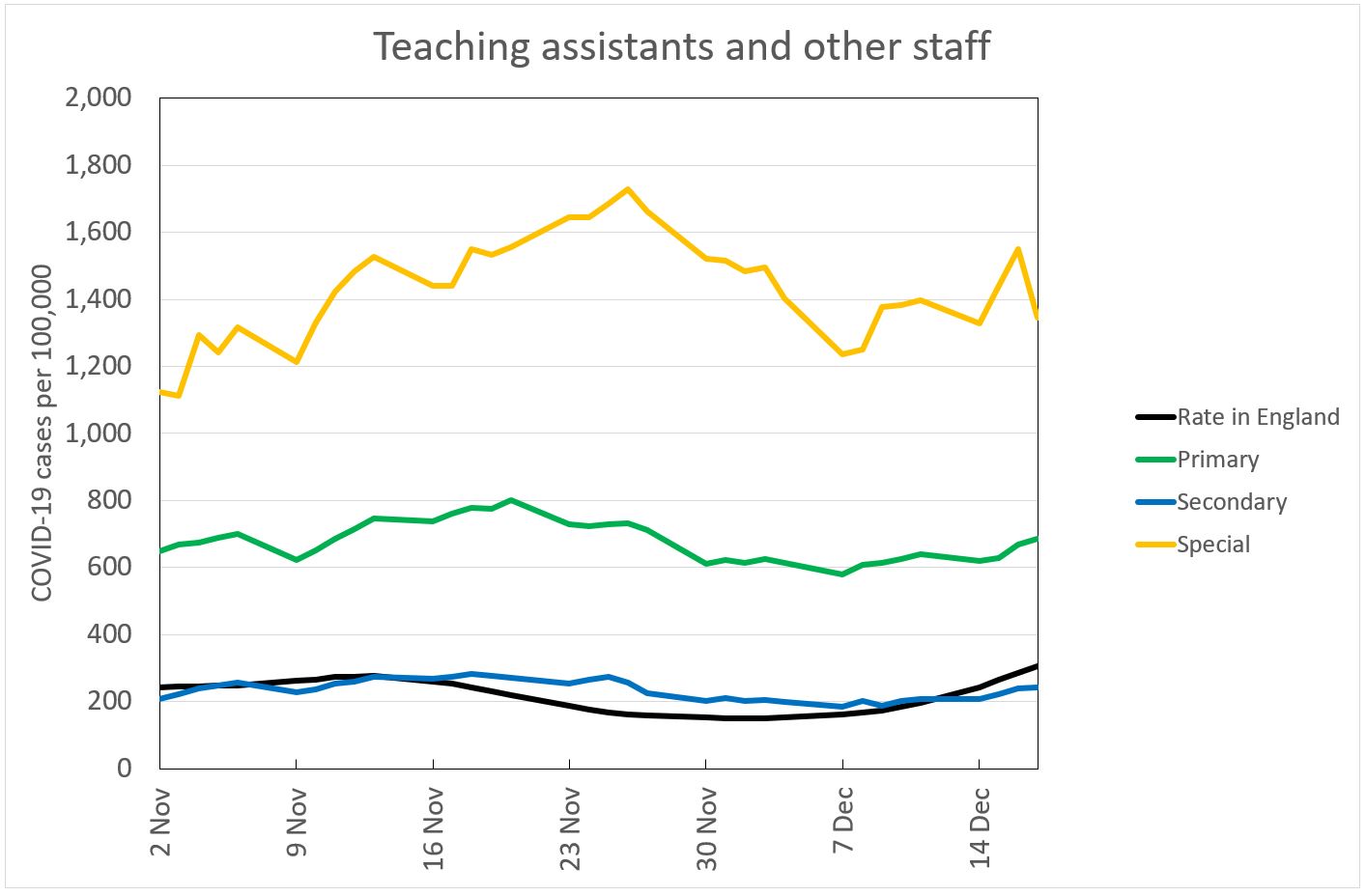 Further research published by Datalab found "very similar" rates of teacher absence across the two school phases, with primary slightly higher, despite an insistence by the government that younger pupils are less likely to transmit the virus.
The research also found that the rates varied "very little" over half term, bucking a national trend in overall infection rates for working age people.
Calls for further investigations
Gavin Williamson, the education secretary, said on Thursday that the NEU was "not comparing like with like".
The government's conclusion of no further risk is based on data from the Office for National Statistics (ONS) that showed "no evidence of difference in the rates of teachers/education workers testing positive…compared to key workers and other professions".
But the most recent report from the government's children's task and finish group on December 17 points to ONS data between September 2 and October 16 – before the more contagious variant of the virus.
Government attendance figures show that on December 17, the proportion of teachers isolating due to potential contact with a confirmed case in school was twice that of the proportion of teachers isolating due to contact outside school, 2.1 per cent compared with 1 per cent.
Bousted wants to know what investigations the DfE has done. She also questions why ministers "repeatedly" told school staff there was "no reason for concern" and why it took so long to release staff absence data.
A DfE spokesperson said SAGE's independent scientific advisers have "repeatedly said there is no evidence that teachers are at higher risk of infection than those working in other sectors".