The proportion of pupils permanently excluded from school has risen for the third year in a row, government data shows.
Statistics released by the Department for Education show that 0.1 per cent of pupils in all schools were excluded in 2016-17, compared to 0.08 per cent in 2015-16.
It is the third year that has seen a rise in the rate of exclusions following several years of decreases, and also represents a steeper rise than in previous years. Between 2014-15 and 2015-16, the rate of permanent exclusions rose by 0.01 per cent.
The overall increase across all school types is driven by a continuing rise in the exclusion rate at secondary schools – from 0.17 per cent in 2015-16 to 0.20 per cent in 2016-17 – and comes despite a drop in the proportion of pupils that special schools exclude.
Eighty-three per cent of permanent exclusions were made by secondary schools.
The rate of permanent exclusions also rose in primary schools, from 0.02 per cent in 2015-16 to 0.03 per cent in 2016-17. However it fell in special schools from 0.08 per cent in 2015-16 to 0.07 per cent in 2016-17.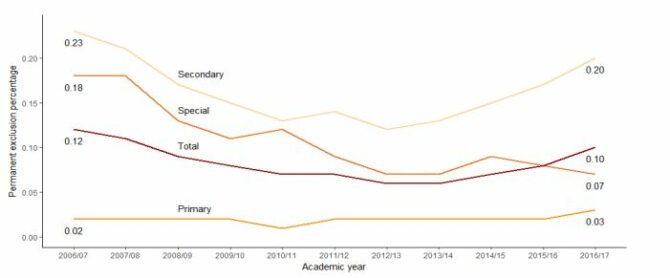 Suspensions, or 'fixed period exclusions', have also risen.
Across all schools, the rate of fixed period exclusions was 4.76 per cent in 2016-17, compared with 4.29 per cent the year before. This means that around 2,010 pupils per day were suspended in 2016-17, compared with 1,786 per day the year before.
The rate of fixed period exclusions rose at primary and secondary schools, but also in special school, where the rate increased from 12.53 per cent in 2015-16 to 13.03 per cent last year.
The most common reason for permanent exclusions overall was "persistent disruptive behaviour", accounting for 36 per cent  of all permanent exclusions in 2016-17.
However, in special schools, the most common reason was physical assault against an adult, which was the reason for 38 per cent of all permanent exclusions and 28 per cent of all fixed period exclusions.
Continuing trends seen in previous years, pupils with special educational needs accounted for around half of all permanent exclusions, and pupils eligible for free school meals were permanently excluded at four times the rate of those not on free school meals.
Overall, 7,720 pupils were permanently excluded last year, and 381,865 pupils were suspended.
Nick Gibb, schools minister, said schools should only use permanent exclusions as a "last resort" but added that the government supported teachers in taking "proportionate and measured steps to ensure good behaviour in schools."
The government has launched a review of exclusions practices in schools, particularly of vulnerable pupils such as those in care, with special educational needs or of a certain ethnicity, led by former minister Ed Timpson.